'We Don't Want to Feel Alone': Inside a New Jersey Pride Prom, as LGBTQ Students Find Acceptance and a New Support Network — and Redefine the Royal Court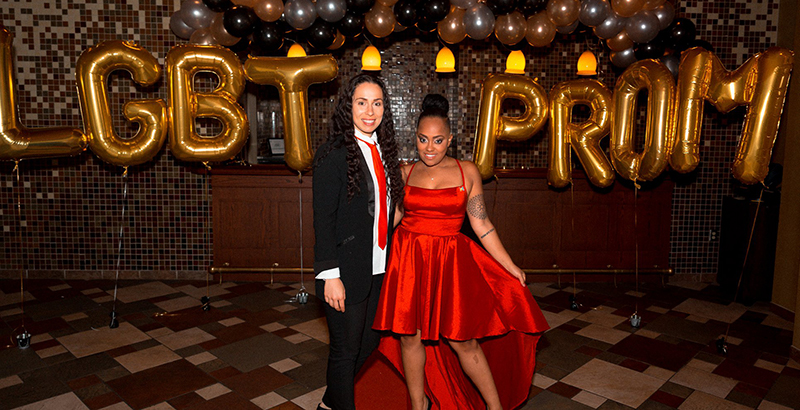 Jersey City, New Jersey
It's Saturday night at Jersey City's "pride prom" and you'd be forgiven for thinking this ballroom scene had the look of almost any high school dance.
A steadily growing crowd of teenagers had gathered at the DJ booth, drowning out popular lyrics with their own giddy, shouted renditions. Chaperones were adorning the sidelines, doing their awkward chaperone thing, silently policing any risqué dance moves. Meanwhile a whole separate crew had decided to set up camp around the photo booth, grabbing the oversize sunglasses and "Prom Night!" signs and smiling for each flash.
But anyone passing through Hudson County Community College this past weekend would have known instantly that this didn't look anything like your typical prom night.
Along the red carpet inside the college's Culinary Conference Center stood eight giant golden balloons proclaiming L-G-B-T PROM. Thrown by the Hudson Pride Center specifically for students who identify as lesbian, gay, bisexual, transgender, or gender nonconforming, this year's LGBTQ+ Prom marked the 15th year the group has organized a dance to give this community a safe space where teens and young adults can be themselves — and have fun.
At this prom, boys sport high heels, women wear three-piece suits, drag queens arrive in real jeweled crowns, and there are plenty of rainbow pride flags to go around. Though it's free for students to attend, the center has built it up through the years into quite the exclusive social event — the Empress and Emperor from the Imperial Court of New York, decked out in royal garments, even make an appearance.
Amid the glitz and glamour, though, it's often the quieter moments of bonding that forge the most lasting memories.
Moments like when a teenager excitedly walked up to Sasha Powell, a female transgender student attending for the first time, to tell her how great she looked. It was immediately clear that the two students didn't know each other well but that the stranger's comment made Powell's night and left her beaming.
"We're always taught that who we are is bad," Powell says later while waiting for dinner. "It's good to be around a community that you identify with. You should feel comfortable in your skin and your body."
It's this sense of comfort, safety and support for LGBTQ youth that forms the foundation of the event, says Elizabeth Schedl, the Hudson Pride Center's chief operations officer.
"We're providing a safe, fun space for our LGBTQ and allied youth to come and celebrate with the date of their choice, in the attire of their choice."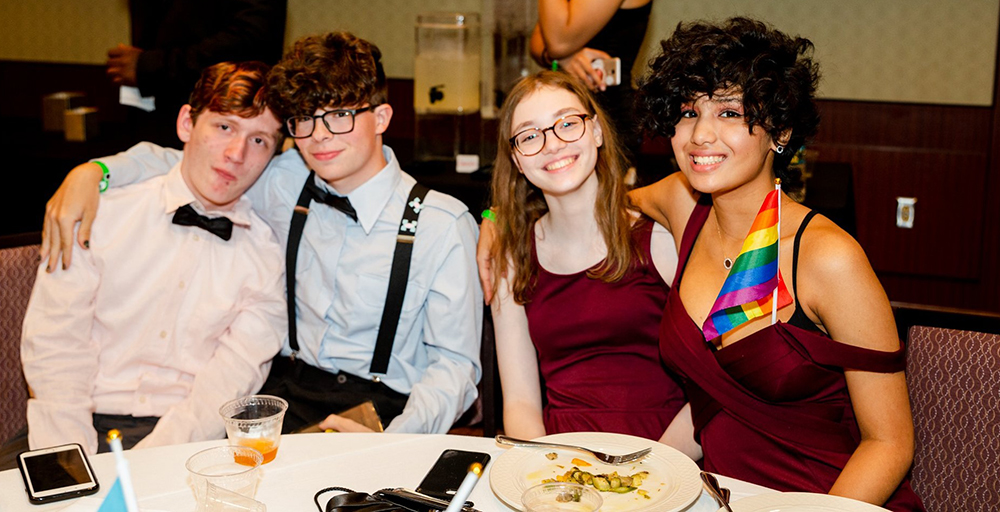 The concept of pride proms can be traced back decades, with many of the earliest known events organized as a response to school districts that refused to allow students to attend their proms with same-sex dates. In 1981, the Boston Alliance of Gay, Lesbian, Bisexual, and Transgender Youth hosted America's first reported gay prom. One of the longest consecutively held events of this kind is organized each year in Hayward, California, located just south of Oakland; students have been attending every year since 1995.
Hudson Pride Center's first LGBTQ prom was organized 2004, back when Schedl says not everyone in the queer community felt comfortable going to their high school prom.
Though public schools are generally more accepting of all students today, Schedl says, many of the LGBTQ teenagers looking to attend the Jersey City event still regularly face issues of bullying and exclusion. "A lot of times kids don't feel comfortable wearing the clothing they want to wear, especially if they're transgender or a part of a same-sex relationship."
Nineteen-year-old Austin Huertas, a male transgender student attending the dance for his second year, said he just felt more comfortable at this prom. "There's no people to judge you when you're at LGBT prom," he said. "There's nobody to criticize you. It's more safe."
While some students were driven to attend by issues of safety, others came to the prom in hopes of widening their social circle — and support system.
"It's my one chance to come out and be gay," said 15-year-old Lucka Joseph. "I have a lot of straight friends, I just want more friends that are LGBTQ that I could come to if I ever have a problem."
Eighteen-year-old Amaurys Rodriguez seemed to know where Joseph is coming from: "Yes, it can be hard, and at times it can feel like you don't fit in … you gotta remember that there are always people here to help you."
Rodriguez said he recently came out to his parents after a long struggle with deciding how to tell them. Though they were supportive, he said he now wants to be a helping hand to those who are grappling with what he just dealt with — coping with the same anxiety that surrounds coming out to the people you love most.
He then admitted his other big reason for coming: "To party my butt off."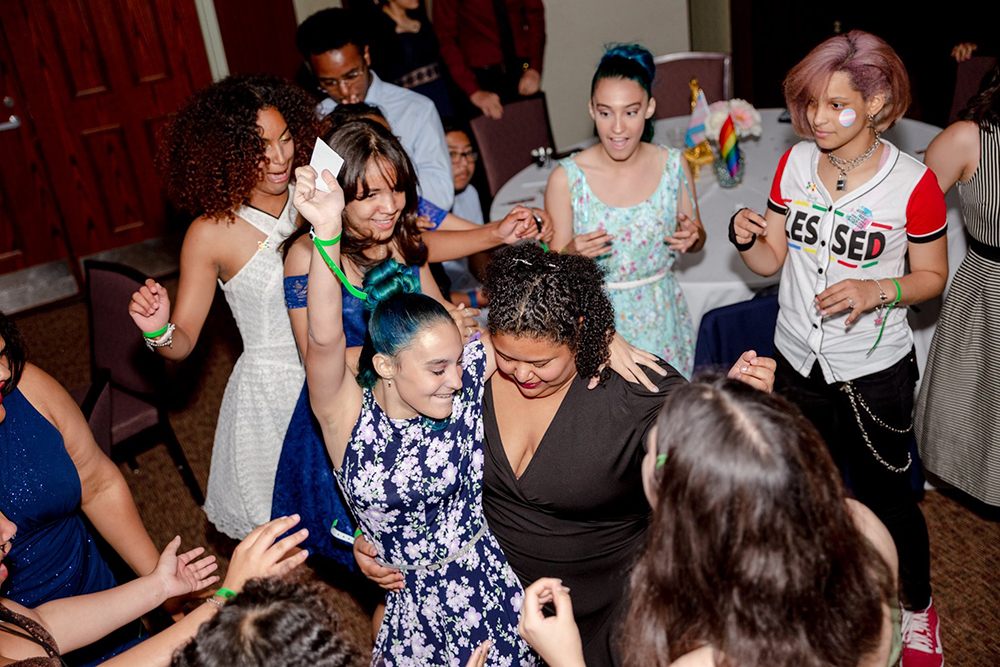 This year's theme, "Paris," was evident in the decor, but the night was every bit as much about celebrating the queer community and their shared experience as it was about Eiffel Tower goodie bags. Hudson Pride organizers made sure to honor queer history by including a vogue contest, paying homage to the style of dance often performed at underground drag parties or "balls" in the 1980s by black and Latino LGBTQ communities.
LGBTQ history and the origins of Pride Month were very much on the mind of one attendee, 22-year-old Alyza Roman. "Our queer brothers and sisters of the past and gender-nonconforming siblings were not given a space to be proud," she reflected.
Roman's friend Adam Varoqua, a Hudson Pride Center intern, said he similarly never had a chance to experience anything like the LGBTQ+ Prom when he was in high school: "I never had this opportunity. I never had this chance to have a whole prom centered around the beauty and diversity that is the LGBTQ community."
Proms organized specifically for LGBTQ students continue to launch in new cities every year. In fact, this Saturday, the Zebra Coalition in Orange County, Florida, is arranging what organizers believe will be Orlando's largest-ever Pride Prom at the Orlando Museum of Art. Staffers said more inspiring than the student response has been the outpouring of support and donations from the community. To ensure every LGBTQ student can attend, the Zebra Coalition asked the community to donate formal attire for those who cannot afford gowns and tuxedos, said its executive director, Heather Wilkie. Members of Orlando's Gay Officers Action League (GOAL) have also donated their time to provide security for the event.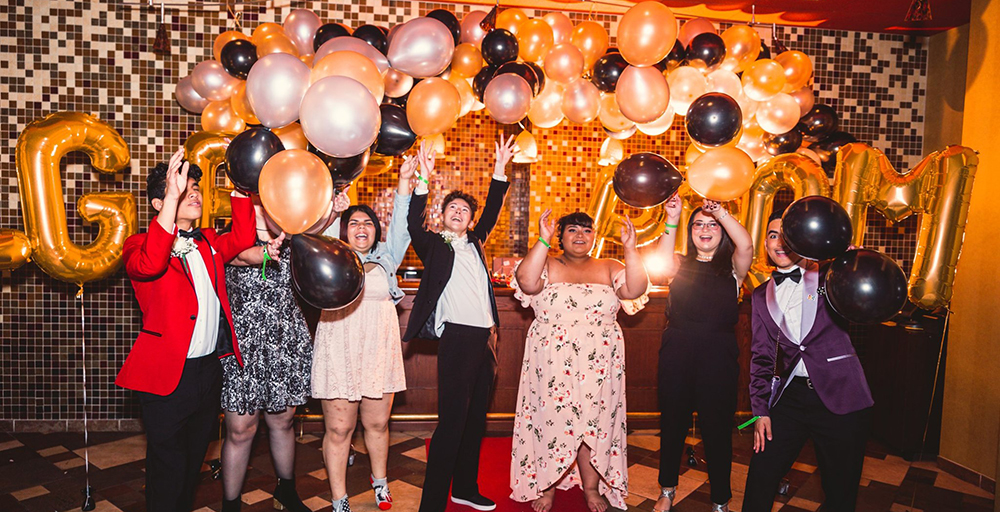 If Orlando organizers are looking to borrow any best practices from more established pride proms across the country, they might want to start with the royal court tradition in Jersey City — and the emotional crowning of the "Prom Royals" that emerged as the centerpiece of last weekend's festivities.
Instead of the heteronormative Prom King and Queen — an honor that tends to go to the most popular person at a given school — the LGBTQ+ Prom's "royals" were not confined to any gender. Instead, all were invited to take the stage and make the case for why they should join the court.
"Why should we vote you as Prom Royal?" the DJ asked 15 or so students, standing in a line at the front of the ballroom, as the party turned briefly serious — and inspiring.
"I will stick up for anyone in this room," said Elliot O'Brien.
"As a trans man … I would be proud to rule this awesome kingdom," said Ashton Alicea.
"I grew up in a really religious household where they didn't accept homosexuals," said Dahyanna Alvarez.
"I was living in a house where my mom threw me out because I was transgender, I didn't have any clothes. I was alone," said Austin Huertas.
"The world can shit on us as much as they want … and they can hate us, but we will never ever ever give up, because we are a family," said Christian Riedinger.
With each story — each confession, each heartfelt testimony — the room cheered a bit louder.
In true democratic fashion, the room voted by applause, and the loudest went to Huertas, who was bestowed with a crown by members of the Imperial Court of New York. Group photos were taken, and the party began to disperse.
Powell stuck around, euphoric for Huertas, who lives in the same group home.
"I'm glad I came," Powell said as she waited in the lobby for her friend. "We know that there's other people like us out there, but it's kind of hard finding them … It's good to have LGBT proms to bring us all together."
She paused.
"We don't want to feel alone."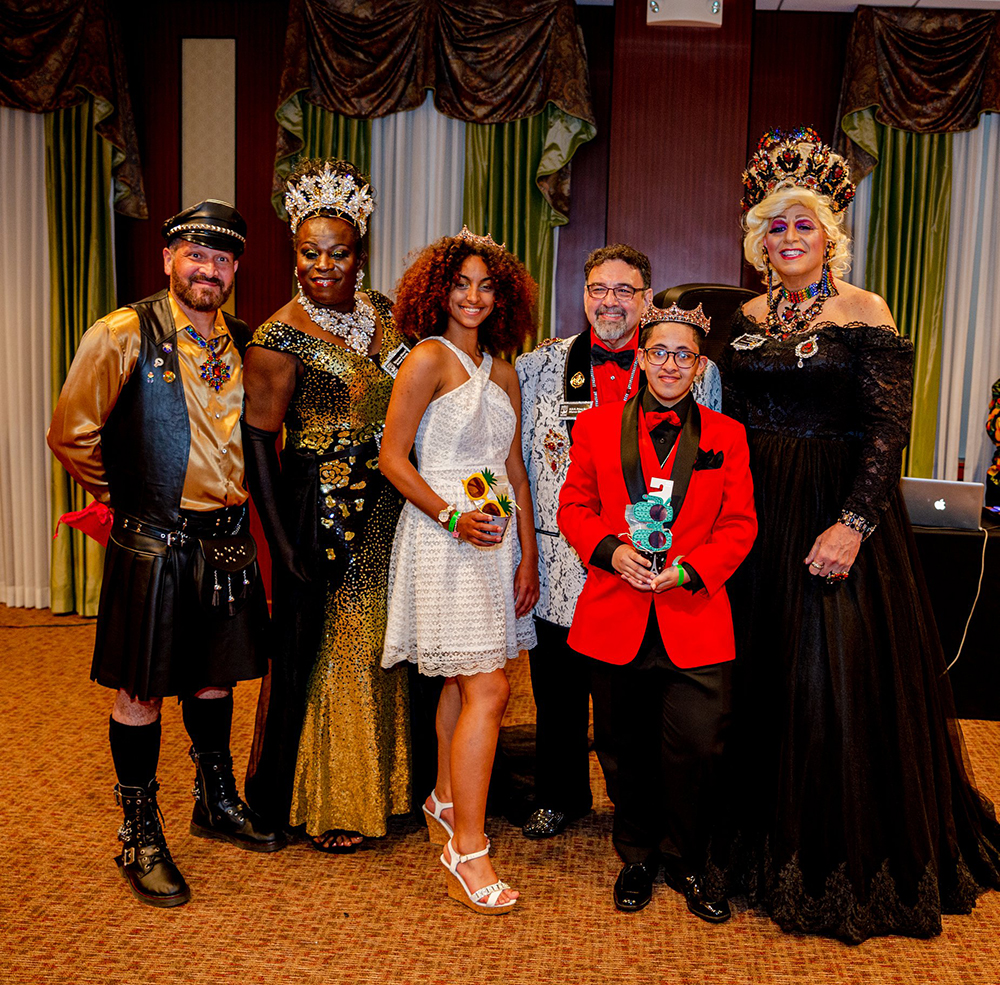 Get stories like these delivered straight to your inbox. Sign up for The 74 Newsletter