Waters: Where Have You Gone, Cory Booker?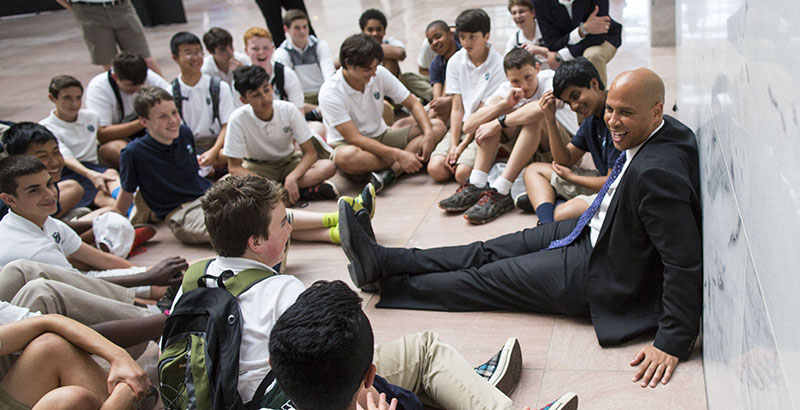 Cory Booker has been lost in the horde of Democratic candidates vying to defeat President Donald Trump in 2020, polling at a meager 2 percent and barely making it onto the debate stage. But he can turn this around by proudly owning his role in Newark's upward educational trajectory that he described three years ago as a "cauldron of educational creativity" that was "liberating the choice of our parents."
And, as a ballast to the off-kilter crowd of wannabes careening wildly left, the New Jersey senator might want to read the new report issued by the New Jersey Children's Foundation that describes the academic growth for many of Newark's students — those enrolled in both traditional and charter schools — as "real"and "meaningful."
He's his own worst enemy if he disavows the remarkable changes in Newark's traditional and charter schools. Between 2006 and 2018 across low-income New Jersey urban areas, Newark's average test scores improved to the 78th percentile from the 39th percentile in reading and math, according to Jesse Margolis and Eli Groves, the analysts behind NJCF's "A New Baseline: Progress in Newark's District and Charter Schools from 2006-2018." The share of black students attending a school that beat the state proficiency average more than quadrupled over the same period. I call that a talking point essential to a campaign, one far more "progressive" than the horde's propensity to genuflect to the educational status quo.
Margolis and Groves deliberately "do not argue that any single reform or set of reforms caused the gains documented here."
I'm happy to help. Right now the bulk of Democratic presidential hopefuls are locking arms in a fact-free attempt to discredit public charter schools, the very schools that have saved many Newark families from being consigned to a broken school system. My party, which has long defined itself as wedded to equity and social justice, especially for those who have long been disenfranchised from the American Dream, is filing for divorce.
As a daughter of two teachers union members and an advocate for school choice, I'm angry. As a lifelong Democrat, I'm ashamed. After all, Democrats for Education Reform's new poll shows that 86 percent of African-American voters and 67 percent of Latino voters say that parents should have "a variety of public school options for their kids — including charter schools, magnet schools, and career academies — no matter where they live or how much money they have." A recent poll from Education Next also shows high support among parents of color for charter schools.
Yet support among white Democrats has dropped, and those are the voters deemed worthy of wooing. The top candidates, apparently afflicted with DeVos Derangement Syndrome, causing sufferers to denounce any position vaguely associated with the president's entourage, are lining up to oppose school choice.
Seriously? Please, aspiring leaders of the free world, let Sharif El-Mekki explain to you that "this … is another arrogant and backhanded way to tell black families, I know what's best for your children … you don't." Or visit a charter school in Newark where children disproportionately "beat the odds," according to the Center on Reinventing Public Education, due to the educational advantages afforded to charter school students.
Maybe I'm being too harsh. Maybe the Democratic candidates have fallen for Dale Russakoff's warped narrative (or, to be kinder, one published too soon) that Newark's charter school expansion was a bust. Yet the truth is that then-Superintendent Cami Anderson, villainized in Russakoff's book as a tone-deaf harridan, actually did the dirty work of closing the worst schools and scoring a teachers' contract that rewards highly effective teachers, especially those willing to work in the city's most challenging schools.
After she was run out of town, Chris Cerf took over as superintendent and pushed through further reforms, albeit with a gentler touch. He even became buddies with Mayor Ras Baraka, who now supports charter schools, and tweaked the universal enrollment system that facilitates school choice for families in both the traditional and charter sectors to ensure that the poorest children and those with disabilities are more evenly spread among district and charter schools.
During that turbulent period, many anti-choice pundits predicted doom: Charter schools will bankrupt the district! Children with disabilities will be clustered in traditional district schools! The charters will cherry-pick the best students and dumb down the district!
Time for a reality check. None of that happened, even with more than 30 percent of Newark students attending charters. Enrollment in the district is up for the first time in years, as is academic growth, as documented in the NJCF report. There's enough money in district schools for $18,016 per student. Charter schools are increasing and diversifying their special education programs: Here's a profile of one, People's Prep, where 24 percent of students have disabilities that range from minor to severe.
That's a long way from a district that the state described in 1994 as "flagrantly delinquent and at worst deceptive" in its mission of serving children; where 1 out of every 2 Newark students didn't graduate from high school and average SAT scores were 311 in verbal and 363 in math.
But, as the NJCF report notes, 15,000 students still attend "low proficiency, low growth" schools. These schools, which cluster in Newark wards where most black families live, include Malcolm Shabazz High School, where average SAT scores are 396 in reading and 380 in math, not much better than 25 years ago. Yet the horde has deemed that passing the Democratic litmus test on charters and pandering to teacher union leaders is more important than creating seats for those students in high-performing district and charter schools.
Would Bernie Sanders, Elizabeth Warren or Kamala Harris send their children to Malcolm Shabazz? Would you, Senator Booker? Of course not. But the fringe left sings to them like the Sirens of Greek mythology, wooing them to shipwreck on rocky coasts.
The students? Collateral damage.
I do hear the hum of voices trying to drown out those fringy Sirens. Jonathan Zimmerman compares opposition to the Hyde Amendment — which chips away at reproductive health choices for poor women — to Democratic candidates' promises to stymie charter school growth, which chip away at school choices for poor families.
"What Senator Sanders is saying with his attempt to limit charter schools is telling black parents, who overwhelmingly support charters, that they can't send their kids to charters anymore," Amy Wilkins of the National Alliance for Public Charter Schools told the New York Times,
Rann Miller reports on charges by black advocates that Sanders is "trying to strip the rights of black parents to determine the education of their children." And DFER National President Shavar Jeffries, formerly a Newark mayoral candidate, told NBC, "Bernie Sanders apparently thinks he, in Vermont, knows better than low-income African-American and Hispanic families in their cities about what's best for their children."
And, lest we forget, the most recent standard bearer for Democratic values, President Barack Obama, is a strong proponent of charter schools.
Heck, even the new district strategic plan NPS Clarity 2020 notes that "the expansion of charter schools in Newark and the alignment and coherence which organize the systems in the large charter school networks have become a local proof point for the role of a robust central system in supporting and improving schools."
What to do, Senator Booker? Do you, who once dashed into a burning building to save a young neighbor, disappear into the pandering crowd of anti-choice zealots who would abandon Newark students to academic ashes at Shabazz? Or do you wear your role as a major player in Newark's education renaissance as a bright badge of honor?
Come back, Senator, and say yes to charters. Be the real progressive in the race.
Laura Waters writes about education policy and politics at NJ Left Behind, New York School Talk, Education Post and other publications. She served for 12 years on her local school board in Lawrence, New Jersey, and was president for nine of those years.
Support The 74's year-end campaign. Make a tax-exempt donation now.