Waters: These 2 Teachers Wanted to Quit Their Union — but NJ Law Wouldn't Let Them. Now, Following the Supreme Court's Janus Verdict, They've Decided to Sue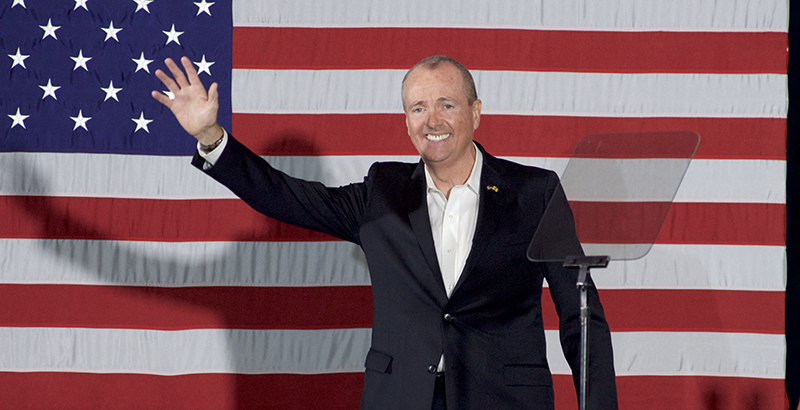 Susan G. Fischer teaches Italian in New Jersey public schools. All in all, she calculates that she's involuntarily ceded about $30,000 of hard-earned salary to union dues during her 30-year teaching career. Mandatory payments increase annually; her tab last year was $1,222. While she harbors no resentment toward the $25 a year she pays to her local bargaining unit at Ocean Township Public Schools and the $50 per year she pays to the Monmouth County unit, praising the collegial relationships and professional development opportunities, she's always resented the $200 per year she pays to the National Education Association and, most adamantly, the $800 per year — Fischer calls it "highway robbery" — that goes to the state union, the New Jersey Education Association.
This system of involuntary payments to support lobbying that she mostly disagrees with was supposed to end with the Supreme Court's ruling this past June in Janus v. AFSCME, which bars union shops from mandating membership and dues payments. Mandatory union membership, said SCOTUS, is a violation of the Constitution's First Amendment right to free speech. But this system didn't end in New Jersey, because legislators, with a heavy assist from NJEA sycophant Gov. Phil Murphy, preemptively circumvented the Janus ruling through a law called the Workplace Democracy Enhancement Act. Now, Fischer and her colleague Jeanette Speck have filed a class-action lawsuit in federal court against Murphy, NJEA, and the Township of Ocean Education Association.
Fischer told me, "I grew up in Italy. There, we call this 'extortion.' Pay if you join, pay if you don't join. There's no choice."
This conflict is bigger than a lawsuit filed by two teachers, and the law has nothing to do with enhancing "workplace democracy." On the contrary, it's about the political cudgel NJEA wields over Murphy, as well as a fairly large contingent of state legislators. (The New Jersey Globe just named NJEA president Marie Blistan the 13th most powerful person in the state.) Politics, after all, is an enterprise that seeks power, not righteousness. How this case is resolved will tell us a lot about whether an organization accustomed to controlling the Legislature in particularly child-unfriendly ways can be tamed.
Or even compelled to abide by the U.S. Constitution.
According to the lawsuit, Fischer and Speck are suing because:
"The State of New Jersey is defying Janus by maintaining and enforcing a law that compels public employees who previously signed dues deduction authorizations to pay union dues as a condition of their employment unless and until the employee provides written notice of revocation during an annual ten (10) day window period. In other words, New Jersey law prohibits many employees from exercising their First Amendment rights under Janus for 355-56 days of the year."
Case in point: Fischer and Speck tried to resign from NJEA in early July, right after the June 27 Janus ruling, but they couldn't because NJEA said the 10-day window created by the new law doesn't start until September, when they both (in different years) were first hired. In September, they both again attempted to revoke their membership. NJEA said they had to wait, according to the lawsuit, until the "30th day after the anniversary date of employment."
Seriously? A union with 203,520 members and $125.1 million in annual dues (2017), in which last year the collective salaries of the president, vice president, and secretary-treasurer were $1.44 million, plus another $1.2 million in deferred compensation, is nickel-and-diming two veteran teachers who have been forced to contribute to a cause they've rejected for 30-odd years?
Fischer and Speck are asking that the court issue a "declaratory judgment that New Jersey's revocation law is unconstitutional under the First Amendment," that the court rule that NJEA violated their constitutional rights by forcing them to pay dues post-Janus, and that the defendants pay them back the dues that have been collected post-Janus, plus pay their attorneys' fees. (The teachers are represented by the same law group that represented Mark Janus, the National Right to Work Legal Defense Foundation.)
The law itself is shaky on a number of grounds. Murphy, in his May 18 signing statement, noted that Bill 3686 may "conflict in some manner with the legal parameters anticipated to be set forth" in Janus, and "I will work closely with the sponsors to enact any required changes," with particular attention paid to "the privacy concerns of our public employees." The New Jersey School Boards Association has multiple concerns: "A3686, in its current form, constitutes an overreach into matters that have traditionally been addressed through the collective negotiations process"; the bill "does not include sufficient assurances that district operations will not be adversely impacted by union activity on school property"; and the bill "violates employee privacy rights."
I'm not a lawyer. I am a lifelong Democrat, as well as the daughter of two members of the United Federation of Teachers (the New York City arm of the American Federation of Teachers), and it troubles me that Murphy appears in thrall to rich lobbyists. Sure, he's relatively new at this, and sure, this is the way the world works. But the new state law, which is all about protecting union coffers, reveals NJEA's and the governor's coordinated scripts in other educational areas that are unfurling in particularly child-unfriendly ways.
Consider NJEA's insistence that the governor institute a moratorium on the expansion of charter schools, despite waiting lists of 35,000 students and parent pleas for more seats. (Indeed, no charters were approved in the most recent round, and the state Department of Education failed to follow its own process of authorization.)
Consider the way NJEA pressure and legislature cowardice have turned a widely heralded tenure and teacher evaluation reform law into a nothing-burger. (Last year, 98.9 percent of teachers were rated effective or highly effective.)
Consider the way Murphy and his political appointee Education Commissioner Lamont Repollet are kowtowing to NJEA's insistence that they radically reduce standardized tests ("I'll eliminate PARCC Day One," Murphy promised NJEA members) and undermine accountability. This politically calculated sop will primarily hurt low-income families, mostly of color, whose children, once again, won't count because their academic growth won't be carefully monitored.
Consider the $5 million in union dues NJEA spent (unsuccessfully) to unseat state Senate President Steve Sweeney, a union man himself and one of New Jersey's most educationally literate legislators, because he publicly acknowledges that the teacher pension system is broken.
It's one thing to parcel out political favors to supporters. It's another thing entirely when those political favors harm New Jersey teachers and the children they educate, especially those with the odds stacked against them.
Fischer told me, "I'm proud to be an American. This is so un-American."
Laura Waters writes about education policy and politics at NJ Left Behind, New York School Talk, Education Post, and other publications. She just finished serving 12 years on her local school board in Lawrence, New Jersey, and was president for nine of those years.
Get stories like these delivered straight to your inbox. Sign up for The 74 Newsletter