Waters: Newark Voters Just Elected Their First Full School Board Since State Control Ended. And It's One Ed Reformers & Foes Agree On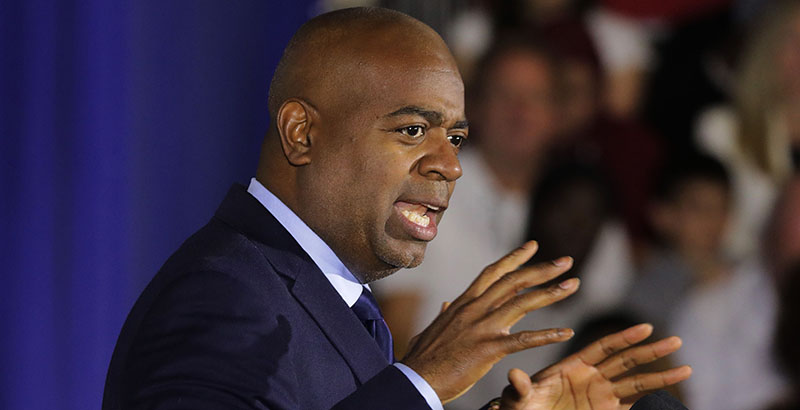 School board elections in Newark are historically bellicose affairs, small-scale models of the patronage and corruption that have long tainted New Jersey's largest city. For example, every Newark mayor from 1962 until Cory Booker's election in 2006 was indicted for crimes committed while in office, including Booker's predecessor, Sharpe James, who served time for what then-Gov. Chris Christie called "stark examples of the greed and arrogance of unchecked power."
Likewise, in 1995, the year the state took over the city's schools, a raid on district offices revealed that on the same day that janitors were pumping wastewater into the street outside Barringer High School, school board members were on a jaunt in Honolulu on the district's dime.
Yet despite this decades-long history of rancor, on May 12, for the fifth straight year, members of the Unity Slate (now called Moving Schools Forward) swept the election, giving a win not only to candidates Josephine Garcia, Hasani Council and Flohisha Johnson, but also to an alliance including former charter school opponent Mayor Ras Baraka and — most surprisingly — charter supporters. (Shout-out to Shennell McCloud, whose Project Ready helped 1,000 Newarkers register to vote by mail last year, a prescient effort, given the state's current lockdown.)
Now, two years after the state returned control of schools to the district, the voters of Newark have elected the first board since 1995 to have complete authority. And its members represent a compromise among Baraka, his allies and charter backers.
This, in the city that most exemplifies New Jersey's charter school wars, where in 2013 Baraka won the race to replace Booker by adeptly turning his campaign against education reformer Shavar Jeffries into a referendum on state-appointed city Superintendent Cami Anderson, run out of town for the perception that she was (according to The New York Times) a "lightning rod in the debate over education reform in New Jersey and nationally." This, in the city where Baraka's election sent the Working Families Party into spasms of glee, gloating, "Baraka Win a Big Blow to Corporate Education Reform!" This, in the city where, when Christie replaced Anderson with the state's former education commissioner, Chris Cerf, Star-Ledger editor Tom Moran jeered, "if Cerf lasts three years in this job, I'll light my hair on fire." (Cerf did, just barely. Moran still has hair.)
How did Newark voters and their leaders forge an alliance from a long history of acrimony over the direction of the district's schools? In 2014, after Booker won his Senate seat and Baraka took over City Hall, the School Advisory Board was packed with public school choice opponents. But through a series of community efforts — a (now-annual) NJ Parent Summit focused on education advocacy; outreach from top charter operators like KIPP and Uncommon; a growing body of research that shows that all Newark schools are improving; and, most importantly, an increasingly loud demand among parents for more seats in high-quality schools, especially charters — opposition to reform among the city's leaders started to dissipate. Call it political expediency, call it common sense, call it moving on.
And maybe, just maybe, those leaders wanted to do what was best for Newark's children.
After all, according to a recent poll, 63 percent of Newarkers "see public charter schools as an important part of the city's public school landscape" and 88 percent "want more high-quality school options, including public charter schools." Over the past 23 years, charters have become baked into the city's educational landscape, currently enrolling 35 percent of Newark's 60,000 public school students. Although not every charter school is a model of excellence — two months ago, the state appropriately closed one down — a recent study from Boston University found that "attending a Newark participating charter school has a larger effect than 80 percent of other educational interventions that have been recently studied using an experimental design."
Most Newark parents know this. That's why there are 12,000 students on waiting lists.
And then there's the school board itself. Three of its nine members are current or former charter school parents, one is a charter alum, and one graduated from a magnet high school, another form of public school choice. The universal enrollment system introduced by Anderson and refined by Cerf (which Baraka once vowed to eliminate and now supports) puts the district in charge of placing students in schools based on parent preference, rendering charges of "cherry-picking" moot. Right now, 86 percent of Newark charter students are economically disadvantaged, compared with 76 percent of kids in traditional schools. Eleven percent of charter students are eligible for special education, compared with 17 percent of district students.
Oh, it's not all sunshine and roses. New Jersey is the state where Gov. Phil Murphy appears incapable of making an education decision without consulting militantly anti-choice teacher union leaders, one of whom serves as his deputy chief of staff. We're almost two years into the Charter School Law Act Review that has yet to disclose results. Newark Superintendent Roger Leon, after expressing support for all high-quality public schools, demanded in January that the state close four charter schools by writing a factually challenged letter. (The state declined to do so.)
And that same month, Newark Teachers Union President John Abeigon told reporters, "There's always a relationship between humans and parasites. There are good parasites that are good for the body and are healthy for nature and that's why they exist. There are other parasites with which we can never coexist. Corporate charter schools is [sic] one of those parasites. We did fine without them. We will continue to do — and will probably do better — once they're gone. And the state taxpayers will thank us for it."
I'm betting Abeigon doesn't send his kids to Barringer High School, the subject of that state report back in 1995, when janitors were pumping sewage into the street while board members frolicked in Hawaii. Over the past decade, the graduation rate has barely moved — 52 percent in 2011 to 55 percent in 2019 — and SAT scores are 384 in reading and 371 in math, just about where they were nine years ago.
In other words, there's much work left to do in Newark, a task rendered far more difficult with COVID-19 school closures that exacerbate inequities. (According to Saafir Jenkins, chief public affairs officer of the Newark Special Education Parent Advisory Council, some students haven't received any live instruction since the district moved to remote learning in March.)
But this new model sure beats the bad old days of messy discord, when Newark children were an afterthought. Instead, a team of former rivals that respects parent choice is putting student academic needs first. I'll vote for that.
Laura Waters writes about education policy and politics at NJ Left Behind, New York School Talk, Education Post and other publications. She served for 12 years on her local school board in Lawrence, New Jersey, and was president for nine of those years.
Get stories like these delivered straight to your inbox. Sign up for The 74 Newsletter