Replay — What's Next for School Choice? Experts & Advocates Look Ahead to the Next Chapter in Fight for Education Equity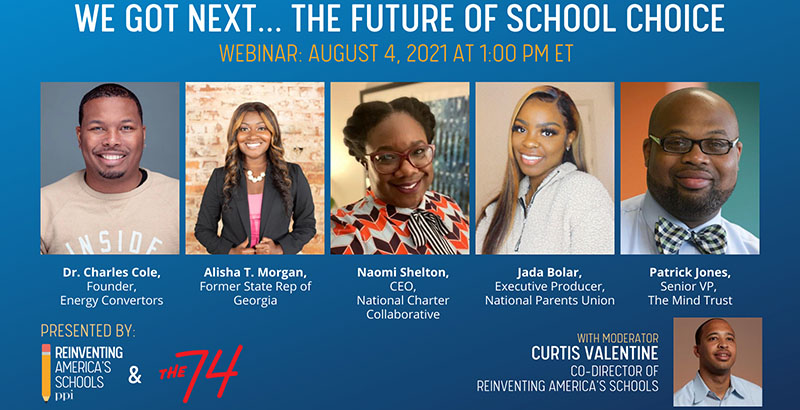 Get stories like these delivered straight to your inbox. Sign up for The 74 Newsletter
A couple of months ago, America's education system hit an important milestone: the 30th anniversary of Minnesota's law authorizing charter schools, a legislative moment that ushered in a nationwide wave of innovation, opportunity and yes, some frustration, in improving the welfare of the nation's kids.
Now, it's time to pivot into the future and face the question, what happens now? What will school choice look like 30 years from now? How will America's public school system be structured in 2050? What should we be fighting for? Who should be at the table driving change? How will charters grow and evolve?
These and more questions will be on the table today, when The 74 and the Progressive Policy Institute present an important panel discussion, "We Got Next: The Future of School Choice." Joining the conversation will be former Georgia State Rep. Alisha Thomas Morgan; Dr. Charles Cole, founder of Energy Convertors; Naomi Shelton, CEO of the National Charter Collaborative; Jada Bolar, executive producer of the National Parents Union; and Patrick Jones, senior vice president of The Mind Trust. Curtis Valentine, co-director of PPI's Reinventing America's Schools Project, will moderate.
To get a sense of what this session will be like, check out Shelton's recent opinion article in The 74: ​​"Charter Sector Approaches its 'Second Great Awakening' As it Turns 30 Years Old: Committing to Community Schools and Leaders of Color." In it, she addresses the painful reality of racial bias that has crept into the charter system, throwing up barriers to potential charter teams led by people of color.
She writes: "Essentially, authorizing bodies have become comfortable approving schools that fit a mold, spurring the replication of models that veer further from the innovation and supports that meet the needs of students and communities."
Today's panel will be something of a bookend to one that PPI and The 74 presented in June that assessed the first 30 years of the charter school movement, which featured a keynote address from former President Bill Clinton. You can watch and read about that session here.
Get stories like these delivered straight to your inbox. Sign up for The 74 Newsletter