Storytime, Livestreamed: How One Texas Principal Is Using Facebook to Read Her Students — and Thousands of Fans Around the World — Bedtime Stories Every Tuesday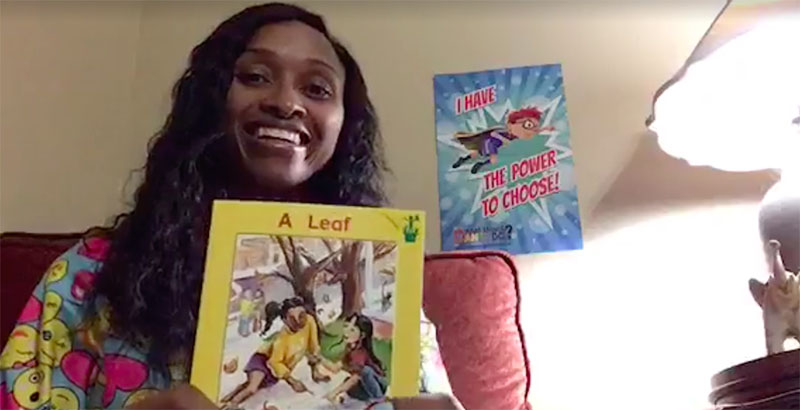 This article is one in a series at The 74 that profiles the heroes, victories, success stories and random acts of kindness found at schools all across America. Read more of our recent inspiring profiles at The74Million.org/series/inspiring.
Even after a long day at school, Principal Belinda George does not rest.
Every Tuesday, when the day ends at Homer Drive Elementary School in Beaumont, Texas, she goes home, cozies up in her pajamas and reads a bedtime story — to thousands of online viewers.
Begun as a way to engage her school's 680 students and foster their love of reading, "Tucked In Tuesdays" have become a Facebook Live sensation, drawing loyal viewers of all ages from around the U.S. and as far away as Canada, Haiti, England, Ireland and Japan.
"I know if I don't reach them outside of school, I never reach them in school," George told The Washington Post.
Every Tuesday evening starting at 7:30, the first-year principal livestreams herself reading a book — or two — on the school's Facebook page. It's all interactive, with George greeting viewers by name in real time and responding as they post comments on the right side of the screen.
For the book What Should Danny Do?, viewers got to decide Danny's behavior — should he calmly eat his pancakes or yell because his brother got his favorite plate? — at key points in the story.
To make the stories come to life, George dresses the part.
When reading Ladybug Girl, she strapped on ladybug wings. She wore a unicorn onesie as she read Howie Had a Stomach Ache, and for Astronaut Handbook, she sat next to an inflatable astronaut. For What Should Danny Do?, she wore a superhero cape just like Danny's.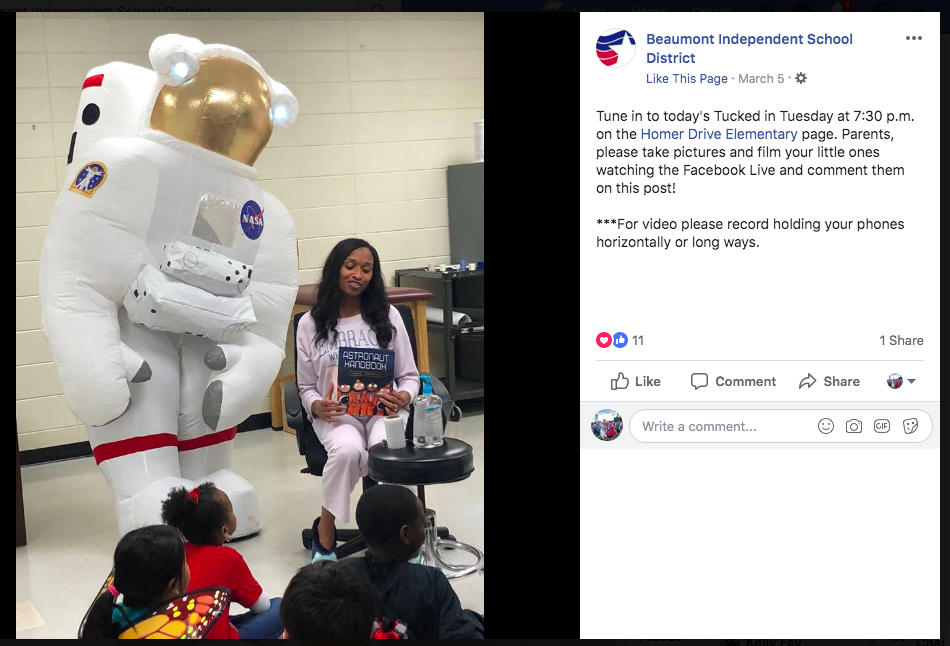 Some of George's videos have racked up more than 16,000 views. One viewer wrote, "My daughter and I are watching from Pennsylvania, you are the kind of principal I can't wait to be!"
Fans not only leave encouraging messages in the comments but also donate books to George.
Some are even starting their own "Tucked In Tuesday."
Last year, only 55 percent of the third-, fourth- and fifth-graders at Homer Elementary were reading at or above grade level. But since "Tucked In Tuesday" began, George said, she has seen progress. "We've already seen growth," she told the Post.
Every book has a reading level in the school's Accelerated Reading (AR) program and comes with a quiz. George announces the reading level and tells viewers which quiz to take if they want to earn points.
"Tucked In Tuesday" is part of building a culture of support and high expectations in a school where 94 percent of the kids come from disadvantaged homes. "If a child feels loved, they will try," George told the Post.
That personal connection comes through online. As she told her viewers in one of her videos, "If nobody else tells you, Dr. George loves you."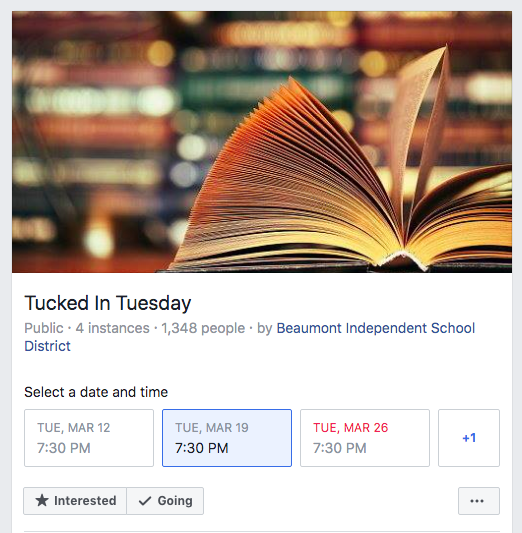 Get stories like these delivered straight to your inbox. Sign up for The 74 Newsletter