Watch: Student Who Couldn't Speak Talks About Overcoming Challenges of Autism and Breaking Stereotypes in Rousing College Address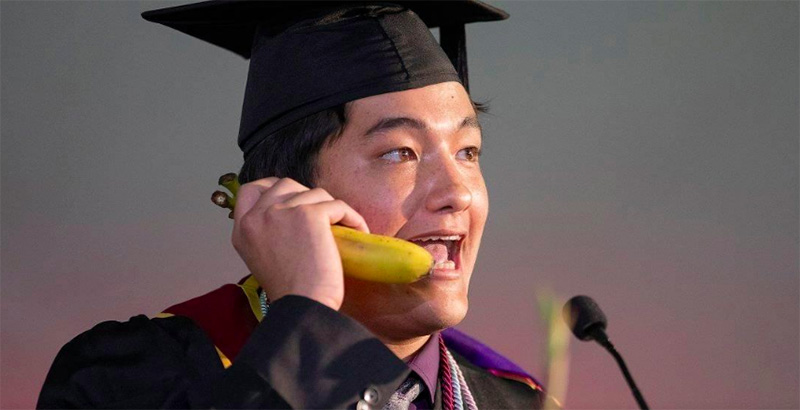 This article is one in a series at The 74 that profiles the heroes, victories, success stories and random acts of kindness found at schools all across America. Read more of our recent inspiring profiles at The74Million.org/series/inspiring.
I have left behind "a trail of broken stereotypes," Bruno Youn told his classmates when he took the stage recently to deliver the commencement address at his college graduation.
He wasn't kidding.
When he was 3, Bruno was unable to speak, and he was diagnosed with autism.
His mother, Josette Thompson, told the Los Angeles Times she feared he would never talk, hold a job or get married.
But Youn has spent a lifetime proving her wrong.
Not only was he valedictorian at California's Los Alamitos High School, where he took 13 Advanced Placement classes, he proved to be such an inspirational figure at Claremont McKenna College that his classmates elected him to deliver the keynote speech at the California school's 2019 commencement exercises.
When Vice President for Student Affairs Sharon Basso introduced Youn to the crowd, she called him "a CMC treasure" because "he is wise beyond his years and challenges himself in ways few of us do." She added, "You all need to spend five minutes with him to realize you are in the company of someone who is very bright, very talented, very thoughtful, very reflective, courageous and quite lovable."
In his speech, Youn — who earned a 3.8 grade point average majoring in politics, philosophy and economics, and made Phi Beta Kappa — showed exactly what she meant.
"I want you all to visualize freshman year Bruno," he told hundreds of students, faculty, family members and guests. "If it were freshman year me invited to speak up here, he would have cowered onstage and probably run off after an awkward sentence or two. … He wouldn't have consented to speak because he would have been afraid of humiliating himself. He wouldn't have even shown up to the ceremony. He would have stayed in his dorm in Phillips and played Fallout Four or some other game. He knew he needed a lot of time alone because his autism made him only able to handle society in small doses.
"He was ashamed of his autism because his mission at CMC was to fit in — at all costs. In fact, that's why he chose CMC. He thought he was broken in a way CMC could fix. CMC is an extroverted place, he thought. Maybe it would rub off on him.
"That mission was one of the only things that could get him out of his dorm room. If he got invited to do something, he said yes. Even if that something was taking joy rides on one of those medical scooters. …
"Well, his efforts paid off. But not in the way he expected … he left behind him a trail of broken stereotypes. I found a home in the liberal arts rather than the STEM majors that people on the spectrum stereotypically take in college. I've worked a job for a full year here on campus that has me in a suit and tie, eating dinner at a table with multiple kinds of forks, talking with and speaking in public about some of the world's most distinguished people. I've been in multiple positions where I've managed people, even though stereotypes say I should be in a back office somewhere in my own little world, managing things.
"So, what happened to freshman year me? Did I lose something by becoming who I am today? The truth is that to get this far I have suppressed some of my autistic traits, even though I would consider many of them a fundamental part of my personality.
"But changing as an individual doesn't have to mean losing your individuality."
And, using a banana as a comedic prop to simulate a phone conversation negotiating society's demands, he said, "I can tell you this, from my experience … your conception of who you are may be more flexible than you think."
His mother, remembering his difficulty producing speech as a preschooler, was left speechless.
"I was dreaming he would be in good enough shape to work at a grocery store," she told The Times. "My dream for him now is to be an icon and trailblazer for people with autism who don't know what their future will be like."
Get stories like these delivered straight to your inbox. Sign up for The 74 Newsletter