Watch: Parents and Experts Talk About How the Pandemic Led Families to Leave Their Schools — and Reshaped Their Expectations of the Education System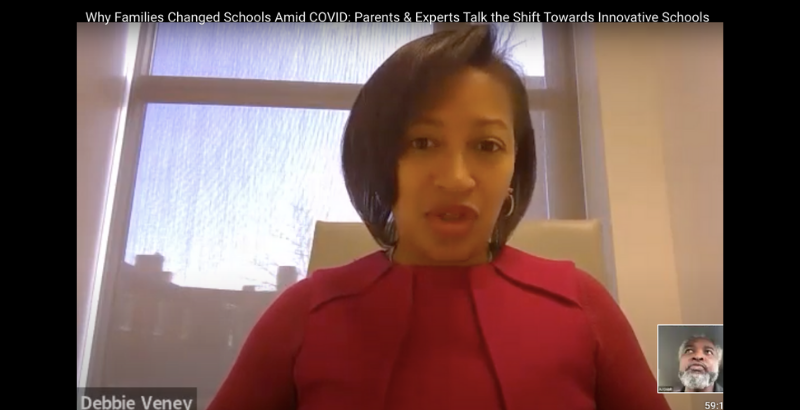 Support The 74's year-end campaign. Make a tax-exempt donation now.
Debbie Veney has a message for education policy-makers in the wake of massive enrollment shifts during the chaos and disruption of the COVID pandemic.
"You better listen," she said emphatically. "You better listen to what parents are telling you. Did we just see the elections that happened this fall? People who are out of step on charter schools and are running for elective office are going to be out of office."
Veney is Senior VP of the National Alliance for Public Charter Schools, which recently analyzed data from 42 states showing an influx of 240,000 students into charter schools during the 2020-2021 school year – the highest growth seen in six years. 
"Parents are holding us all accountable," she added. "They are demanding more for their kids. We need more, not fewer public school options. We need to equip all public schools to have the nimbleness and the flexibility that we see in the charter sector."
Veney expressed these views during an online panel Wednesdy presented by The 74 and the Reinventing America's Schools project of the Progressive Policy Institute. Listening to parents – so many of whom were frustrated and angered by how their schools reacted to COVID – was among the central themes of the discussion.
Jessica Sutter, who represents Ward 6 on the District of Columbia State Board of Education, said, "Parents made a lot of different choices during the pandemic," noting that her ward saw a 950-student increase in charter school enrollment and a 300-student increase in homeschooling. 
"Parents are looking for schools that are responsive to them," she said. "Watching parents move, they're moving to places where they feel like the school heard them and reached out to say, 'what kind of measures do we need to have in place to make you feel safe about sending your children back to the building; what kind of communication is going to be helpful this year, post-pandemic, knowing how difficult last year was for you and your students?'"
"And we saw really wonderful things from some of our public charter schools in making that happen," Sutter said. "We saw Friendship Public Charter Schools reaching out to parents, saying, 'we're going to do onsite testing for 100 percent of students and faculty every day,' and they did that before that was the common practice citywide."
Katrina Merkerson, a mother from Birmingham, Ala., spoke about moving her son into the i3 Academy during the height of uncertainty about the pandemic in the summer of 2020. "This was July; school was slated to start the first week of August and there were no answers coming from the district; none at all," she said.
A friend told her about i3 Academy, and after going through the enrollment process, Merkerson said, "It was absolutely the best decision that I made for my son."
"In the pandemic," she said, "parents were scrambling around because nobody knew what was going to happen. But i3 Academy had a plan in place already." She said that the school stayed open throughout the pandemic and that her son is thriving in his education. "He's a 6th-grader now at the middle school, and he is just off the chain."
A.J. Crabill, the Deputy Commissioner for Governance of the Texas Education Agency, said has not seen traditional public schools innovating ways to improve student achievement at the systemic level. "Most of the innovation that I've seen has been: how do we educate in the middle of a pandemic."
He added: "My sense is that the only way that traditional public schools see a significant resurgence in enrollment is through improving the quality of instruction. I don't think there are gimmicks that work. I think either we have schools that dramatically demonstrate improvement in student outcomes or we don't. 
"And whether they be charter schools or traditional district schools, the ones that can demonstrate improvements, I hope, will grow…and the ones who can't I hope will go away."
Crabill also noted how critically important it is for all schools to learn from this pandemic. "As I visit with professors and researchers across the country, many are already looking at how can we dig into the data that the pandemic provides to learn what can we do from a policy level in public education…. What are the strategies that work and what are the strategies that don't work?"
"I suspect," he added, "the schools that had more in-person instruction are going to show greater results, and that's going to be a clear policy description for future pandemics. I think of this as our starter pandemic."
Support The 74's year-end campaign. Make a tax-exempt donation now.