WATCH — On Front Porches, in Backyards and Online, Amazing Class of 2020 Virtual Prom Celebrations From High Schools Around the Country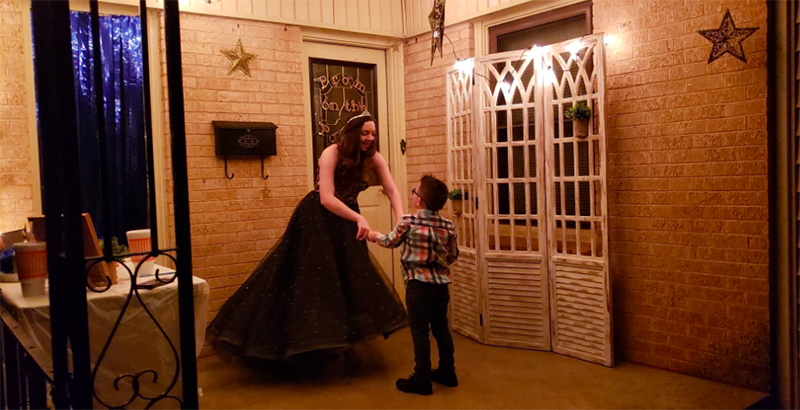 This article is one in a series at The 74 that profiles the heroes, victories, success stories and random acts of kindness found at schools all across America. Read more of our recent inspiring profiles at The74Million.org/series/inspiring.
Whether they were among the 10,000 who attended a virtual prom hosted by MTV and Michelle Obama or celebrated by dressing up at home and dancing virtually with their friends, the Class of 2020 would not be denied a prom.
"I just put on my lamp upstairs so I could have some nice lighting," Makinde La Veau, dancing in his dining room at his school's virtual prom, told CNN. "I'm a senior. This is going to be my last prom, so I just want to make it fun."
La Veau, a senior at Eastern Technical High School in Baltimore, clearly knows what to do when life gives him lemons.
"We're still alive," La Veau said. "Life is like this, so as long as I'm still here, I'm going to enjoy it to the fullest."

In Sweetwater, Texas, Grayson Chapman's mother wasn't about to let her daughter graduate without a little prom fun.
"Grayson thought it sounded a little cheesy at first. But she was so excited to get to be able to dress up after all and go to her last 'prom,'" Jaci Chapman told Fox News. "Once we started getting the porch decorated and cranked up the music, she really started getting into the spirit of it!"
At Northwest High School in Jackson, Michigan, seniors Meg Moffitt and Chelsea Devolder made a video of their classmates wearing their prom dresses.
"We wanted to make something for girls to show their dresses," Meg told JTV.TV, the school district's video news channel. "Boys were invited, but we didn't get any of those. We had about 35 or 36 girls, though, so it was a good turnout."
In Knoxville, Tennessee, a local news outlet hosted a prom for high school seniors throughout Eastern Tennessee.
Hannah Lucas, 18, a senior at South Forsyth High School in Forsyth County, Georgia, and her brother Charlie, 15, a freshman, created the "We Are Well Prom" to help seniors feel less alone, NBC reported.
At the Vista Peak Preparatory School in Aurora, Colorado, social distancing didn't stop students from choosing prom royalty.
As for the prom Michelle Obama hosted, it was put on by MTV and When We All Vote, a nonprofit that aims to raise voter participation, People reported. Obama is co-chair of the group and wanted to ensure that COVID-19 doesn't cause the 18-year-old virtual prom-goers to miss out on another rite of passage — voting in November.
Get stories like these delivered straight to your inbox. Sign up for The 74 Newsletter