VIDEO: Here's Where 6 GOP Leaders Stand on Education Policy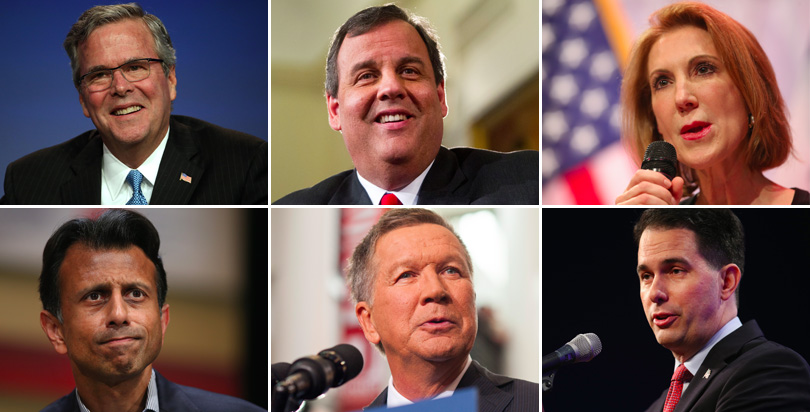 Six Republican leaders are set to take the stage Wednesday at the 2015 New Hampshire Education Summit to talk about the state (and future) of K-12 education with The Seventy Four's Campbell Brown. Watch for highlights from the summit on Facebook, Twitter, Medium and on Snapchat at the_74.
You can stream the discussion live right here via YouTube (beginning at 8:50 a.m. Wednesday). Click on the video to launch the stream:
Over the last two weeks, we have been compiling background dossiers—and summarizing the education platforms—of Wednesday's speakers. (We've also published 22 "baseball cards," summarizing the education stances of every current presidential candidate). Here's the K-12 issues most likely to make news at Wednesday's first-of-its-kind event:
1. Jeb Bush, and Common Core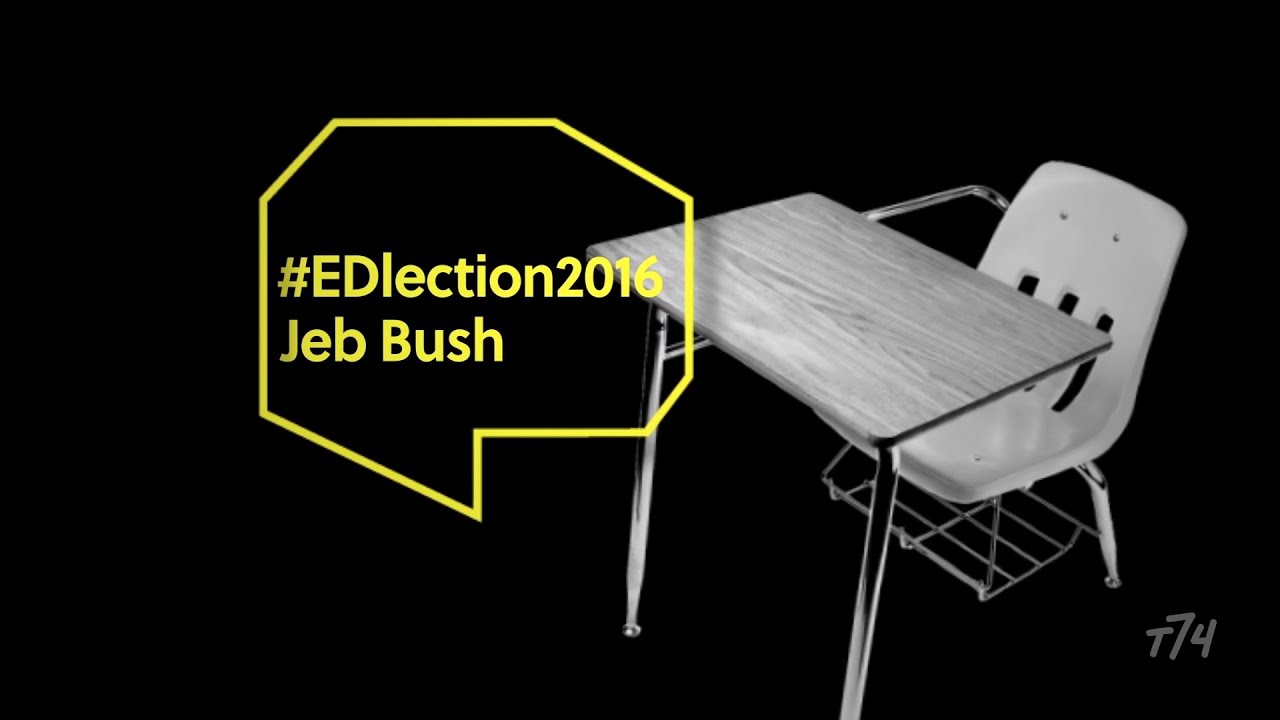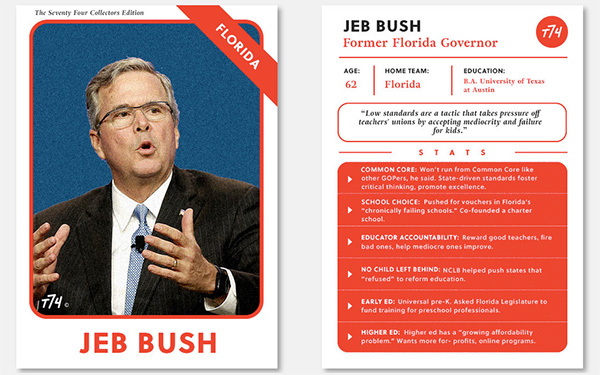 Jeb Bush, along with John Kasich, is one of two GOP candidates to support the Common Core. The issue was already raised at the first debate, when Bush defended his K-12 record and support for the Core:
"I'm for higher standards measured in an intellectually honest way, with abundant school choice, ending social promotion. And I know how to do this because as governor of the state of Florida I created the first statewide voucher program in the country, the second statewide voucher program, in the country and the third statewide voucher program in the country….And we had rising student achievement across the board, because high standards, robust accountability, ending social promotion in third grade, real school choice across the board, challenging the teachers union and beating them is the way to go."
2. Chris Christie, and the Unions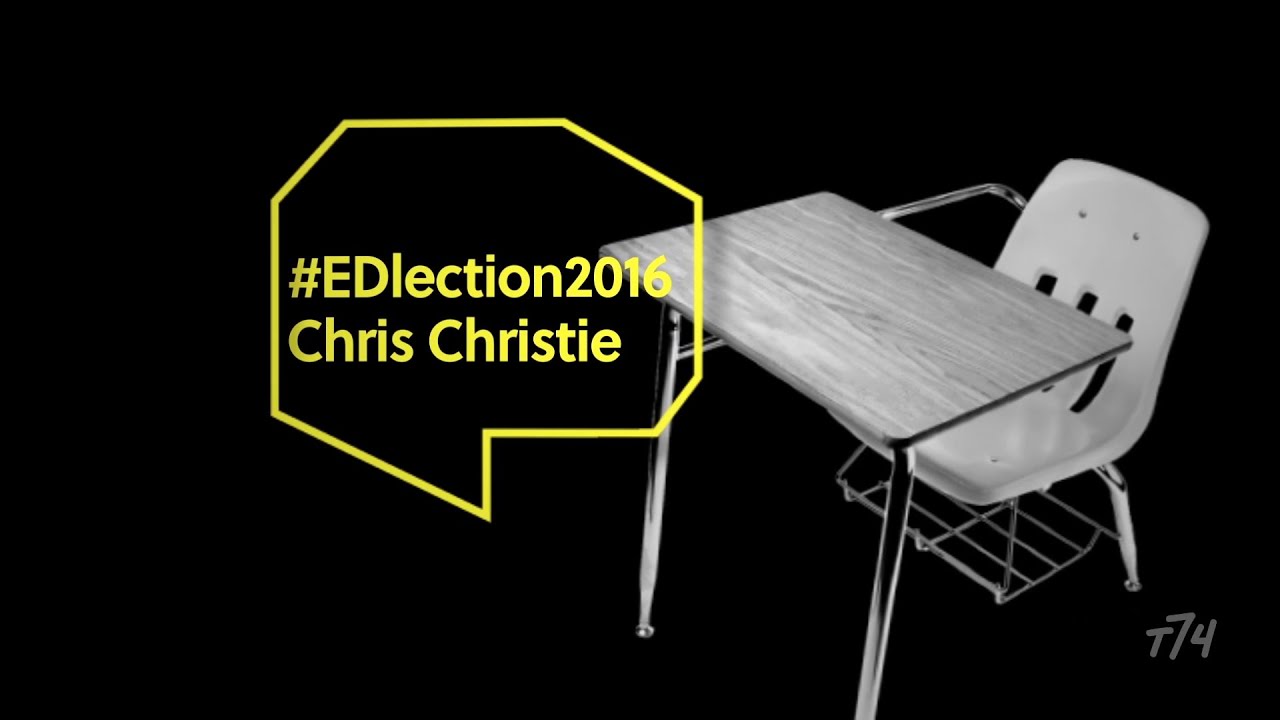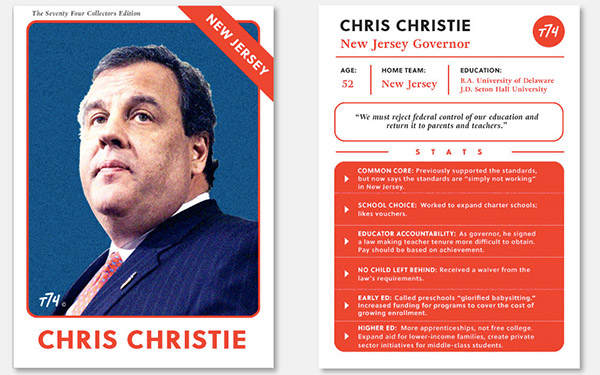 Long known for his battles with teachers unions as an entity and with individual teachers at meetings and town halls throughout the Garden State, Christie hasn't backed down from his criticism. Last month on CNN, the New Jersey governor said the American Federation of Teachers deserves "a punch in the face." He went on to add:
"They're for greater membership, greater benefits, greater pay for their members. And they are the single most destructive force in public education in America. I have been saying that since 2009. I have got the scars to show it. But I'm never going to stop saying it, because they never change their stripes."
3. Carly Fiorina, and No Child Left Behind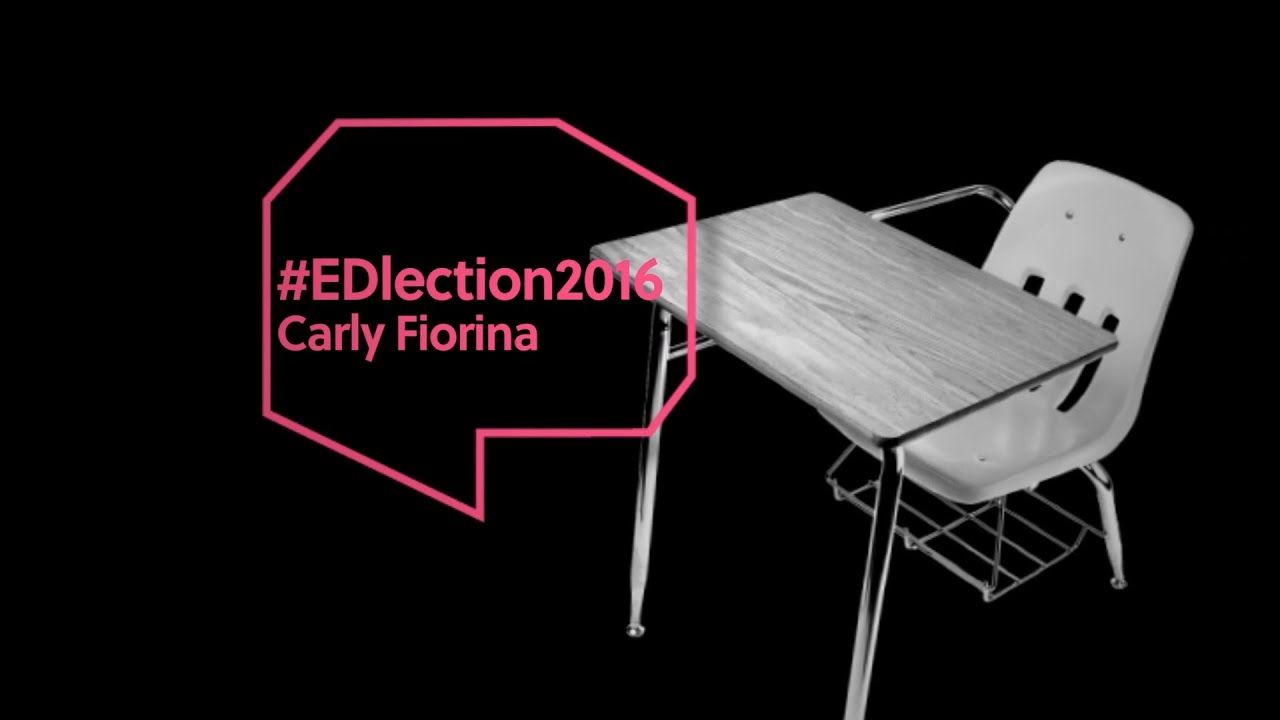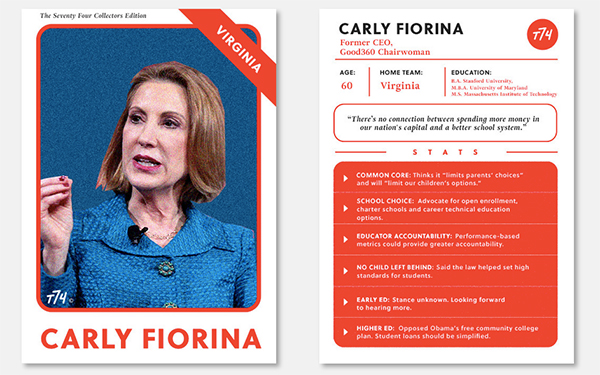 Although the former Hewlett Packard CEO has a less extensive record on education than the others at the summit, she has been vocal about her opposition to Common Core and her support for provisions in recently passed GOP bills to overhaul No Child Left Behind. She wrote about it for the Iowa Republican.
"Congress is taking a step in the right direction as they work toward a reauthorization of the No Child Left Behind Act that would devolve considerable power back to the states and outlaw mandated federal standards like Common Core. Republicans in the House, however, have gone farther in their efforts to reform the system and promote equal opportunity, passing a version of the bill that allows low-income students to transfer federal dollars between school districts. The House version also puts important educational decisions back in the hands of parents and students, allowing them to opt out of federal testing requirements. As usual, liberals in the Senate are opposed to these common sense measures because they are committed to protecting a broken status quo."
(Read our full report here: 4 Things to Know About Carly Fiorina Ahead of the Education Summit)
4. Bobby Jindal, and suing over standards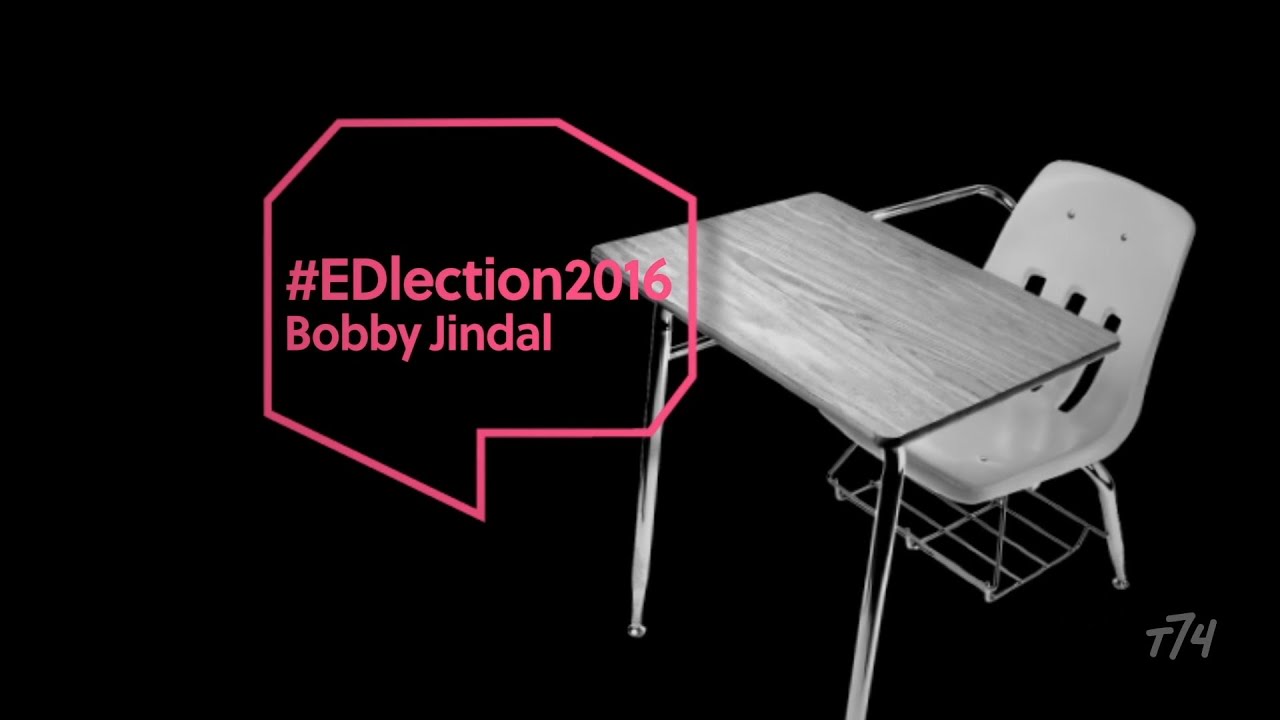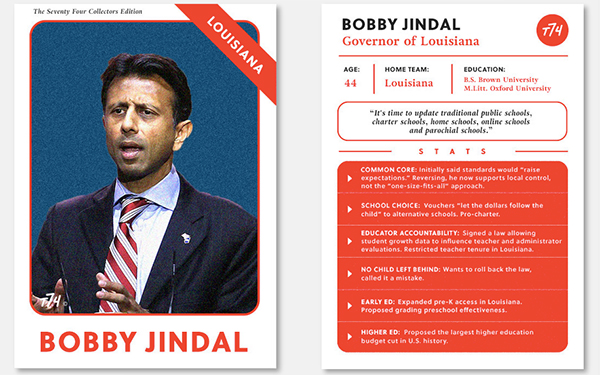 The Louisiana governor pushed an ambitious education reform agenda in his state, expanding vouchers and overhauling teacher tenure laws. Jindal also opposes Common Core, and went so far as to sue the federal Education Department and Secretary Arne Duncan over it. He wrote about his then-newfound opposition to Common Core in USA Today in 2014.
"It has become fashionable in the news media to believe there is a right-wing conspiracy against Common Core. The folks who think that need to get out more. The rebellion against federal government mandated testing is widespread and is led by parents of all stripes and political persuasions. If we get to the point where we are ignoring parents, we are making a big elitist mistake. I have news for Washington: We can have rigorous standards without giving control to the federal government. Parents deserve a voice in this debate."
5. John Kasich, and equal funding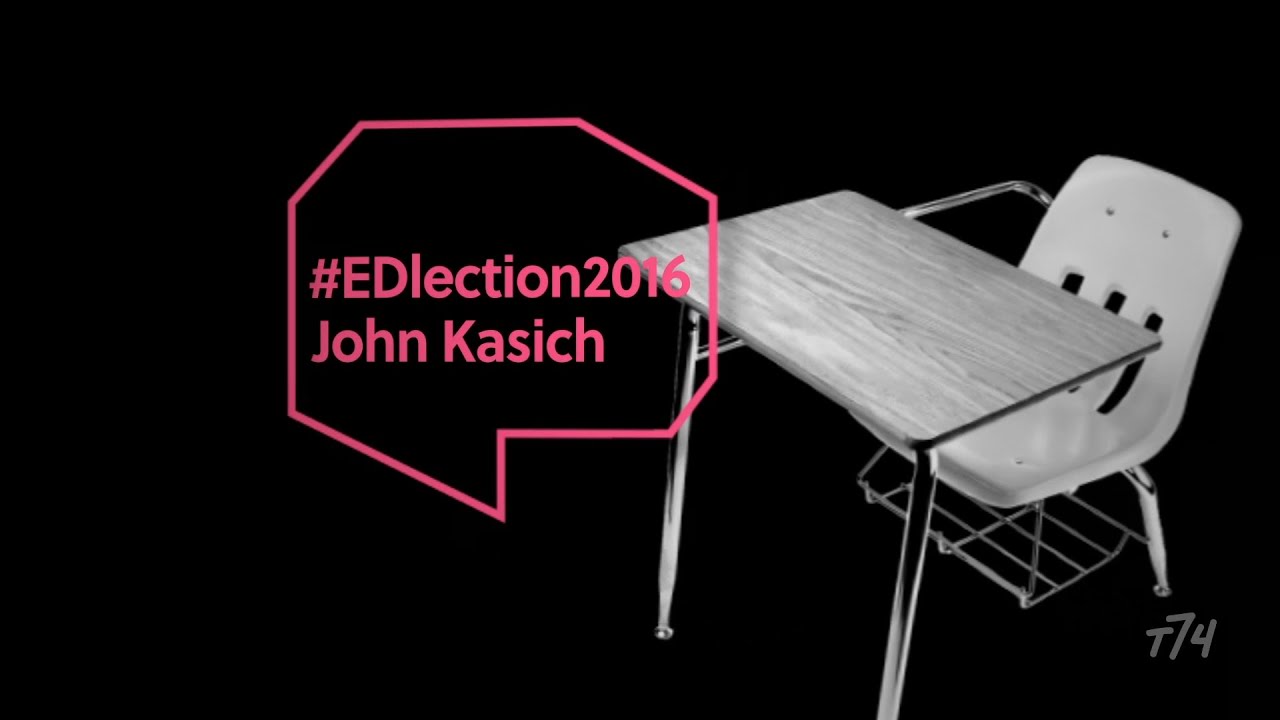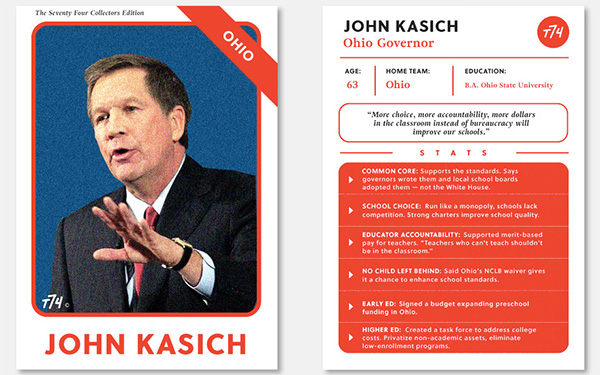 Kasich, the governor of Ohio, advocated for a state school funding formula that sent more money to poor districts than wealthy ones. He did not succeed but reached a compromise with legislators that boosted overall spending by $950 million and raised per-pupil aid.
"It is a conservative point of view that every kid should be in a position to thrive," he said. "I don't see it as redistribution…I see it as a formula for driving resources to kids."
6. Scott Walker, and vouchers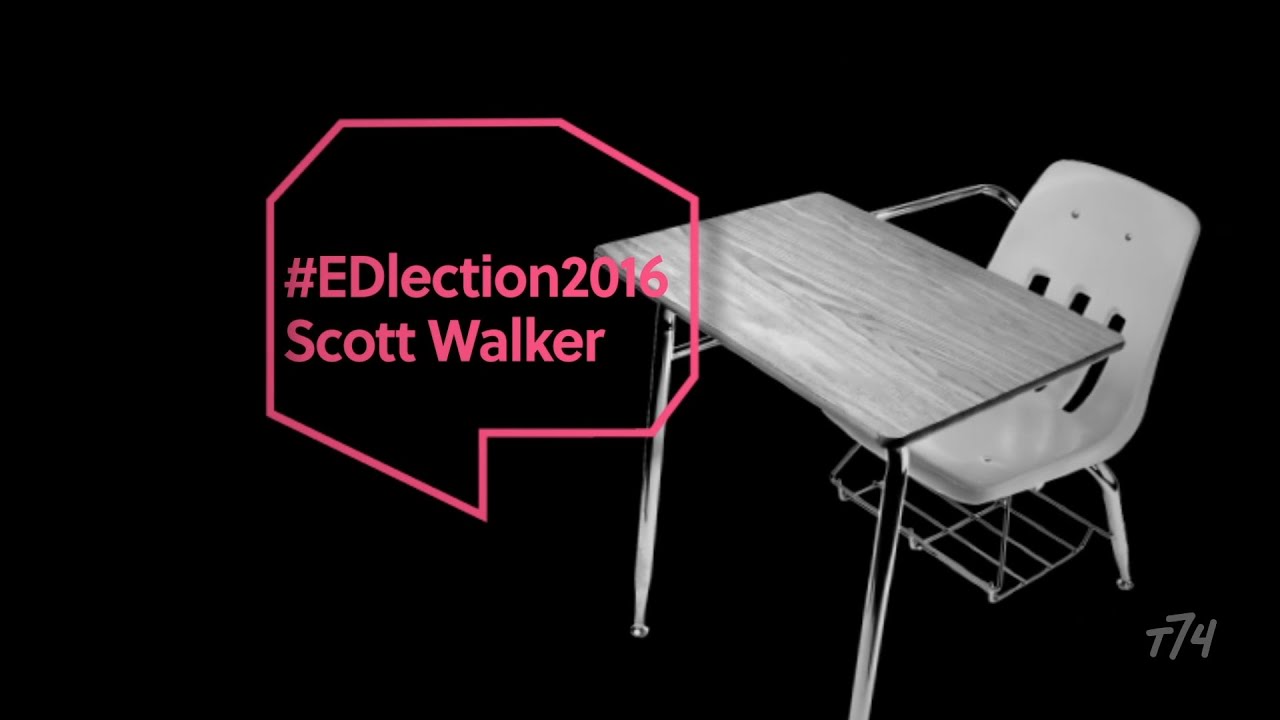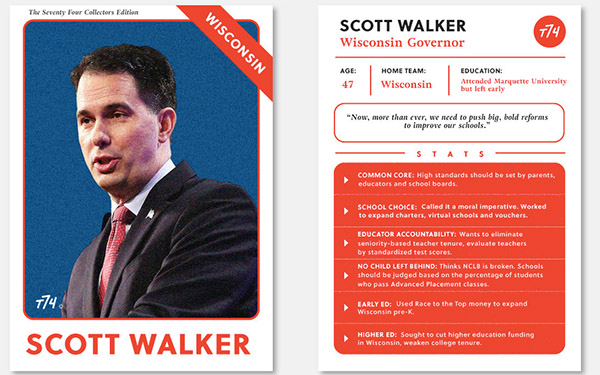 The latest budget Walker signed as Wisconsin governor expands the state's voucher program, lifting caps from 1,000 students statewide to a set percentage of students in each district, a figure that is set to grow each year. He has in the past called vouchers a "moral imperative."
"We decided once and for all this isn't a red issue or a blue issue, but it's a red, white and blue issue … For me it's simple, every child in this country deserves access to a great education. For me that's a moral imperative … It's an economic imperative because we can't afford to have people on the sidelines."
Photos by Getty Images
Get stories like these delivered straight to your inbox. Sign up for The 74 Newsletter