WATCH: Mission to Mars Video Wins $10,000 and Visit to NASA for 4 NJ Middle Schoolers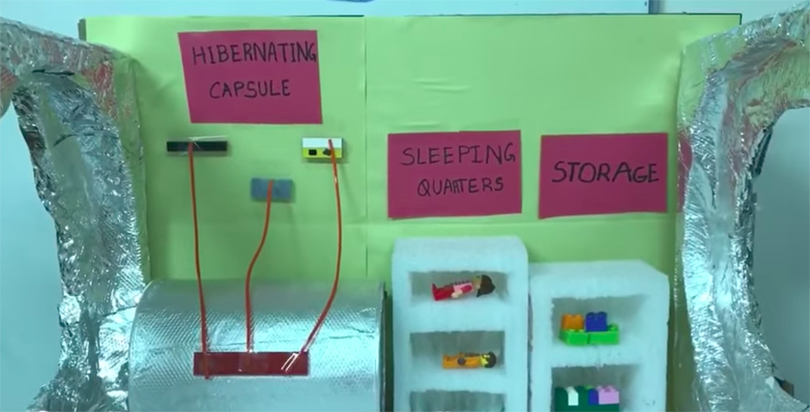 This article is one in a series at The 74 that profiles the heroes, victories, success stories, and random acts of kindness to be found at schools all across America. Read more of our recent inspiring profiles at The74million.org/series/inspiring.
Some students receive As for excellent work. In Edison, New Jersey, four sixth-graders got something more: a $10,000 check from Lockheed Martin and a visit to NASA's Kennedy Space Center.
The aerospace company offered up the cash prize in its Generations Beyond Video Challenge to middle schoolers for creating a video about reimagining a "habituation module" for a six-month NASA trip to Mars.
---
---
Ujwal Linga, Siddhant Vashisht, and Pramodh Miryalav from John Adams Middle School and friend Aarav Zutshi from Woodrow Wilson Middle School — calling themselves Team EON — captured the prize with an engaging two-minute video explaining their vision for how astronauts could sleep, eat, and exercise during their journey.
---
We took over a middle school in Edison, NJ today to surprise the winners from our video challenge! https://t.co/RdeZ4AiJCZ #GenBeyond pic.twitter.com/0zjb7K1jbz

— Lockheed Martin (@LockheedMartin) June 6, 2017
---
The students learned about the challenge from science teachers but independently formed their team and spent more than two months researching the project before weeks of recording and editing their video, reports USA Today. Joan Valentine, John Adams Middle School's principal, told the paper that the four "really took pride and ownership in creating this independently as a group."
---
Congrats Team Eon @JAMS_Knights on winning First Place ? $10,000 from @LockheedMartin ??? pic.twitter.com/fgOZpK3ALE

— Jennifer Blevins (@MsJennBlevins) June 7, 2017
---
The students created a model of their module, designed for the Orion spaceship, outfitted with living quarters, a research lab, and six months' worth of supplies. Little Lego astronauts complete the scene.
"I think we can all agree we were completely shocked," Siddhant says of the win.
---
Proud parent moment: When school hosts a celebration for your kid and team for winning the @LockheedMartin Space Challenge @JAMS_Knights pic.twitter.com/Q6PHJop5zK

— Chitra Sethi (@CitraSupercool) June 6, 2017
---
Ujwal says he was "surprised" by the announcement.
The multi-part video includes the concepts of astronaut hibernation, 3-D food printing, urine filtration, laser communication, and artificial gravity pods for exercise.
Lesson to their fellow students: Aim high!
---
Get stories like these delivered straight to your inbox. Sign up for The 74 Newsletter