WATCH: Middle Schoolers 'Rise Up' & Inspire the World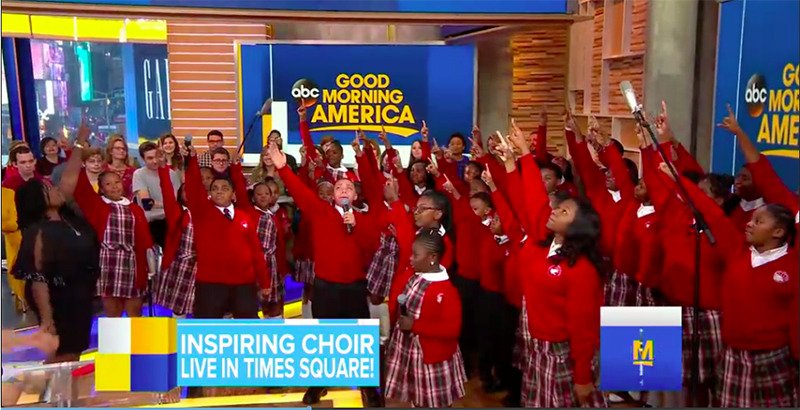 This article is one in a series at The 74 that profiles the heroes, victories, success stories, and random acts of kindness to be found at schools all across America. Read more of our recent inspiring profiles at The74million.org/series/inspiring.
Choir director Kenyatta Hardison wanted to share a video of her 30 or so choir students rehearsing "Rise Up" so parents could glimpse their children in action. But her post on Facebook Live reached an audience far larger than the parents of students at Baltimore's K-8 Cardinal Shehan School.
Cardinal Shehan School Choir Practicing….I love my kids! Like and share please! Not perfect but Imperfectly perfect #thisis us

Posted by Kenyatta Hardison on Wednesday, September 27, 2017
So far, it has pushed past 20 million views over multiple platforms — and landed the students a live performance on Good Morning America.
Wow! Viral sensation middle-school choir performs an incredible rendition of "Rise Up" on @GMA. https://t.co/jGJ0mffCP5 pic.twitter.com/fZ1Nj133fU

— Good Morning America (@GMA) October 18, 2017
"It's just been amazing, all the heartwarming messages," Hardison told GMA. "I've been receiving messages from London, from Las Vegas, Puerto Rico, Texas, France — it's just all over."
What a morning with us for these Baltimore middle-schoolers! An incredible rendition of @AndraDayMusic's "Rise Up" https://t.co/gFlmupPuYU pic.twitter.com/3hvtEl7Jec

— Good Morning America (@GMA) October 18, 2017
As the students' message of hope — and joyful hard work — continued to resonate for weeks upon weeks after the initial Facebook post took off on a choir-based Facebook group and went mainstream, the singer-songwriter behind "Rise Up" gave a bit of a boost of her own to the students.
"Your video was so powerful and moved me so deeply, and is moving the entire nation right now," Andra Day told the kids, and their teachers, via a GMA video message. "Thank you so much for your gifts, for your passion, for your honesty. We appreciate you so much."
Baltimore middle-schoolers' viral rendition of #RiseUp https://t.co/CK7i9X1YhE

— Andra Day (@AndraDayMusic) October 13, 2017
In Hardison's original Facebook video of the rehearsal, she called the performance "not perfect, but imperfectly perfect." Those words, along with the voices of the students, have sent the video across the world, with comments of appreciation coming back to the students in so many forms.
"This touched my heart so much! Keep reaching kids through music!!" wrote a Facebook user who said she was diagnosed with breast cancer, The Washington Post reported.
"God has blessed us with gifts that he wanted us to have, and I've said this a bazillion times and I'm going to say it again: We have a purpose here," 11-year-old John Paige, a sixth-grade soloist in the video, told ABC News. "You have a purpose in life, and our purpose, I think, is to make people happy when we sing songs."
They all have their reasons.
Soloist Kai Young, 11, a sixth-grader in the choir, told ABC he sings for his 90-year-old grandmother, to give her hope.
"I said to my kids, 'Wow. God is using you,' " Hardison said. "This is bigger than just performing. We are showing the world hope. And I say, 'Are you all ready for this task?' And they say, 'Yes!' "
Submit a Letter to the Editor