WATCH: Michigan Math Teacher Breakdances in School to Prove Geometry Can Be Fun — and Then Calculates Pi With a Pie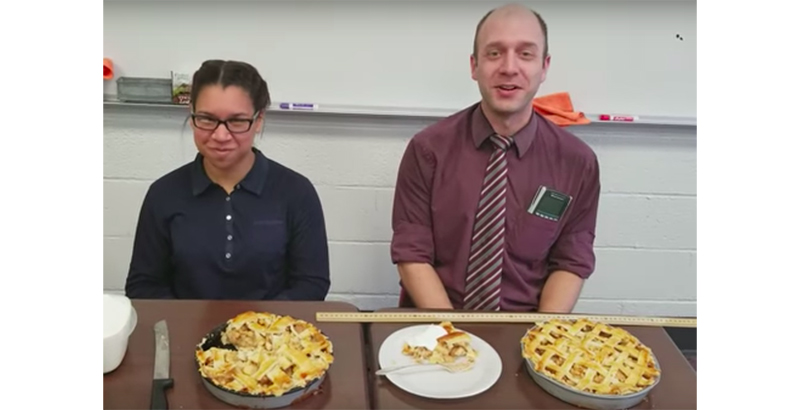 This article is one in a series at The 74 that profiles the heroes, victories, success stories and random acts of kindness to be found at schools all across America. Read more of our recent inspiring profiles at The74million.org/series/inspiring.
Some kids just don't believe math class can be fun until you show them.
After one of his students complained that geometry was boring, it was game on for Terry Austen, a math teacher at St. Patrick High School in Portland, Michigan.
"Would it help if I did some breakdancing?" Austen proposed, according to MLive.com. "Yes," replied the student, Natalie, who then sweetened the deal: "If you breakdance, I will make you an apple pie."
"Them moves were sick tho," commented BananaGaming on a YouTube video of the brief hallway performance to MC Hammer's "Can't Touch This" that racked up almost 800,000 views in less than a week.
To the laughter and delighted squeals of St. Patrick's students, Austen — tie still on but sleeves rolled up — started small, with a few groovy steps. Suddenly, he hurled himself face-first into a full body hold using just his hands. Then he performed the requisite series of twisty arm-over-leg pivots. And the grand finale: curled into a ball, a few 360s on the slick floor on his back.
The high schoolers weren't the first audience to appreciate their teacher's secret talent. Austen, who learned to breakdance in a high school club, told MLive that he's mostly performed at weddings. "Middle-aged white people really seem to like it," he said.
"I'm pretty surprised," Austen said of the internet hooplah. "It's just a goofy video."
Of course, Natalie, who's an aspiring chef, according to local news website The Portland Beacon, posted a YouTube followup to confirm she'd kept her end of the bargain.
Seated next to his giggling, camera-shy student, Austen seized on yet another gimmick to make math entertaining. Using the measurements of one of Natalie's two homemade caramel-drizzled pies (with whipped cream made from scratch as well), a meter stick, a piece of string, and his handy pocket calculator, he approximated the ratio of a circle's circumference to its diameter — pi of the pie.
"That's some good pie," Austen concluded, digging in. That's some very good 3.14…"
His grand finale this time? Rattling off the first several dozen digits of the infinite irrational number, a foundation of geometry.
Teach has got talent and brains.
Get stories like these delivered straight to your inbox. Sign up for The 74 Newsletter