WATCH: Members of Award-Winning High School Chorus Come Back to Oklahoma for a Surprise Celebration of Their Brilliant Music Teacher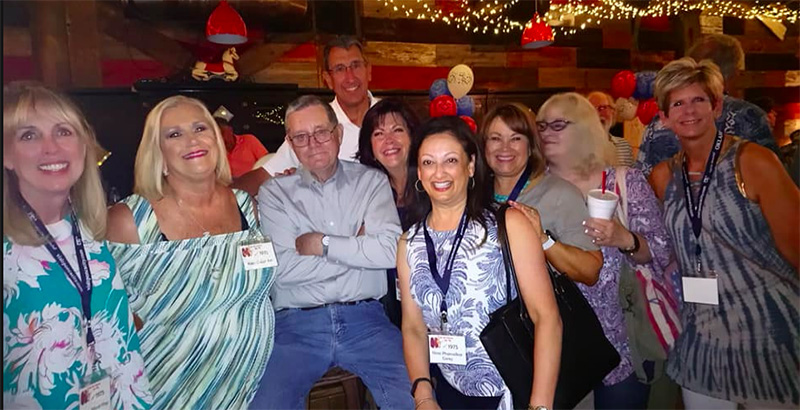 This article is one in a series at The 74 that profiles the heroes, victories, success stories, and random acts of kindness found at schools all across America. Read more of our recent inspiring profiles at The74Million.org/series/inspiring.
A fierce taskmaster who demanded perfection, he was. Warm and fuzzy, he was not.
But last month, the tears in Robert Moore's eyes showed another side of the music teacher who for 30 years directed one of the greatest high school choirs in the country.
Mr. Moore, as he will always be known, stood onstage at the Poncan Theatre after a surprise reunion concert that brought together nearly 300 onetime members of the Po-Hi Chorale of Ponca City High School in Oklahoma — some from as far away as Ireland and Panama, many of them award-winning singers — to pay tribute to their former choral director.
"I loved you then, and I love you now," Moore, who turned 80 this month, told his adoring former students.
The show — to which Moore was driven, celebrity-style, in a limousine — was just the climax of a weekend-long reunion, part tribute, part early birthday party, that the choristers had secretly planned for their beloved mentor. Under his tutelage, the chorus won national competitions every year that he was its director.
"He would stop you in the hall and ask you to sing a specific note," Susan Clay Vitkavage, class of '79, who traveled from Orlando, Florida, recalled for Oklahoma's News 9. "I haven't come back for any of my high school reunions, but having the opportunity to come back and honor Mr. Moore was something I just couldn't pass up," she said.
Ponca City has some of the best teachers. This CBS segment of, "On the Road", showcases just one of the fine examples. Enjoy!

Posted by Deborah Depuy on Friday, July 13, 2018
From 1966 to 1996, Moore directed 900 students in the Po-Hi Chorale. And he remembers them all, according to CBS News, which followed the reunion attendees on the weekend extravaganza that kicked off when Moore was lured to the country for a welcoming party at nearby Silvertop Farm & Vineyards.
Some of the students went on to be music teachers themselves, and some, like 1976 grad John Atkins, turned pro.
"I had a 25-year career singing with the L.A. Opera and all around the country, and it wouldn't have happened without you," Atkins told Moore in a moment captured by CBS.
The attendees could not say enough about the man who touched so many and even turned some of their lives around.
Jane Sharrock was one of the group who spent a year planning the event.
"The trophies were nice and the applause and standing ovations felt good, but nothing made us happier than seeing the corners of his mouth turn up with a sly grin," Sharrock wrote on Facebook. "It was rare, and when he smiled we knew we earned it."
Sharrock created a video, shown the night of the concert, that spans Moore's stunning career filled with endless awards, accolades, and rave reviews in the press.
From June 2017 to June 2018, it was my honor and privilege to help Kim Wells Hodges plan a special surprise event for a very deserving educator. Robert E. Moore, known affectionately and reverently to his students as "Mr. Moore" and nothing less, retired 22 years ago from teaching vocal music at Ponca City High School. From the Fall of 1966 until his retirement in 1996, he consistently led the Po-Hi Chorale to be one of the finest high school choirs in the country. Year after year, he took a bunch of teenagers from a small town in Oklahoma and taught them to love complex choral music written hundreds of years before they were born. His life's work spanned the Civil Rights movement, the assassinations of Bobby Kennedy and Martin Luther King, the Vietnam war protests, the breakup of the Beatles, Watergate, the boycott of the Moscow Olympics, the assassination of John Lennon, Iran-Contra, the first woman Supreme Court Justice, the explosion of the Challenger Space Shuttle, the Persian Gulf War, the fall of the Berlin Wall, and the bombing of the Murrah Building in Oklahoma City. No matter how turbulent the times, one thing remained constant. In 5th hour at Ponca City High School, Mr. Moore was in complete command. Every eye was on him; every voice sang for him. He never wavered in his beliefs, his teaching style, or his demand for absolute perfection, and we loved him for it. Most of us cannot remember our dates to the prom, but we remember the day we made Mr. Moore smile. The trophies were nice and the applause and standing ovations felt good, but nothing made us happier than seeing the corners of his mouth turn up with a sly grin. It was rare, and when he smiled we knew we earned it. It was our reward for hundreds of hours of practice and a dedication to excellence that only he could inspire. He held us to the highest standards of student behavior and musical performance. God bless that man for what he gave us. Being in the Chorale was an unforgettable experience for 900 kids. Many went on to become professional opera or musical theatre performers, to hold recording contracts, to be professional instrumentalists and symphony conductors and entertainers, to lead their church or community choirs, or to teach high school music just as he did. Two weeks ago, 30 years of Mr. Moore's Chorale students converged in Ponca City to celebrate his 80th birthday and all he taught us about life, hard work, reaching goals, and love of music, love of country, and love of God. We poured hundreds of hours into preparing for this celebration and gave him a birthday gift he will never forget. 270 of his students came from all corners of the U.S. and from Ireland, Panama, and Mexico to hug him, thank him, and perform for him again. Many more wanted to come but could only be with us in spirit. Helping plan this event was one of the best things I have ever done. I don't know how I could top it. The very kind and likable Steve Hartman and his crew from CBS News "On the Road with Steve Hartman" were with us the entire weekend. They interviewed Mr. Moore and some of his students and shot video of the hugs, the tears, the laughter, and the music. They have said it is one of the most incredible stories they have ever done. Tonight, national CBS Evening News will broadcast Steve Hartman's story of Mr. Moore and his Po-Hi Chorale kids. CBS will show a longer version on Sunday Morning with Jane Pauley. If you are in Oklahoma City, tune in at 5:30 tonight to the national CBS Evening News. The "On the Road with Steve Hartman" segment will be toward the end of the broadcast. The longer segment will air on CBS Sunday Morning sometime between 8:00 AM and 9:30 AM. If you live elsewhere you will need to check your local broadcast time. I created this video for the reunion. Just after we showed it Mr. Moore took the stage and gave an amazing speech filled with humor, wisdom, and humility. He ended by saying, "I loved you then, and I love you now." Right back at you, Mr. Moore.

Posted by Jane Sharrock on Friday, July 13, 2018
Cindy Zellmer-Weber, class of '79, whose three siblings also sang in the chorale, came to the reunion from Sioux City, Iowa.
She told News 9, "Mr. Moore demanded excellence at a time that I didn't even get what that was."
For 30 years music teacher Robert Moore directed one of the greatest high school choral groups in the country, the Ponca City Chorale. Now retired, Moore would love nothing more than a repeat performance…https://t.co/q93FjRpkUz

— ILMEA (@ILMEA1) July 16, 2018
Submit a Letter to the Editor