WATCH: Kentucky Principal Sings Snow Day Message to His Students — Like Mariah Carey, but in a Hunting Cap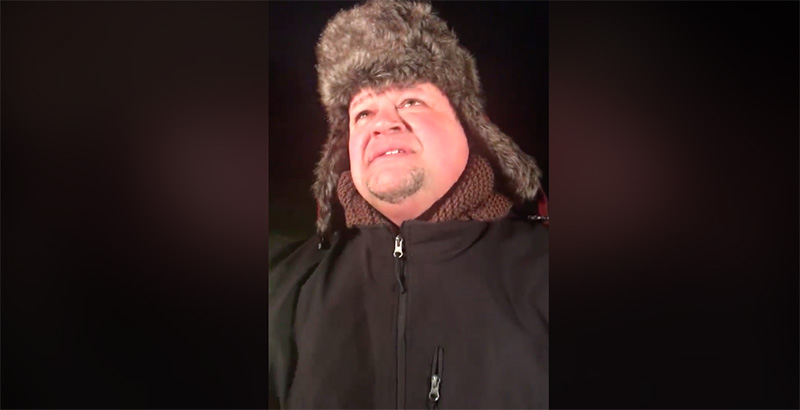 This article is one in a series at The 74 that profiles the heroes, victories, success stories, and random acts of kindness to be found at schools all across America. Read more of our recent inspiring profiles at The74million.org/series/inspiring.
A Florence, Kentucky, principal embraced his inner diva to deliver some cold, wet, and welcome news to his students this week — and he knocked this particular snowball out of the park.
Looking on the verge of tears in a Facebook video, Union Pointe Academy Principal Chad Caddell announces: "This early morning, I've got something on my heart I've gotta share with you."
The opening strains of Mariah Carey's ballad "Hero" play in the background.
He heaves a snowdrift-sized sigh, then begins to sing:
There's a message … If you look inside your phone.
You don't have to be afraid of what it says.
I see streets and roads. Have shut the city dowwwwn. So I'm reaching out to you, and I gotta say ….
That school is canceled for today. Go back to bed and go out and plaaaaayy.
Tests and homework — not a trace. (Parents don't punch me in the face ….)"
The principal helpfully suggests his snowbound students opt for Xbox and "just smile" and "drink hot chocolate for a while."
His demand for hot tea at the end is a nod to Carey's pouting onstage during the Times Square New Year's Eve telecast (though given the weather, it's probably best that he opted for a black zip-up jacket, a brown knit scarf, and a fur-lined, flannel hunting cap rather than her choice of a revealing slinky gown).
The principal's message — recorded by his wife, Tara — traveled far and wide, garnering nearly 300,000 views and approaching 4,000 shares on Facebook as of Tuesday night.
"I can imagine that it is a pretty fun work environment and learning situation with this guy in charge. I love it!" wrote one commenter, Haley Clarke.
Caddell, hired as principal of the K-12 Christian school in April, previously worked as a drama teacher in Boone County, Kentucky, where he broke out his falsetto to warble a 2014 snow day duet with an elementary school principal set to Queen's "Bohemian Rhapsody."
Caddell told the Lexington Herald-Leader he didn't expect the latest video to go viral, but he's happy his school community enjoyed it.
"I want to create a contagious culture for our students, faculty, and parents," he told the Herald-Leader. "A surprise and delight kind of culture where kids and faculty can't wait to get to school. School is known for being boring and predictable; it's a sin to bore kids. Fun doesn't mean shallow."
Support The 74's year-end campaign. Make a tax-exempt donation now.