WATCH: In This Age of Social Distancing, Class of 2020 Graduations Go Virtual, Mobile and Robotic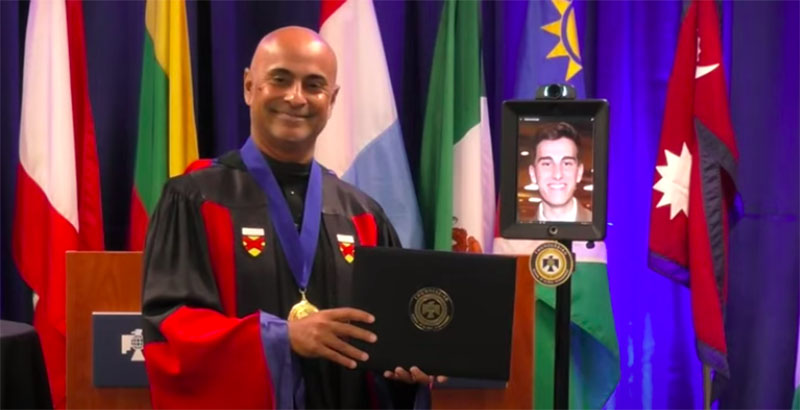 For the roughly 3.7 million seniors in the Class of 2020 spread across more than 24,000 high schools in the United States, graduation ceremonies this spring won't resemble anything near traditional.
What they will look like, though, will run the gamut from drive-in movie-style celebrations to livestreamed commencement exercises to pre-recorded snippets pieced together and viewed online. And they will all come with the same goal: honoring students and creating memories.
"This is very personal for students," says Anthony Salcito, vice president of Microsoft Education, which has expanded its Teams Live platform to accommodate as many as 20,000 attendees at virtual ceremonies. "Our belief is that these are going to be unique and magical in many ways in their own right. They need to be custom, as opposed to cookie-cutter."
Austin, Texas-based Ultimate Outdoor Entertainment got its start providing mobile drive-in theater packages for community lawns all over the United States. Now it's catering to school districts interested in creating a drive-in graduation ceremony experience. Think old-school drive-in movies, but with a commencement twist.
More than 200 schools have contracted with the company on events from late May well into June, says Darrell Landers, founder and chief technology officer. Using a model expanded in April to help churches host drive-in Easter services, the company offers three sizes of portable screens and can host up to 400 cars at an event.
"The schools are doing different things to help generate ideas for us," Landers says. In every case, the company rolls into town and sets up a large screen — sizes range from 12 feet by 20 feet to 17 by 30. Cars park in a lot, facing the screen, and the company's sound system connects to an FM transmitter so visitors can hear the audio through their vehicle's radio. Some schools pre-record a ceremony, with commencement speakers, pictures of students and a video montage of school memories. For some smaller schools, the company is also providing an outdoor stage so that as student's names are called during a video presentation, they can leave their cars, walk to the front and be acknowledged. A few schools are even capping the night with a drive-in movie. Landers says that while prices start at around $2,500, he's giving discounts for neighboring schools that book back-to-back events.
Salcito says the creativity he's seen from schools has blown him away, especially as students get involved and mix and match technology to create memory-making events. Hundreds of schools have reached out for support in mixing digital archives of videos and photos with live components and recorded segments. "Students," he says, "are taking the action into their own hands."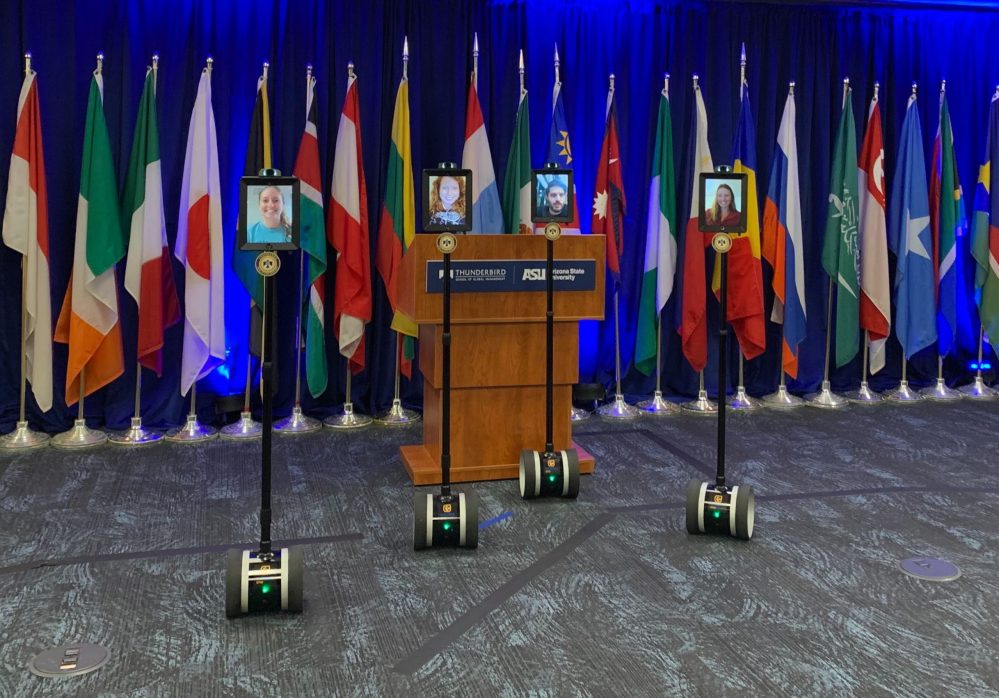 One school is using Minecraft, an online game in which players create virtual environments, to host ceremonies, while students at England's Newcastle University Medical School used Microsoft Flipgrid as they all recited the Hippocratic oath. "There is certainly a need for Teams sessions and video sessions, but we are seeing many examples blended into the experience," Salcito says. "It was super powerful to see student after student saying the Hippocratic oath."
For those hoping to watch a friend or family member's graduation, schools will have links to share, so viewers can simply click the link to watch the livestream at the appointed time. There will also be an option to view events at a later date.
With more than 183,000 educational institutions now using Teams across 175 countries, Microsoft has had to beef up its global cloud footprint and work with engineers to ensure that it can handle the distance learning crush due to COVID-19. While live meetings were always free for schools, Microsoft expanded its bandwidth to make hosting Teams events of more than 200 possible — up to 20,000 people — as part of its no-cost package. Microsoft has also made recommendations, guidance, planning and troubleshooting available for free.
Other video-based companies are also getting involved, both locally and nationally. Shindig, for example, a videoconference and webinar technology that includes features to personalize the user experience, has moved beyond business and into graduations.

For the bulk of the 3.7 million 2020 seniors, though, virtual is the new tradition. "There will be a number of different options, and it will be great to see schools' flexibility and for them to create a digital archive," Salcito says. "Schools will treasure this. It may not create the memory they thought they were going to have, but it is a special one nonetheless."
Support The 74's year-end campaign. Make a tax-exempt donation now.