Watch: Florida Teen Asks Girlfriend to Homecoming Dance, and the World Goes Wild — 'Down Syndrome Does Not Limit Them'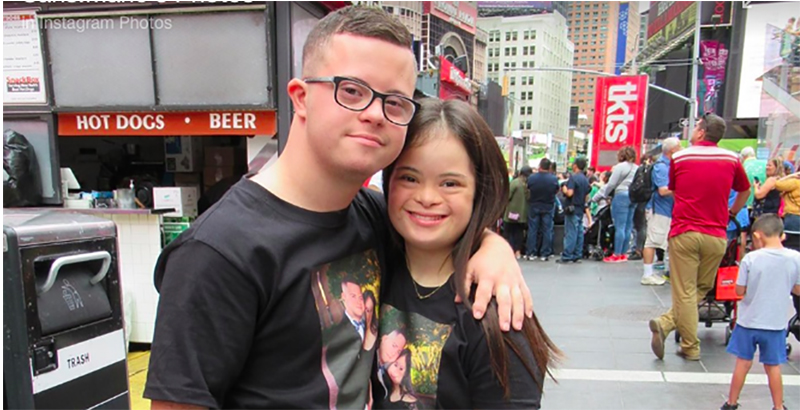 This article is one in a series at The 74 that profiles the heroes, victories, success stories and random acts of kindness found at schools all across America. Read more of our recent inspiring profiles at The74Million.org/series/inspiring.
They had each other's hearts for a while, but two high school lovebirds captured the hearts of America — and the world — when a simple date request went viral.
David Cowan, a senior at Seminole High School in Sanford, Florida, took flowers and a poster to a football game at Lake Brantley High School in nearby Altamonte Springs. That's where his girlfriend, Saris Garcia, is in the cheerleading squad.
"Will you go to homecoming with me?" David asked, getting down on one knee in front of the crowd.
"Yes," Saris screamed.
The moment would have been special regardless, but David and Saris both have Down syndrome, and their obvious joy is, well, just a joy to watch.
The two met when they were 3 years old at a speech therapist's office, Today.com reported. They moved a few times after that but stayed close. Their families got close, too, making sure the pair participated in Special Olympics together and got to hang out at the beach, surfing and swimming like other Florida kids.
Now, David, 19, and Saris, 18, live near each other and attend neighboring high schools.
Their parents aren't sure when they started dating, but they have had a "special connection" for a long time, their families said in a joint email, CNN reported. "As they got older, their relationship grew, and that's when they expressed their feelings [and showed] how much they care for each other."
"We want people to know that they are just like other couples and fall in love and wish to have a fulfilling life. Down syndrome does not limit them," their families wrote.
David's 16-year-old sister Sophia took him to buy the supplies and helped him make the poster, Today reported. His mother, Marilyn Cowan, was there in the stands, cheering him on. "He was so excited and dancing in the bleachers," she and Saris's mother, Wanda Cruz, wrote, according to CNN. Cruz took the video, which has gotten more than 1 million views on Facebook.
In it, David walks along the sidelines, carrying flowers and a sign that says, "Will you be my sunshine to homecoming?" The crowd yells and applauds when he gets the answer he was hoping for and raises both arms in victory.
"A lot of people have called us, contacted us, cheered them on, because they are so cute together, because Down syndrome rocks," Saris's mother told ABC World News Tonight. "Even if they have Down syndrome, their love is like anybody else's."
Best thing you will see all day. ❤️

(Via saris.marie.model/ Instagram) pic.twitter.com/7PustlNmPL

— MaxPreps (@MaxPreps) September 28, 2019
Down sendromlu bu genç, kız arkadaşını mezuniyet balosuna romantik bir sürprizle davet ediyor ve sonra dünya bir dakikalığına güzelleşiyor ?
–
? @saris.marie.model / @davidcowan_1234
– pic.twitter.com/b59oMkZ2lD

— Herhangi Biri… (@1Herhangi_biri) October 1, 2019
Cruz said she was grateful for inclusion programs that allow her daughter to be part of the school culture and participate in events like homecoming — just like all her other schoolmates.
Once at the dance, the cheering for the young lovebirds didn't stop.
Principal Jordan Rodriguez invited them onstage in front of the supportive crowd.
"I want to bring out very special guests," Rodriguez said in a YouTube video of the dance. "They're not just known in Seminole High School, but they are known the nation over."
Get stories like these delivered straight to your inbox. Sign up for The 74 Newsletter