Watch: First-Grader Rides Her Bike With a 3-D-Printed Prosthetic That Older Students Made Just for Her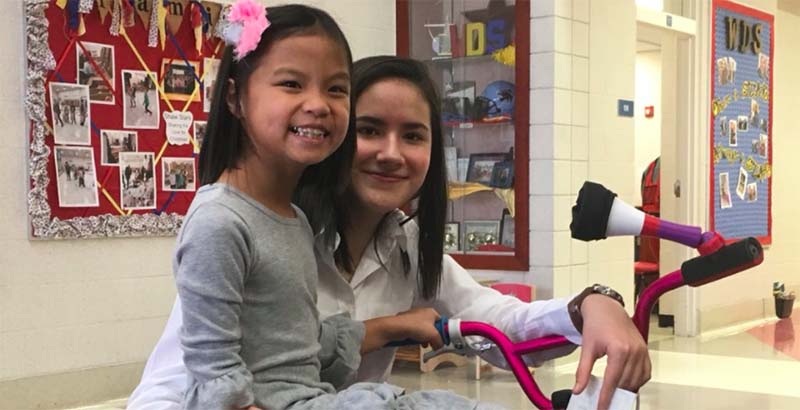 This article is one in a series at The 74 that profiles the heroes, victories, success stories, and random acts of kindness to be found at schools all across America. Read more of our recent inspiring profiles at The74million.org/series/inspiring.
First-grader Gracie Marvin was so bashful, it took a bribe from her mom to get her to pedal her new bicycle down the school hallway.
But the gift bestowed upon her that day guarantees she'll be wearing an ear-to-ear smile for miles and miles to come.
The 7-year-old was born without a right hand, making it difficult for her to master a classic elementary school rite of passage.
"She's always wanted to ride her bike without training wheels, but she couldn't keep a bike balanced with just one hand," her cousin, Leah, explained in a blog post from their Springdale, Arkansas, school district. "Her mom told me she would like to have a device that would allow her to ride her bike. Our EAST students talked about it and wanted to help."
The Arkansas-based nonprofit EAST (Environmental and Spatial Technology) Initiative challenges students to improve their communities through projects using teamwork and technology. According to its website, it currently serves 246 schools in four states, including Gracie and Leah's own Shaw Elementary School, which just added an EAST program this school year.
Leah's fifth-grade classmates sought out older students at the district's Don Tyson School of Innovation to come up with a solution, and ninth-grader Steicy Lopez – described as a whiz on a 3-D printer – and her classmates met the challenge.
"We took measurements and worked on a design that would look good, be comfortable and work," she said.
Gracie, who participated in the design process, knew she was going to be getting some sort of device to help control the bike with her right arm. But she had no idea the older students had rolled with the idea, using proceeds from the school coffee shop to buy a new bicycle and helmet to go along with the "Bike Buddy" they designed.
On a recent school day, they surprised her with the result — a hot pink bicycle with her name emblazoned on the frame. The left side of the handlebars has a hand brake, and the right has a softly padded cup — attached to a sturdy stem — that she can insert her arm into and use to steer comfortably.
"Gracie! Gracie! Gracie!" her fellow students cheered as she pedaled down the hall.
"She can do anything; she's an amazing little girl," her mother, Julie, told 40/29 News. But "this was one of the things she struggled with a little bit, with just having one hand."
Steicy told the Northwest Arkansas Democrat Gazette the final product took about 50 hours to make in the printer. She plans to refine the design further to make it sturdier, and she wants to make Gracie some spare devices for the future.
Gracie's new ride came with training wheels — but don't expect those to last for long.
And as for that bribe? With the camera crews gone, Gracie, her mom — and that new hot pink bike — were headed to Chick-fil-A to celebrate.
Get stories like these delivered straight to your inbox. Sign up for The 74 Newsletter