WATCH — Back-to-School Tips for Parents: 11 Videos That Define, Demystify and Explain Complex Classroom Issues, Policies and Strategies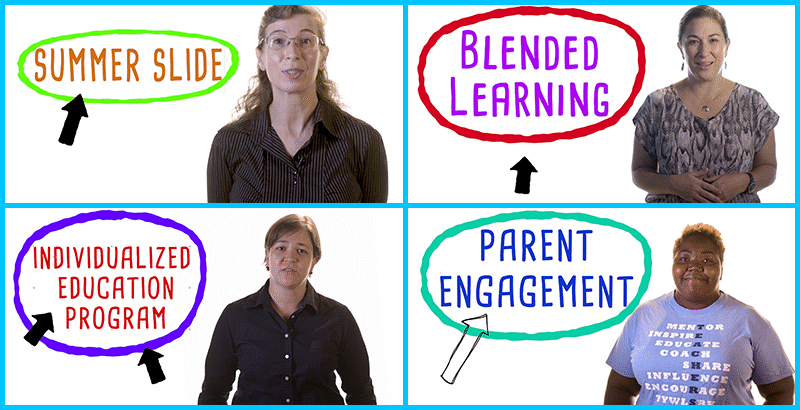 Every week at The 74, we aim to make education policy and practice a little less intimidating for parents who are hoping to take a more active role in their child's schooling. We call this special section 4Fams, and you can see our full archive of family-oriented features, essays, explainers and videos at The74Million.org/4Fams. (You can also get the latest additions to the series delivered straight to your inbox by signing up for The 74 Newsletter.)
As students across the country begin returning to campus for the 2019 school year, we've put together 11 of our most popular video explainers, in hopes of helping parents new to the system become instant experts in how teachers, administrators and policymakers talk about classroom strategies and priorities. We hope you'll watch — and share!
What Is 'Summer Slide'?
Summer slide refers to the "brain drain" that students may experience over the summer months — a loss of critical math and reading comprehension:
What Is 'Blended Learning'?
Blended Learning combines traditional, "offline" classroom learning with online learning activities:
What's an 'IEP'?
An Individualized Education Program (IEP) is a document that is developed for each public school student who requires special supports or services:
What Do Schools Mean by 'Parent Engagement'? 
Communication between schools and families is important:
What Is 'Growth Mindset'? 
Students with a growth mindset believe that their abilities can be developed through hard work, persistence and dedication:
What Is 'Personalized Learning'? 
Personalized learning, or student-centered learning, refers to taking a customized approach to each individual student's learning:
What Is 'Media Literacy'? 
Media literacy refers to educating students about how to be thoughtful users and consumers of media:
What Is 'College Readiness'? 
College readiness means the degree to which kids are ready to succeed in their postsecondary coursework on day one:
How Do Teachers Use Data to Inform Instruction? 
Teachers use data to help them understand how students are progressing and to develop strategies that support student success:
What Is 'Project-Based Learning'? 
Project-based learning is a teaching method in which students learn over time by investigating a complex question, problem or challenge:
What Is 'Design-Based Learning'? 
Design thinking is a creative problem-solving approach:
Get more parent-oriented features, essays, explainers and videos delivered straight to your inbox; sign up for The 74 Newsletter.
Get stories like these delivered straight to your inbox. Sign up for The 74 Newsletter