Watch as NY HS Grads Give Silent Ovation to Autistic Classmate in Video That Has People Cheering — and Crying — Around the World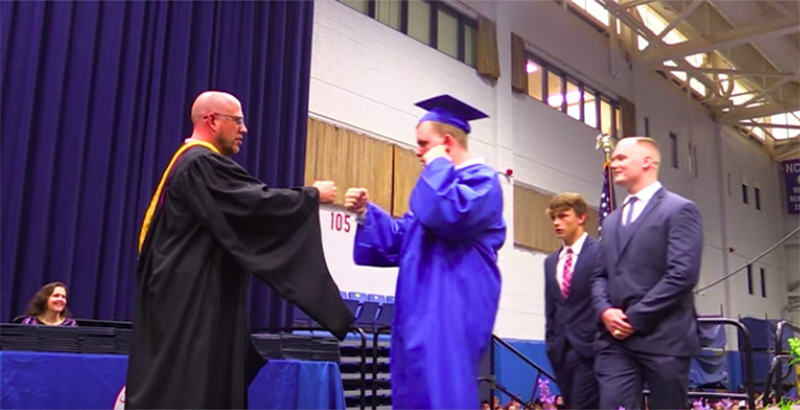 This article is one in a series at The 74 that profiles the heroes, victories, success stories and random acts of kindness found at schools all across America. Read more of our recent inspiring profiles at The74Million.org/series/inspiring.
The "C" in Carmel High School stands for "compassion."
That's what Principal Lou Riolo said as he made an unusual request of the class of 2019. He asked the soon-to-be graduates to remain silent – no applause, no whooping, no hollering — when their classmate Jack Higgins came up to accept his diploma during the school's commencement exercises.
Higgins is autistic and highly sensitive to sound. He was graduating from the school in Putnam County, New York, after eight years in its PACE program for students with special needs, and it was his parents' dream that their son be able to mark the accomplishment just as other graduates do: by walking across the stage in front of a large and supportive crowd.
They had no idea how supportive the crowd — and, thanks to a viral video, viewers around the world — would be.
Two months before graduation, Barbara and Pat Higgins asked a teacher to help their son attend graduation, The Examiner News reported. Soon, Riolo, who has a daughter with Down syndrome, started thinking of how he could make it work.
"In our school, we have a banner as you enter all of our school buildings, #WhatsBestforKids," Riolo told CNN. "It sounds corny but makes sense. But in this case, what was best for Jack?"
Riolo consulted his staff, who felt that even though students are unpredictable, the graduating class could pull it off.
They were right. Riolo asked for quiet as Higgins received his diploma before the rest of the class, and the crowd that had packed into Western Connecticut State University's O'Neill Center remained silent when Higgins's name was called.
As Higgins approached the stage, he held his fingers near his ears, as if preparing against an onslaught of sound. But the hall was quiet except for the respectful "golf claps" that Riolo had suggested.
When the silence persisted, Higgins took his hands down, walked slowly across the stage with his two brothers and his school aide and accepted his diploma. The graduates, unprompted, rose one by one to give him a silent standing ovation.
"I am in Awe of my students and the Community I have been privileged to grow up in and now work in," Riolo wrote on Facebook.
For the Higgins family, the day was better than they had even allowed themselves to hope for.
"I know myself and my wife were kind of crying leaving the graduation," Pat Higgins told The Examiner News. "It was as good a thing as we've had in Jack's entire life. I think everyone was blown away with how special it was."
Higgins is now headed to nearby Chappaqua to continue his education at Ability Beyond, a program for people with disabilities, CBS reported. But no matter how far he goes, he has already made his hometown proud.
"It is my local high school," Valerie DeBenedette gushed on Facebook. "A school full of smart, talented and very compassionate kids."
Get stories like these delivered straight to your inbox. Sign up for The 74 Newsletter