WATCH as HS Seniors Share Memories of School and Their Hopes for the Future With These Touching Virtual Yearbooks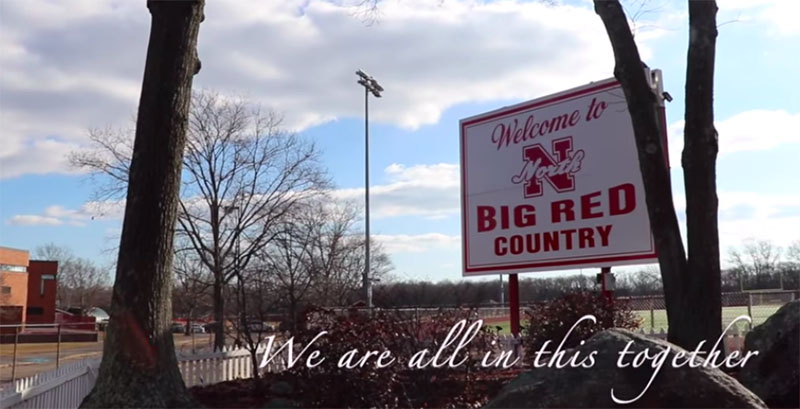 This article is one in a series at The 74 that profiles the heroes, victories, success stories and random acts of kindness found at schools all across America. Read more of our recent inspiring profiles at The74Million.org/series/inspiring.
The coronavirus may change the world, but it can't stifle the creativity of high school seniors who want what seniors before them have always taken for granted — a yearbook that showcases their shared history, presents their photos, lists their accomplishments and, sometimes, includes a silly quote.
Students nationwide have turned to Instagram and YouTube to fill the void left by physical yearbooks that have gone unpublished.
"It's kind of sad that we can't physically sign each other's yearbooks, but in the absence of that, this Instagram account gives us a chance to maintain some sense of tradition," Billy Duke, a senior at Friends Academy in Locust Valley, New York, told NBC News.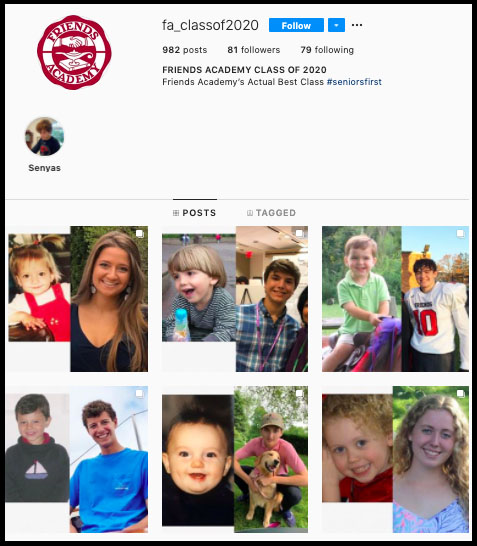 The Instagram pages are hosted and designed by students who invite their fellow seniors to submit photos and information to them via direct messages. The submissions are displayed on a single page. Then students, friends, family and teachers can post comments on each student's entry, just as if signing a printed yearbook.
"We've remained together over Zoom and Google Hangouts, and that does part of the trick in maintaining our school community academically, but beyond academics there's so much more that goes into a school — the clubs, academics, plays, all of which has been canceled," Duke told NBC. "I think the Instagram account is us trying to find that sense of community outside of the schoolwork."
At North Attleboro High School in Massachusetts, students created a YouTube video to show that COVID-19 was not going to stop the Class of 2020, which has already lived through major events. It starts with a stream of seniors, each reciting a line about their collective memory.
"We were born in the wake of 9/11," students say. "We entered a world where technology took over our lives. We entered elementary school at the start of the stock market crash. We were only in fifth grade when the Sandy Hook school shootings happened. We were in middle school during the Boston bombing, and we entered high school as mass shootings became the norm."
Matt Bieger, a senior at Dunwoody High School in Georgia, set up his school's Instagram Class of 2020 page.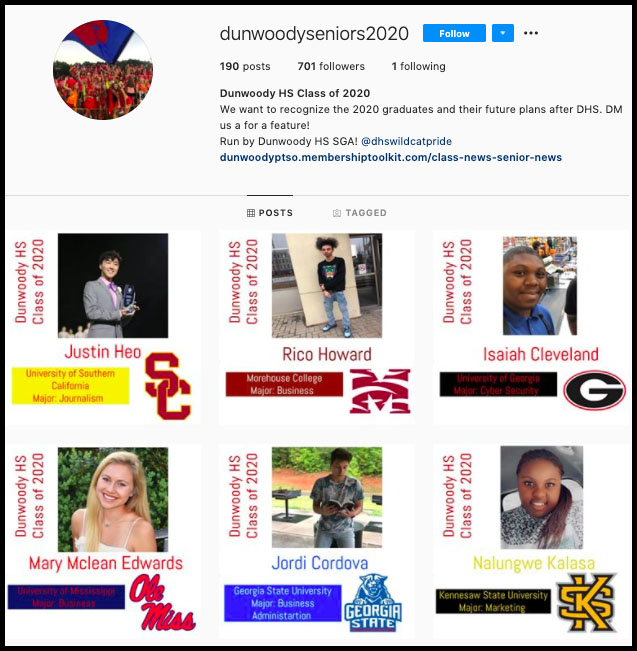 "These accounts are something a lot of schools have done," Bieger told The New York Times. "Every high school I know is starting to use a page like this to celebrate their senior class. I've seen it across the country."
He's right — yearbook pages are popping up on social media from all over.
From Iowa: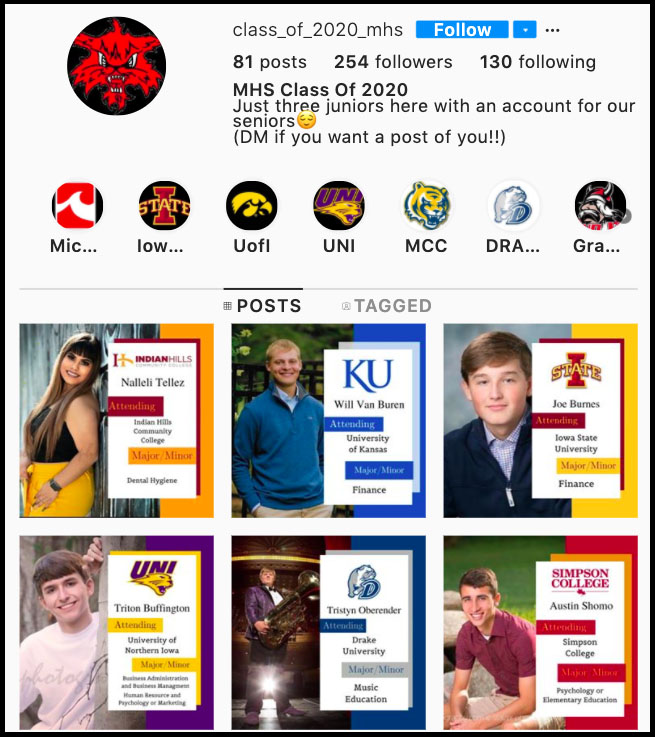 From Ohio: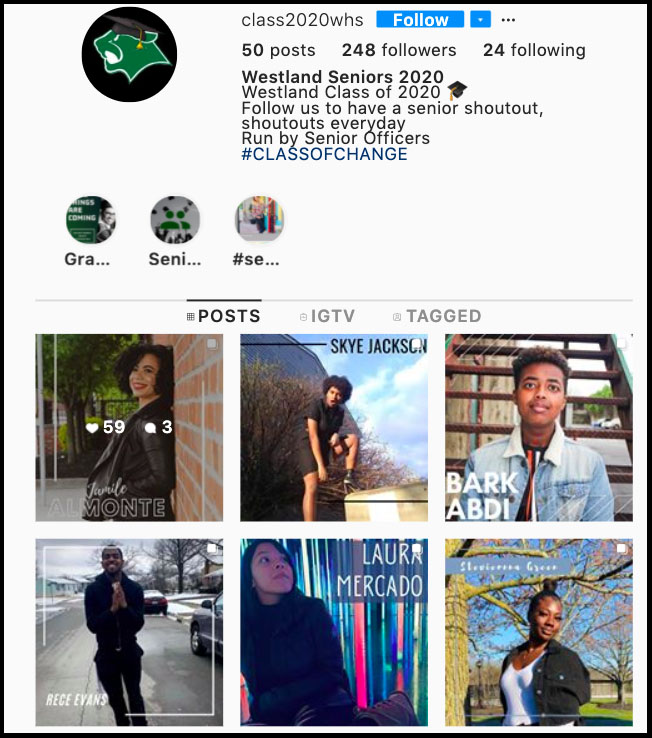 Some students, like the seniors at Calaveras High School in San Andreas, California, have created a hybrid yearbook, animating their Instagram page in a video on YouTube.
Ariana Mendoza, a senior at Conestoga High School in Berwyn, Pennsylvania, told the Times she wanted all students, even those without Instagram accounts, to be able to participate, so she asked for submissions through the school's online learning platform.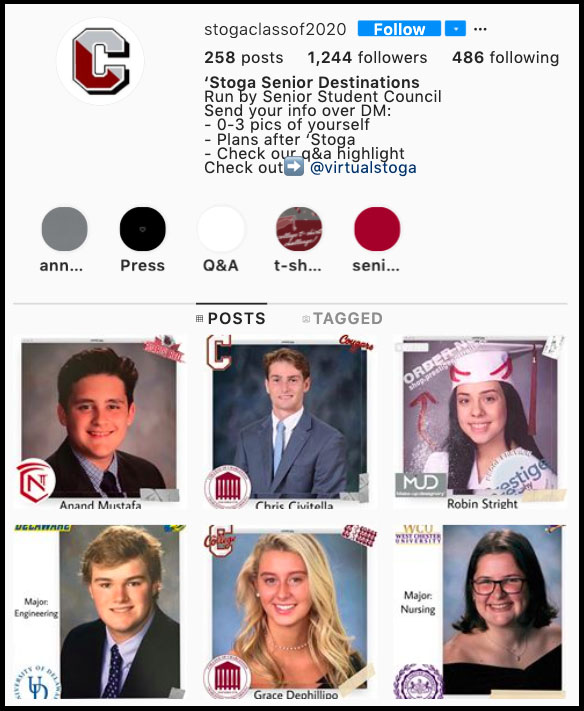 Sarah Szabo, a co-creator of an Instagram page for North Springs Charter School of Arts and Sciences in Georgia, told NBC her account started as a way for students to share pictures of their lives but gradually transformed into a yearbook.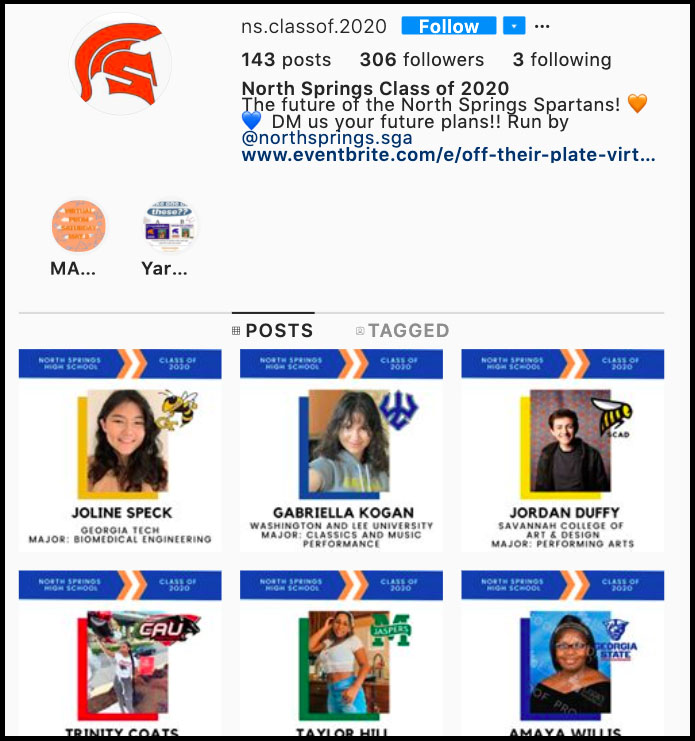 "Since we're not going to really get to graduate together or see each other one last time all together, we thought we'd make an Instagram account," Szabo told NBC. "Normally at school we'd have pictures and announcements on the monitors showing what people are doing after graduation, but we couldn't have that this year."
Randini Rana and Alisha Soni, both seniors at Farragut High School in Knoxville, Tennessee, told Knox News that the Instagram yearbook they jointly created was a kind of civic duty.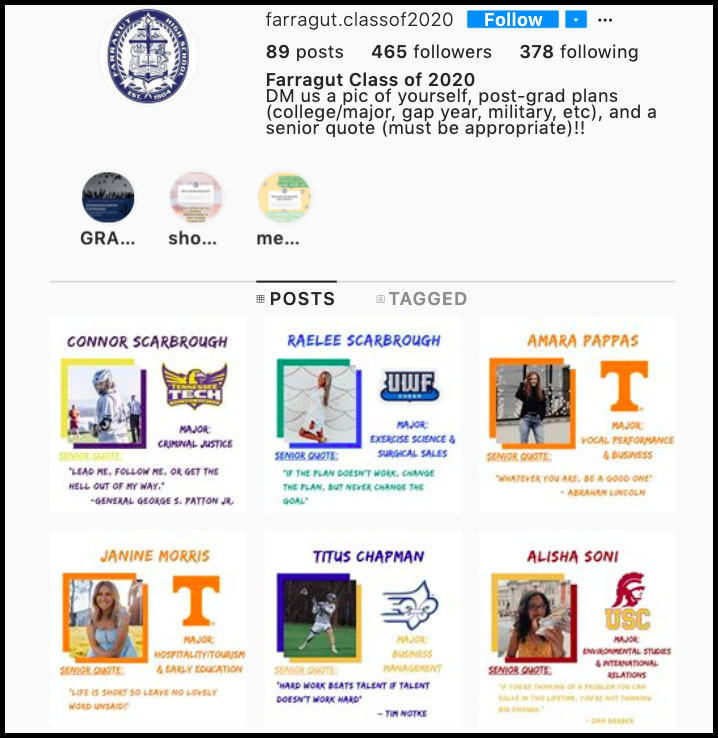 "We're both members of the student government, so we're used to working in an environment where we try to keep everybody connected," Rana said. "I think that's why it seemed like a no-brainer for us, because we want to keep a good community after high school."
Get stories like these delivered straight to your inbox. Sign up for The 74 Newsletter