Watch: After 12 Years of Greeting Students on Their Way to School, 'Waving Granny' Gets 400 Waves Goodbye at Surprise Farewell Party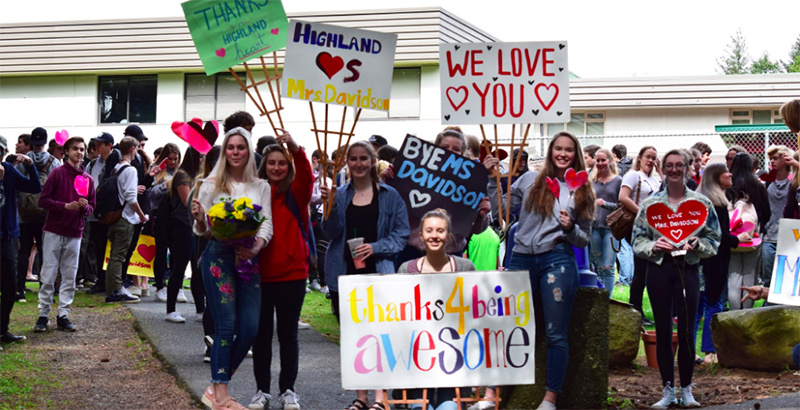 This article is one in a series at The 74 that profiles the heroes, victories, success stories and random acts of kindness found at schools all across America. Read more of our recent inspiring profiles at The74Million.org/series/inspiring.
For 12 years, Tinney Davidson, the Waving Granny, has been greeting students as they walk by her house on their way to school in the town of Comox, British Columbia.
Recently, 400 students gathered outside her home to wave goodbye to her.
Davidson moved to Comox in 2007 and noticed the students glancing toward her front window as they walked to nearby Highland Secondary School each morning.
"I thought, if they're looking in, I'll wave to them," she told Cheknews.ca. They waved back. And soon, the Waving Granny became a beloved celebrity.
In 2014, the school held an assembly in her honor, and in 2016, students gave her cookies, cards and hugs for Valentine's Day, according to CBC.ca.
Now 88, Davidson needed to move to an assisted living facility. So on a recent day, after school, 400 students surprised her with a goodbye gathering on her front lawn, bearing bouquets and homemade signs saying, "We love you Mrs. Davidson" and "Thank you for being awesome" and ending their tribute with a coordinated blown kiss.
In the video posted to Comox Valley Record's website, Davidson waves, claps in disbelief and exchanges hugs with some of her young fans.
Davidson seemed astounded at the far-reaching impact of her daily friendliness. "I was shocked again that there's so many kids that want to say goodbye to me," she told CNN.com.
But the students were not. "It's really brightened up all of our days every time we walked by here," student Mitchell Mansfield said.
And Davidson's fame has extended all the way to the Canadian capital — Member of Parliament Rachel Blaney even read a tribute to her into the official record.
"Tinney is a female leader in the community who followed her calling to spread joy and happiness among students in the Comox Valley," Blaney said. "Women like Tinney deserve to be recognized for their loving hearts and ability to share the most important commodity we have — kindness."
Support The 74's year-end campaign. Make a tax-exempt donation now.