Watch: 5-Year-Old Drum Prodigy Plays With High School Marching Band — and Has Already Won a Scholarship to College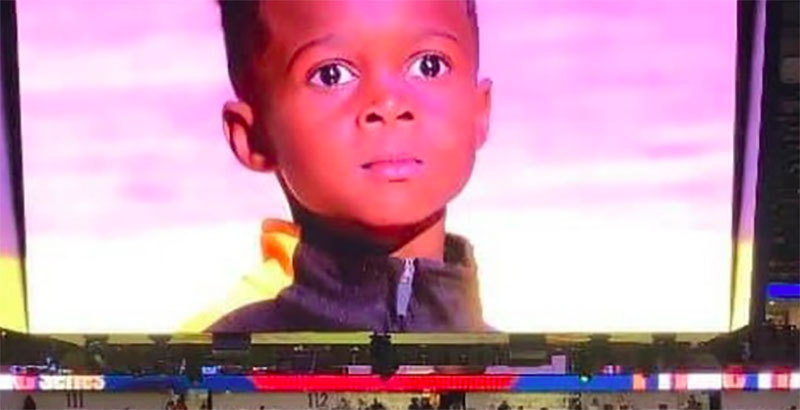 This article is one in a series at The 74 that profiles the heroes, victories, success stories and random acts of kindness found at schools all across America. Read more of our recent inspiring profiles at The74Million.org/series/inspiring.
"Come," they told him (pa-rum, pum, pum, pum). But it was not a chance to see a newborn king that was calling this little drummer boy. It was a college, with an offer of a full scholarship.
At just 5 years old, Jeremiah Travis is a drumming whiz. He's used to the attention he gets being the only kindergartner who plays in the drumline of the high school marching band at St. Helena College and Career Academy in Greensburg, Louisiana.
Having his picture projected on a giant screen after the band played a New Orleans Pelicans game, that's no big thing.
But when Alcorn State University in Mississippi reached out and offered Jeremiah a full band scholarship when he graduates from high school – in 2032 – well, that was something special, The Mississippi Clarion Ledger reported.
Having two musical connections to the university who also work in his school district probably helped Jeremiah get the offer.
Chesterton Frye, director of bands at St. Helena Parish School District, was a former student band director at Alcorn State, where he studied music and psychology.
Frye has been a fan of Jeremiah's for a long time – at least when measured in a 5-year-old's timeline.
"He was sitting in the stands, just beating on the stands with some drumsticks, and I was like, who is this little baby who keeps beating drumsticks in the stands," Frye told ABC News. "So we told him to come on over and we held the drum out, someone was holding it, and he just started going, going against the other band across the field, and I was like 'Wow.'"
The little drummer was just 2 years old at the time, Frye said.
Jeremiah's mother, Nicole Jackson, said her son has been drumming his whole life.
"My child only plays a video game for no longer than 15 minutes, and then he wants to beat on something," Jackson told the Clarion Ledger. "He's not a video game person. He likes to move and learn different things with drums."
Video courtesy of @jeremiahthadrummer.
Brandon Dorsey, the percussion teacher at the St. Helena school and a 2017 graduate of Alcorn State, is another fan, and another helpful connection to the university.
"I don't force him to do things, because he is 5 years old," Dorsey told the Clarion Ledger. "Sometimes, I have to revamp myself and remember that he is so young. What he has, it is God's gift."
Get stories like these delivered straight to your inbox. Sign up for The 74 Newsletter