WATCH: 14 Ed Reform Advocates Discuss Politics, Common Ground, and the Radical Middle in Education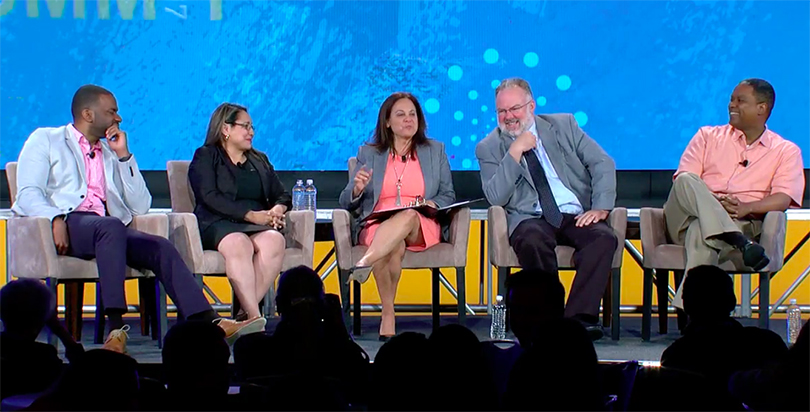 The sense that America is more divided than ever came to a head in November, when voters elected the most unpredictable, and certainly most untraditional, presidential candidate. The gap between red and blue America in 2016 grew to its widest
in at least seven election cycles
— and the repercussions reverberated through the education sector, shredding what leaders call the "big tent" of education reform.
In response, The 74, in partnership with NewSchools Venture Fund, has produced a series of videos featuring key actors and thought leaders on both the left and right discussing critical issues and major areas of tension in education. Among those interviewed: Sen. Lamar Alexander; Jonah Edelman, CEO and co-founder of Stand for Children; and Margaret Spellings, president of the University of North Carolina system and secretary of education for the George W. Bush administration.
---
---
The political anxieties that preceded President Trump's election, hurtling the polarization of America to the forefront of the national conversation, did not crop up overnight. The squeezing of the center and the migration toward extremes on the left and right have been years in the making across sectors, including education.
These tensions manifested themselves at last year's NSVF Summit, an invitation-only gathering of more than 1,000 entrepreneurs, educators, community leaders, and policymakers dedicated to sharing ideas on how to innovate schools. At that California summit, issues of
political
and
racial diversity
exploded.
---
---
With bipartisan efforts seeming to be increasingly out of reach, experts say it's OK to disagree.
---
---
"For me, I think the question is less left or right, Democrat or Republican, but frankly right or wrong, and there ought to be a certain set of moral values rooted in what we ought to expect, children ought to be entitled to," Jeffries said, noting that those entitlements include quality teachers, a curriculum that's competitive globally, and access to food and health care. "In order to forge how we move forward, there needs to be a clarity of values. Where is it do we agree? Let's work together where we agree. Where we disagree, let's try to find common ground where we disagree. If we disagree and we can't find common ground, then we got to fight. And that's OK. That shouldn't be a problem. We have to fight when we have disagreements in our core values. And we can do that respectfully."
---
---
Going forward, that disagreement might continue to grow.
"[Let's] find areas where we agree to disagree, but because of raw politics, there are going to be harder conversations coming in the next 18 months than there will be soft ones," Robinson said. "So let's write some love letters on the moon, because the monsoon will come."
---
---
Get stories like these delivered straight to your inbox. Sign up for The 74 Newsletter