WATCH: 13-Year-Old Delaware Girl & 8-Year-Old Sister Read Bedtime Stories Online Every Night for Kids Who Have No One to Read to Them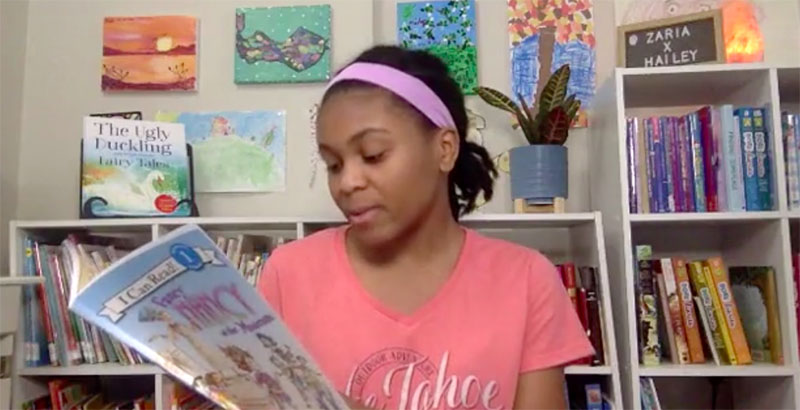 This article is one in a series at The 74 that profiles the heroes, victories, success stories and random acts of kindness found at schools all across America. Read more of our recent inspiring profiles at The74Million.org/series/inspiring.
What's the best hour of the day for young children? If they are lucky enough to have a parent who reads to them at night, it's bedtime.
For those without such good fortune, a pair of young bookworms from Dover, Delaware, intend to fill the gap. Zaria Willard, 13, and her little sister Hailey, 8, have taken to reading bedtime stories every night live on their Facebook page. They hope to inspire a love of books and words in children everywhere, just as their own mother inspired them.
"We like reading because sometimes people can't read themselves or they're young or their parents don't have time," Zaria told Good Morning America.
Every Sunday, Zaria and Hailey go to the local library to pick out books for the week. Hailey, who likes to clown around to bring the books alive, is partial to Dr. Seuss.
Then, around 8 o'clock — bedtime — they take turns reading the books to their online audience. They have been doing this since February and already have 10,000 Facebook followers.
Zaria is deliberate in her choices. She picks books in which the characters can be role models for children of color.
"That's our process," Zaria told the Delaware State News. "We also try to make sure we pick out books that have black characters for representation. Most kids like us don't see that everywhere, so we try and make sure that is represented. Black people can be heroes too, so we just want to show that."
The girls, who have three younger siblings, plan to create books of their own someday.
Zaria wants to write one about blended military families, like her own.
At first, the girls' mother, Victoria, was apprehensive about encouraging her daughters to interact with strangers online. After much begging, she agreed, because she wanted to encourage their impulse to make the world a better place.
"I couldn't hold them back from that," Willard told Good Morning America.
Instead, she set boundaries that include online cautions — requiring the girls to show her all the comments before they respond — and family rules — no phones at the dinner table or after 9 p.m. The wise mom also imparted some time-tested parental wisdom: "Don't let fame get to your head."
The young readers encourage their audience to interact with them, asking viewers to add comments saying where they are watching from. While reading Smart Girls Rock by A.S. Roper, Hailey received kudos that spanned from California to Pennsylvania and from Texas to Michigan.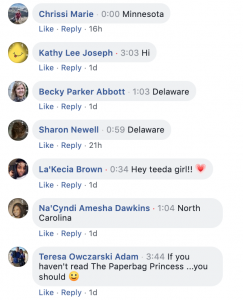 While praise is nice, the sisters have their sights set on a goal that will likely make state educators happy, the Delaware State News noted.
"We hope by reading to kids online, it will encourage them to read more," Zaria said. "We hope it will help raise the reading statistics in Delaware. We want children to know that reading is fun to do. We really enjoy it."
Get stories like these delivered straight to your inbox. Sign up for The 74 Newsletter