Washington State Charters Find Temporary Shelter to Keep Schools Open in 2016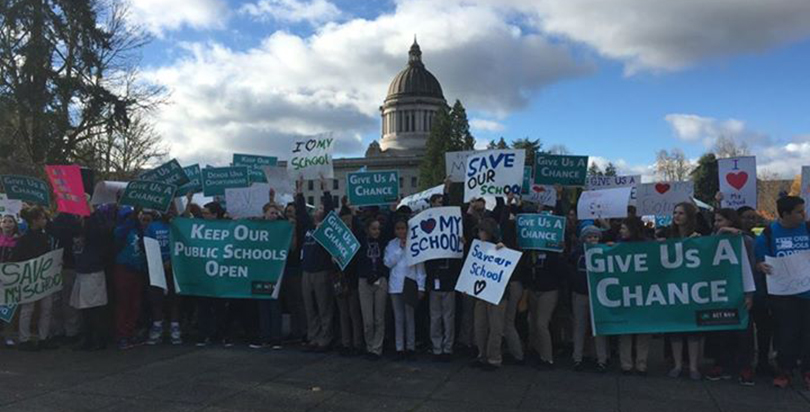 Parents and students in Washington state charter schools are looking to a small district in the state's northeastern corner as a short-term solution to the state Supreme Court's recent overthrow of their education system.
This week, Mary Walker School District and the Washington State Charter Schools Association announced that eight of the state's nine charter schools are discussing joining the district as Alternative Learning Experiences.
ALE pathways, meant to serve diverse student populations, often in an online setting, let schools receive state and federal funding while retaining some autonomy. The temporary fix would allow the schools to remain open and public for the remainder of the school year, though not as charter schools, while the state legislature works
on a more lasting solution.
"We applaud the Mary Walker School District for welcoming the families who chose to enroll their students in charter public schools," Nina Rees, president and CEO of the National Alliance for Public Charter Schools, said in a statement. "We call on the legislature to fix the glitch in the law so charter public schools will once again be available to all families and communities in the state."
Meanwhile, in a move the head of the state Charter School Commission called "unprecedented," the agency began preparations to shut down Tuesday, per the court's ruling. The
Associated Press reports
the cash flow to charters will probably end this month.
Mary Walker Superintendent Kevin Jacka, who resigned last week from the Charter School Commission, offered to partner with the charters after hearing about the possible mid-year displacement of more than 1,000 students.
"I don't believe that is right," Jacka said in a press release. "I believe the students and families should have a choice in where they attend school." He added that students and teachers will benefit from the sharing of best practices through this new partnership.
While Mary Walker is a small, roughly 500-student district, funding for the additional students would be covered by the state, the press release said. Jacka was not immediately available for comment.
The alliance would allow students in charters to continue their education through the school year without disruption, said Washington State Charter Schools Association Spokeswoman Maggie Meyers. Nearly two-thirds of Washington charter students come from low-income families and 70 percent are students of color.
"Our primary focus is ensuring we do what's best for kids," Meyers said. "That means keeping public charters open and doing all we can to ensure the court's decision causes as little harm as possible for vulnerable, underserved population."
Charter schools have existed in Washington since voters approved them in 2012. A sharply divided state Supreme Court
cited a 1909 law
in its September ruling that the funding mechanism for charter schools violated the state constitutional. Because charters are run by an appointed board or nonprofit organization, rather than an elected school board subject to local voter control, they don't fit the constitution's definition of "common school," the court said.
The court further disappointed school choice advocates when it
refused to reconsider
the ruling in November, hours after 400 parents, students and educators protested at the state capitol.
With the judicial door closed, advocates hope the legislature can devise a plan to keep the charter schools alive for some 1,300 Washington state families.. School choice advocates formed Act Now for Washington, a coalition that is working with state lawmakers to address the law the court interpreted as prohibiting charters.
"The responsibility is now on the legislators to be the heros for these kids," Meyers said. "There's an urgency on them that there wasn't before. They can fix this glitch and bring charters back as a viable option."
Stand for Children Washington, part of the Act Now coalition, announced
an online petition
drive Wednesday, asking voters to signal their support for charter schools to state lawmakers. The petition had 469 signatures as of Thursday morning.
"We need your help to call on our elected leaders to confront this legal challenge to Washington's public schools. Olympia cannot stand by and let the courts deny Washington's children real opportunity," Executive Director Dave Powell said in a statement. "Our state made a commitment to the children already enrolled in public charter schools and the many more still waiting in line. It's time to deliver on that promise."
Charter parent Jessica Garcia is doing her part to convince state lawmakers of the value of charter schools. She has spent countless hours meeting state representatives and giving them tours of her sixth-grade daughter's charter school, Destiny Public, in Tacoma.
Garcia said representatives who were initially uncertain about the validity of charters became more receptive after visiting schools. Some didn't know that charter schools accepted special needs students, Garcia said, and were surprised to learn that Destiny Public serves more special needs students than the local district school.
"This is a bipartisan issue," Garcia said. "It's odd to me that it's become one-sided."
Rich Wood, a spokesman for the teachers union, one of the parties to successfully challenge charter schools in court,
told the Associated Press
that the legislature needs to focus on larger issues rather than a law that affects a small fraction of students. The Supreme Court is currently fining the state $100,000 a day for not adhering to its decision on school funding.
While parents say they're grateful for Mary Walker's actions, they're unnerved by the court's upheaval of a school system that worked for their families.
"It is frustrating for lots of parents," said parent Shirline Wilson, who chose Rainer Prep charter school in Seattle for her middle-schooler Miles to give him better access to STEM courses. "We don't make school decisions the year before; we're thinking about things years in advance and having this ambiguous limbo state is really devastating. It throws a wrench in all our plans."
Garcia became passionate about school choice after struggling to find a school that best served her son, who has autism, and her daughter, who wasn't challenged by her traditional public school. While her son is now in college, her daughter Isadora is thriving at Destiny Public.
"My son needed education then. My daughter needs education now," Garcia said. "We need choices now, not when you decide it's going to work."
Support The 74's year-end campaign. Make a tax-exempt donation now.