Washington State Charter Advocates to Pump $500K into Legislative Battle to Save Schools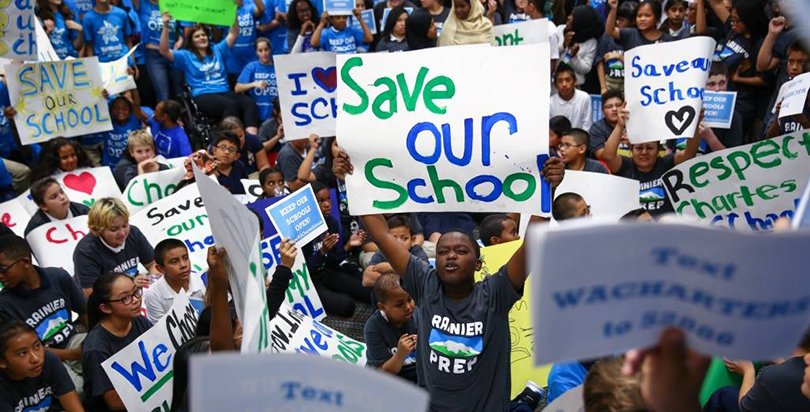 A coalition dedicated to preserving charter schools after the Washington state Supreme Court ruled them unconstitutional is directing money toward state lawmakers friendly to its cause.
The Washington Charter Schools Association has formed a new PAC, contributing more than $20,000 to the campaign accounts of 24 Democratic and Republican representatives and senators before last week's fundraising deadline.
"Already we have seen champions in Olympia stand up and do the right thing by fighting to keep schools open for the more than 1,100 kids and families currently being served by Washington's public charter schools," WA Charters CEO Thomas Franta said in a statement Thursday. "We commend these leaders for refusing to bow to political pressure and instead stand up for children in our state. The reality is that the future of these public schools remain in limbo. Our legislators must act to keep doors open."
The Washington state Legislature returns to session Jan. 11 and Act Now for Washington Students, a partnership created by Democrats for Education Reform, the League of Education Voters, Stand for Children and the Washington State Charter Schools Association, wants state lawmakers to remedy the funding mechanism for charter schools the court ruled illegal.
The group says that action will uphold the will of Washington voters, who approved charter schools in a 2012 statewide referendum, and allow schools to remain open that are working to close the achievement gap. Nearly two-thirds of students in the state's eight public charter schools are from low-income families and almost 70% are students of color. African-American, Hispanic and Native American students in Washington state score between 15 and 20 percent lower on state assessments than white students, according to Act Now.
"A child's zip code or the color of her skin should not dictate whether or not she will graduate from high school, attend college, or achieve future career success," said state Rep. David Sawyer, a Democrat who came out in favor of charter schools earlier this month. "As legislators, we need to ensure that every child has the opportunity to get a great education. Public charter schools represent a path forward for some students who are underserved by our current educational system."
Sawyer released his statement shortly after 400 parents, students and charter school educators and advocates held a "Day of Action" at the state capitol to lobby for a legislative solution and after a divided Supreme Court refused to reconsider its initial decision.
The WA Charters PAC said it gave Sawyer and 23 other bipartisan state lawmakers $1,000 checks. The others include representatives Eric Pettigrew
(Read Pettigrew's commentary for The Seventy Four on why the court's decision mainly hurt poor children),
Tana Senn, and Chad Magendanz and senators Mark Mullet, Joe Fain, Steve Litzow, and Christine Rolfes.
Rich Wood, a spokesman for the teachers union, one of the parties to successfully challenge charter schools in court,
told the Associated Press
earlier this month that the legislature needs to focus on larger issues rather than a law that affects a small fraction of students. The Supreme Court is currently fining the state $100,000 a day for not adhering to its decision on school funding. The union, the Washington Education Association, is
consistently among the biggest
campaign and lobbying spenders in Olympia, according to The Seattle Times.
The charter PAC said it is continuing to raise funds and, with the other Act Now members, expects to collect more than $500,000 by the end of the legislative session.
"We know we will have more champions to thank after the session," Franta said. "And we know that many of our supporters will be facing tough races. Standing up for kids shouldn't come with a political price."
Get stories like these delivered straight to your inbox. Sign up for The 74 Newsletter