Warren: At Long Last, Civics Education Is Making a Comeback. But What Exactly Is It, and How Do We Do It Right?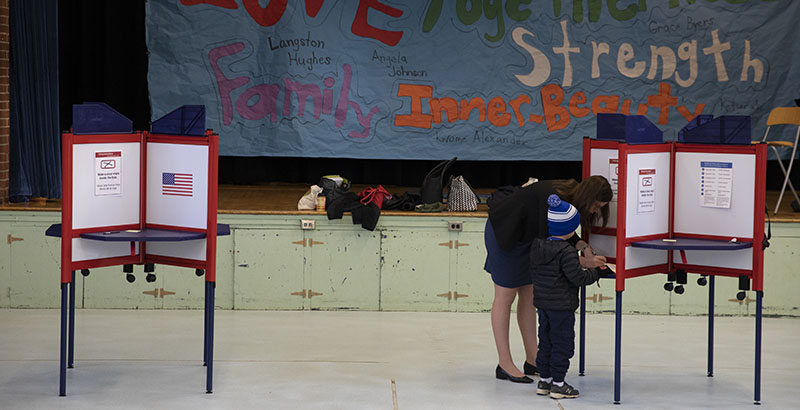 In 2008, I co-founded an organization called Generation Citizen, which attempts to transform civics education in this country though an approach called Action Civics. Rather than the traditional model of knowledge-based civics education, in Action Civics, young people learn political engagement through taking action on local issues they care about. Students discover how the City Council works through researching local housing issues and pushing for solutions to affordability issues, and learn about the state legislature by proposing innovative solutions to budget shortfalls around after-school programming.
At the time of our founding, it was hard to get people to take us seriously. "Civics? Really? There's so much else out there that's more important," people would tell me. We were a bit player in the broader education and democracy reform arena.
Fast forward a little more than 10 years, and the conversations have changed dramatically. "How can we get civics education into every classroom in this country?" is now a common refrain. In a country in which we cannot agree on anything at all, it seems there is near-consensus on the importance of civics education for improving our education system and our democracy. While we attempt to be a nonpartisan organization, the reality is that the vitriolic, turbulent and increasingly unequal politics of the moment make clear the need for a revival of civics education. Our political process is not working the way it should, and it is incumbent on the next generation of citizens to lead us toward a better democracy.
The need for renewed civics education is overwhelming. Only 17 percent of Americans trust the government to do what is right. Polarization continues to increase, with individuals demonizing those who do not think like them. A recent Pew poll showed that 45 percent of Republicans and 41 percent of Democrats felt that the other party's policies and politics posed an existential threat to the nation. These trends are only worsening as we collectively fail to ensure that the next generation of Americans is engaged and informed. Less than 30 percent of young people think democracy is the best form of governance; young people do not believe in our form of government right now.
Despite the desperate need, only nine states require a full year of civics instruction, and only eight have a stand-alone assessment in civics. As a country, we spend 5 cents per student on civic instruction, versus $54 per student on STEM education. As I get ready to transition out of leadership at Generation Citizen, after 11 years as CEO, I've begun to think and write about some of the more pressing issues to address as we seek to expand civics education across the country:
What is civics education?
While there is growing consensus that young people need more civics education, there is no agreement on what exactly that means. There is often an implicit belief that civics education must transcend political beliefs. But a discipline that is fundamentally predicated on teaching young people to understand and engage in the political is itself fundamentally political.
To posit two poles: Some believe civics education should focus on how government work — how a bill becomes a law, say, and our constitutional structures. Others say effective civics education should focus on action, including formal and informal methods of political participation, which means acknowledging the oppression and exclusion that have defined our democracy since its inception. Civic education thus becomes one way to challenge traditional structures and redistribute political power.
To take the definitional challenge to another level, some believe civics should be a subject, like math or science, that teaches students basic political structures. Others think civics should be an organizing principle and pedagogy for an entire school, pervading its culture. In such a democracy school, learning about public issues would stream into every subject. Science classes would include measuring the pH levels of school fountains, math class would involve analyzing local traffic patterns and English class would include writing persuasive opinion articles.
When I mention these ideological challenges to others in the field, I often receive pushback that we are focusing on what divides rather than what can unite us. But civics education that focuses on a goal of civility looks much different than one focused on equity. There isn't necessarily one correct definition, but defining, describing and understanding the full spectrum of civics education approaches is necessary for truly understanding whether some merit more attention than others.
How do we diversify the field?
Most organizations that promote and conduct civics education programming are staffed predominantly by white leaders who have held those positions for a long time. This has numerous and deep ramifications, including the perception that civics education fails to create space for diverse leadership and has extensive blind spots that come from leaders with strong values but who are directing organizations without a nuanced, ever-evolving understanding of the experiences of students and communities of color who have historically had to fight the hardest for a seat at the table in our democracy.
While Generation Citizen has strived to prioritize this value internally, and have indeed made significant strides, we also recognize that we may not have always gotten this right, or attained our highest aspirations. There is an urgent need to diversify leadership in the field.
How do we scale civics?
Even if we can agree upon a set of definitions for civics education and begin to diversify the ranks, determining how to scale the discipline is an entirely different challenge. Some have argued for a need for a technological solution, through online platforms or training. Others have pushed for a national curriculum that could be used by any school or educator. The challenge with scaling the discipline is how localized effective civics education often becomes. Understanding how local town councils work in rural Oklahoma is appreciably different than working with the City Council in New York City. Thus, rather than focusing on a unified approach to civics education, we should elevate best practices and ensure that local districts have the resources they need to focus on the discipline.
This is a moment for civics education. Meeting it will not be easy, but it is necessary — for the sake of our young people and for the sake of our democracy.
Scott Warren is the founding chief executive officer of Generation Citizen.
Get stories like these delivered straight to your inbox. Sign up for The 74 Newsletter