Minnesota Governor Highlights Teacher Shortage on Workforce Tour
Gov. Tim Walz taught a 4th grade class a science lesson about the food chain at the Eagle Ridge Middle School in Savage, Minnesota.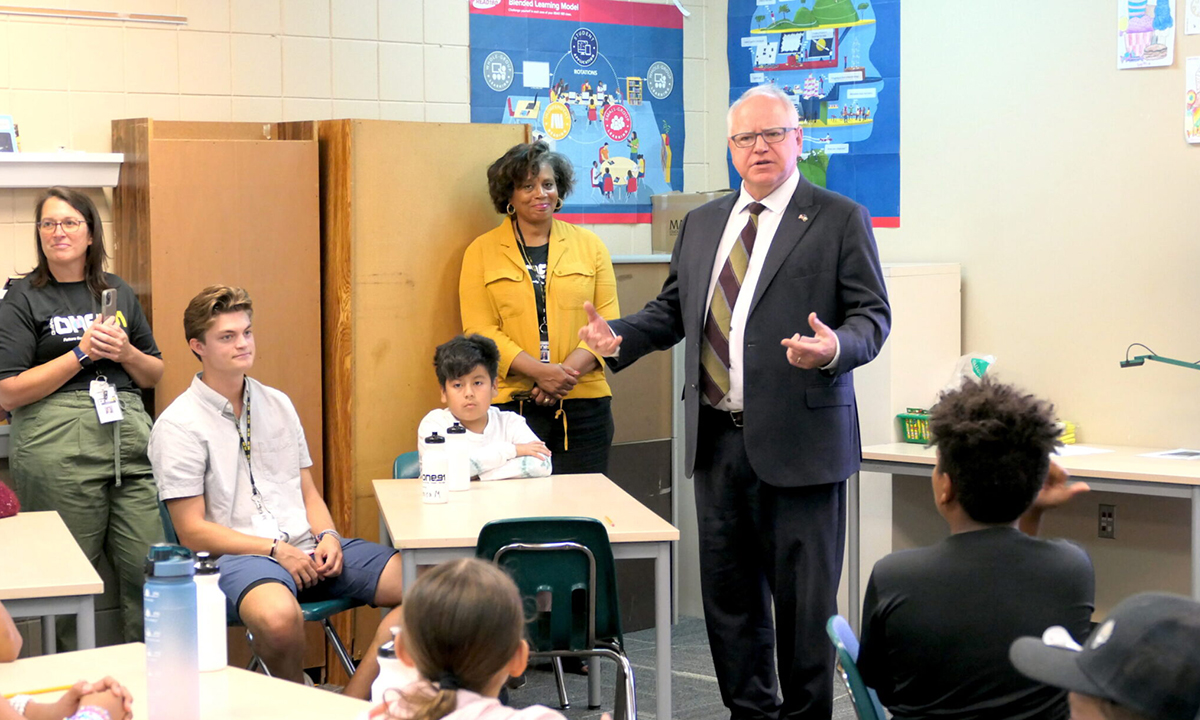 Get stories like these delivered straight to your inbox. Sign up for The 74 Newsletter
Gov. Tim Walz on Wednesday asked a group of Savage 4th graders attending summer school a question:
"How many of you think you'd like to be teachers someday?"
No one raised their hands.
"Awe, c'mon — it's so fun!" Walz said. A few students tentatively put their hands in the air.
The unenthusiastic response was emblematic of why Walz was there to briefly teach the students about science and the food chain — to highlight Minnesota's teacher shortage and difficulty recruiting new workers for the profession.
Walz is entering a pivotal period for his education legacy. The former Mankato West High School geography teacher and assistant football coach seemed well positioned to elevate Minnesota's K-12 education system, which has struggled to close wide opportunity gaps even as the student population has become increasingly diverse.
Instead, he spent the bulk of his first term dealing with the COVID-19 pandemic and the public safety crisis that accompanied it, both of which may have contributed to flagging student achievement.
Less than half of Minnesota students are proficient in math, and about half of students are proficient in reading following years when many students spent little time in their classrooms. And the racial opportunity gaps remain among the nation's worst. Last year, nearly 60% of white students were proficient in reading, while about 30% of Black and Hispanic students were proficient.
Now, many school districts are dealing with a new crisis: A shortage of teachers and staff. Walz's office said there are about 225,000 education jobs in Minnesota, of which over 13,000 — roughly 6% — are vacant. Nine out of 10 Minnesota school districts said they have been significantly impacted by the teacher shortage, according to a report released earlier this year.
The Minnesota Legislature during the session boosted K-12 education funding by nearly $2.3 billion — a 10% increase from the previous biennium.
Lawmakers committed more than $88 million on a particularly pressing need: programs to increase the number of teachers of color in Minnesota.
About 6% of Minnesota teachers are people of color, according to a report by the Professional Educator Licensing and Standards Board, even though about 38% percent of students are Black, Indigenous, Latino and Asian American.
Walz on Wednesday said Minnesota hasn't done enough to attract teachers of color.
"I think we need to make it the case that this is a profession where you're welcome," Walz said at a media briefing after the class with the 4th graders. "And I think we need to make the case that this is a profession where you can sustain your family and it's a place where we need you to make a difference."
Research shows that increasing the number of teachers of color can improve learning outcomes for all students.
During the 4th grade class, the students asked Walz a few questions: How was your day? Do you have any pets? And, do you get a lot of paperwork?
At the end of the lesson, Walz gave all the students a challenge coin engraved with a picture of Minnesota, telling the students they're often given to members of the military or navy when someone does a good job.
Minnesota Reformer is part of States Newsroom, a network of news bureaus supported by grants and a coalition of donors as a 501c(3) public charity. Minnesota Reformer maintains editorial independence. Contact Editor Patrick Coolican for questions: info@minnesotareformer.com. Follow Minnesota Reformer on Facebook and Twitter.
Get stories like these delivered straight to your inbox. Sign up for The 74 Newsletter