Walsh: Teacher Residencies Are Fine. But Districts Already Have the Power to Fix the Student Teacher Pipeline — at Far Lower Cost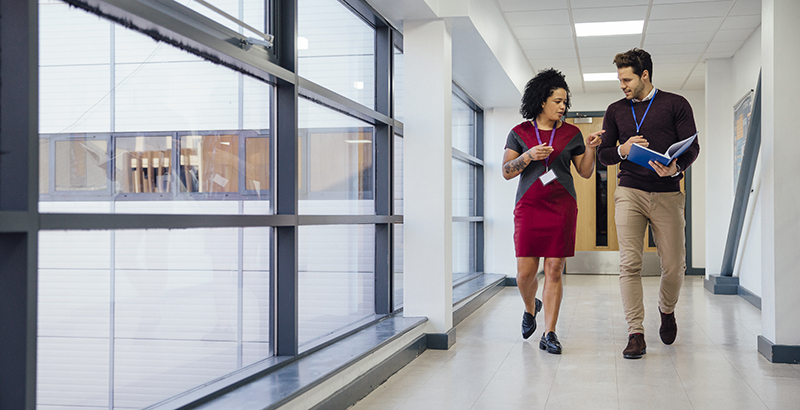 A growing number of school districts are embracing the teacher residency model as a solution to their shortage of educators. For those districts with the financial resources or access to stable philanthropic support necessary to offset the high cost of this model, the investment yields real benefits: Residents tend to be more diverse and more likely to persist in the profession than the teaching force as a whole.
The appeal of the residency model and the broad support it enjoys are understandable. Placing a teacher candidate in a classroom for a full year under the tutelage of a top-notch mentor is a great way to train someone. Writing recently for The 74, Ashley LiBetti shared one in a long line of proposals to strengthen the supply of new teachers by expanding residency programs. While traditional teacher preparation programs fail to supply sufficient numbers of effective teachers in high-demand certification areas, she argued, the district-led nature of a residency program gives school leaders the power to decide whom to prepare and how to prepare them. If a district needs a physics teacher who is familiar with restorative justice practices, it can just make its own.
Unfortunately, this approach has something in common with buying a new coat instead of replacing a torn lining — and plays into our tendency to assume that higher prices equate to higher quality.
With an average sticker price of $65,000 per resident teacher, the residency model is an impractical solution to the many challenges of the labor market. Clearly, residency programs can help some districts avoid staffing shortfalls, but there are problems with casting them as the best opportunity districts have to shape and redirect the talent pipeline. This framing feeds into the pervasive mindset that districts lack the power to address the many issues with student teaching — which couldn't be further from the truth. A more readily available, scalable, and affordable option is already available: fixing the pipeline of prospective teachers who enter through student teaching.
Indeed, while student teaching is fundamentally broken in most institutions, it is eminently fixable, and at a fraction of the cost of most residency programs.
Districts can exercise market power with traditional preparation programs, just as they do with residencies. The fact that they historically have not done so is the obstacle that must be overcome. There is nothing stopping a district from taking an active role in selecting the student teachers it hosts, just as it might do with a resident teacher. Districts should screen prospective student teachers for fit and commitment to pursuing a career in their schools (an essential step, as 50 percent of all candidates do not end up taking a teaching job upon graduation).
Instead of just asking for teachers to volunteer to mentor a student teacher, districts could ensure that every student teacher has a high-quality mentor by providing modest compensation to mentors and elevating their status. If districts want new teachers to be culturally competent, they need to commit to placing student teachers with mentors who will model such competence. Great teachers would be happy to accept student teachers if they had some assurance of the quality of the student teacher. Under the current system, who can blame a teacher for turning down the opportunity?
These changes in attitude and process have the power to almost immediately solve the chronic misalignment of teacher supply and demand. There would be no quicker way to persuade teacher prep programs to stop overproducing and underpreparing elementary educators than for districts to begin limiting the number of elementary student teachers they're willing to accept.
Ultimately, a strong student teaching program can accomplish many of the same outcomes as a high-quality residency program — but on a much larger scale. Traditional teacher preparation programs graduate more than 150,000 teachers per year, while residencies produce a tiny fraction of this number. The National Center for Teacher Residencies, which represents a network of 28 of the largest teacher residency programs in operation, reports total annual enrollment only in the hundreds.
School districts rarely encounter a challenge for which the solution is so obstacle-free and low-cost. All that is required to build a better teacher pipeline is the will and resolve on the part of the district to assert its needs. By applying the lessons of residency programs to student teaching, districts can achieve change that is both broad and deep, not just tinkering around the edges.
Kate Walsh is president of the National Council on Teacher Quality.
Support The 74's year-end campaign. Make a tax-exempt donation now.