Walsh: School Choice Is Not a Zero-Sum Game — How a Texas Superintendent Championed District-Charter Partnerships to Help All Kids Succeed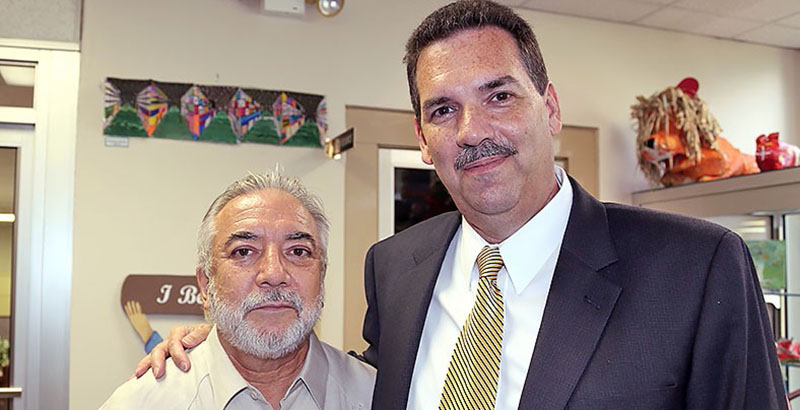 Correction appended July 9
What is the future of public education? That question is igniting debates on the campaign trail, on picket lines and in communities across our country. People are asking about everything from equitable funding and school choice to the quality of education and how to design public school systems that work for every child. What role should traditional districts and public charter schools play? Is it possible for both to not only coexist but collaborate? I, for one, am an optimist, because I know that the groups so often at odds in these district-charter debates can work together in ways that benefit all kids. In Houston, we're proving it can be done.
Spring Branch Independent School District, which serves 35,000 students on the city's west side, launched a partnership with KIPP Texas Public Schools-Houston and YES Prep Public Schools in 2012 to meet students' diverse needs. Scott Muri, who has served as superintendent since 2015, calls it a system of "collective greatness." Muri, who is stepping down to lead the Ector County Independent School District in West Texas, has a long list of accomplishments, but his greatest contribution may be championing these unconventional partnerships that are creating new and better opportunities for kids.
In Spring Branch, the charter programs are co-located at three district-owned campuses: KIPP Courage at Landrum Middle School, YES Prep Northbrook Middle at Northbrook Middle School and YES Prep Northbrook High at Northbrook High. Overall, the co-located schools serve nearly 4,500 students: 98 percent are non-white, 92 percent are economically disadvantaged and 43 percent are English learners. Thirty-five percent of the children attend the charter programs.
In each building, the principals meet regularly, and teachers and staff have opportunities to engage in professional development, learn from one another and share ideas.
Academically, performance on multiple measures has improved over time. For the cohort of eighth-graders who attended district schools for all of middle school, college readiness levels on the state exam have increased at Landrum Middle and KIPP Courage by 27 percentage points in reading and 17 points in math;  at Northbrook Middle and YES Prep Northbrook Middle, the increases in performance were 23 points in reading and 33 points in math.
In high school, the improvement story is similar — especially on measures that open doors to college. The number of students who successfully complete Advanced Placement exams, for example, has nearly tripled since the partnership launch, from 224 students taking AP exams in 2012 to 614 in 2018. Students also have a wider selection of extracurricular activities from which to choose, take elective courses with each other and even play on the same sports teams. Families appreciate these expanded options and the ability to choose the best fit for their child. Enrollment has grown, in part because students who left the district are returning. The joint high school campus, for example, now serves more than 2,500 students, up from about 2,000 the year before the partnership launched.
I've gotten to know Muri through my work at Chiefs for Change, a bipartisan network of some of the nation's boldest, most innovative state and district education chiefs. Like all our members, he supports school choice and believes schools must be high-quality, with fair enrollment processes and funding proportionate to students' needs. Our members believe in these principles for the same reason Muri has embraced district-charter collaboration: They benefit students.
States have an important role to play in incentivizing school choice and district-charter partnerships. Here in Texas, lawmakers approved legislation to encourage effective collaboration.
Forward-thinking educators like Muri, along with San Antonio Independent School District Superintendent Pedro Martinez and Midland Independent School District Superintendent Orlando Riddick, also members of Chiefs for Change, are leveraging these opportunities to pursue new ways of working with innovative charters, nonprofits, and colleges and universities. More states should take this kind of constructive approach, rather than pitting traditional districts and charters against each other. Forcing the two systems to compete for funding or mandating the parameters of the relationship will never produce fruitful partnerships like those in Spring Branch. But even without sound legislation, district superintendents and charter leaders should explore ways to drive greater progress together.
A false and destructive narrative in our national discourse claims that those who support traditional public schools must vehemently oppose public charters, and vice versa. Proponents of this view would have you believe that school choice is a zero-sum game. But Muri and his counterparts at YES Prep and KIPP Texas know they are better together. Education leaders across the country should make a similar commitment to collective greatness. That's how we'll create public school systems that work for every student.
Leila Walsh is chief external affairs officer of Chiefs for Change, a bipartisan network of state and district education chiefs from across the United States.
Disclosure: The 74's CEO, Stephen Cockrell, served as director of external impact for the KIPP Foundation from 2015 to 2019. He played no part in the editing of this essay.
Correction: Language in this column has been modified to clarify Muri's role in the Spring Branch Independent School District's partnership with YES Prep and KIPP Texas.
Get stories like these delivered straight to your inbox. Sign up for The 74 Newsletter