In Washington State, Both Senate and House Approve Last-Minute Bill to Save Charter Schools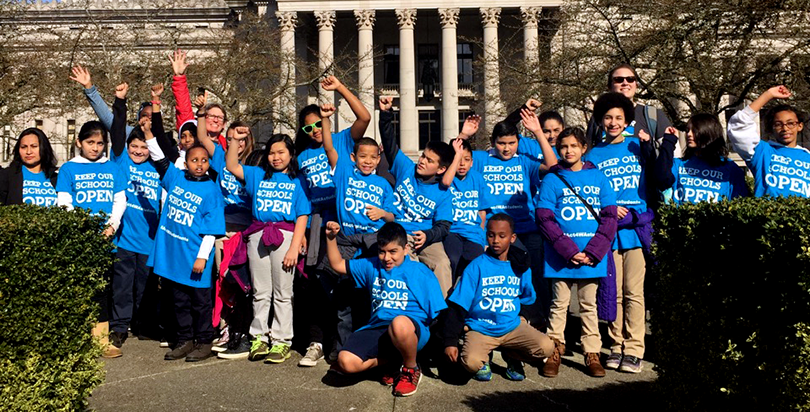 (Seattle, Washington) – The fight to save Washington state charter schools overcame a significant hurdle Wednesday night as the House passed a pro-charter bill with just one day remaining in the legislative session.
The bill garnered bipartisan support, passing 58-39 with one excused legislator. The Senate, which approved a companion bill 27-20 in January, must sign off on changes made by the House before it's sent to Gov. Jay Inslee. (UPDATE: After debating whether the charter bill passed by the House could withstand a court challenge, the Senate voted 26-23 in concurrence Thursday afternoon. The bill now heads to the governor's desk for approval)
"Obviously we're so pleased and it's very clear now that students are on a path to win," said Maggie Meyers, spokeswoman for the Washington State Charter Schools Association.
Supporters expect Inslee to sign the bill, but Meyers said the pro-charter group plans to direct its gaze toward the governor's office while they wait for the final act in a costly, emotional and months-long fight to keep the state's eight charter schools open.
Inslee, a Democrat currently seeking re-election, has close ties to the state teachers union, which successfully sued to disband charters and then lobbied hard to keep them that way.
Rep. Larry Springer, D-Kirkland, led efforts to bring the charter legislation to the floor after it stalled two weeks ago in the House Education Committee. House members proposed 27 amendments to the bill Wednesday, adopting eight. Some changes were technicalities in language, but Meyers called two compromises: Eliminating charters' access to local levy dollars and eradicating a public school's capability to transition into a charter school.
The bill was a response to a September state Supreme Court ruling that declared charter schools unconstitutional because they received taxpayer dollars without being run by locally elected school boards. Instead, charter schools report to a state charter commission, which is appointed by the governor, the Speaker of the House, and the President of the Senate.
Voters approved charter schools in a 2012 referendum that established the commission and envisioned 40 schools opening over five years. Groups like the Washington Education Association and the League of Women Voters quickly filed a legal challenge. During public testimony throughout this legislative session, union leaders and others argued that charter schools were not accountable to taxpayers and took take money away from public schools. (The 74:
Fact-Check: Are Washington's Charters Harming the State's Traditional Public Schools?
)
The charter bill, introduced in part by Sen. Steve Litzow, R-Mercer Island, addresses the Supreme Court's funding objections by financing the schools through the state's Opportunity Pathways Account, which uses lottery revenue instead of taxes.
"There is for certain going to be a challenge to this bill," Rep. Patty Kuderer, D-Clyde Hill. "In fact, I expect a lawsuit will be filed before the ink is even dry."
Other legislators said they didn't think they should be focusing on the smaller charter universe when all of the state's 1 million public school students aren't receiving adequate education funding. The Supreme Court is currently fining the legislature $100,000 per day until the funding gap is addressed. The governor recently signed a bill creating a work group to figure out from where the additional money would come.
But some representatives argued that charter schools should not be pitted against public schools, saying they are an alternative rather than a fix for the the public school system.
Rep. Christopher Hurst, D-Enumclaw, said he originally campaigned against charter schools, but had a change of heart after realizing his own struggle with traditional public schools would have made him a great fit for charterd.
"This is not a diminishment of my commitment to public education. My vote today — I'm going to vote yes — it's the opposite," he said. "No matter how hard we strive to make this perfect, it will never be perfect for everyone and there has to be something for the people it's not perfect for."
Students
expressed similar opinions
to Hurst during public testimony in Senate and House hearings this winter. They said their charter schools inspired them to consider college for the first time, their teachers cared about their progress, and the smaller class sizes better fit their learning needs.
Data
released
by the Washington State Charter Schools Association showed students have made significant gains since the start of the year, some outpacing national peers.
Two-thirds of Washington's charter students are low income and 70 percent are students of color, the charter association reports. Black, Hispanic and Native American students in Washington score 15-20 points lower on state tests than their white peers.
Rep. Eric Pettigrew, D-Seattle, said a good education is very personal to him, because his great-great-grandfather instilled that value in his family after being freed from slavery following the Civil War.
"It is that work ethic, it is that piece, that has been a part of me my entire life," Pettigrew said. "When I see those kids in my district that are failing out of school and don't have a chance to live that dream, it breaks my heart. I believe, like everyone in this room, that education is the foundation of who we are. No matter where you start, from slavery, beaten, and not even considered a human being, to earning your way to being a state representative — that is a miracle."
As the two-hour debate wrapped up, representatives on both sides of the issue urged charter activists to direct their enthusiasm next session to fully funding public education. Led by the Act Now for Washington Students coalition, supporters traveled to Olympia daily, created a PAC to support pro-charter legislators and aired commercials during Seattle Seahawks games in the fall and again during the tense build-up to Wednesday's vote.
The victory in the House is a huge landmark for them and for school choice, said parent Shirline Wilson.
"I am absolutely overjoyed. What a great day in the history of Washington state education," Wilson said. "All the the parents are breathing a collective sigh of relief."
Support The 74's year-end campaign. Make a tax-exempt donation now.