VT Needs Millions of Dollars Worth of School Upgrades. Will the State Help Pay?
A report issued a year ago showed that many of the state's "aging portfolio" of school buildings were nearing the end of their expected lifespan.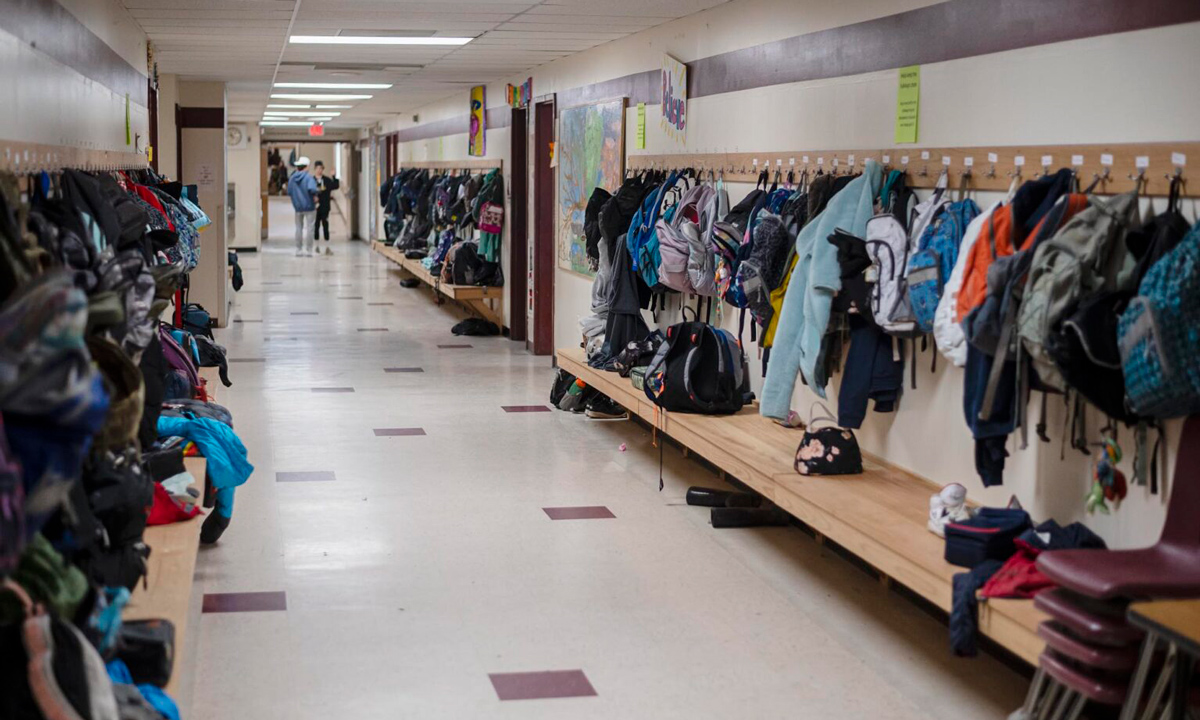 Support The 74's year-end campaign. Make a tax-exempt donation now.
For years, Bellows Free Academy Fairfax has needed renovations.
The sprawling pre-K-12 school was constructed piecemeal over the better part of a century. The oldest section is roughly 80 years old. The newest dates back to the turn of the millennium.
As such — and as the district's population grows — the school needs upgrades. A dearth of space has forced administrators to pack pre-K students into one classroom and teach elementary school classes in the high school section. Many rooms are cramped and lack proper infrastructure.
The whole building needs to be outfitted with a sprinkler system in case of a fire. (The original BFA Fairfax was destroyed in a 1941 inferno.)
"We do regular upgrades on things," said John Tague, the superintendent of Franklin West Supervisory Union and former principal of BFA Fairfax. "But, you know, to be able to really do a major project (that) requires any kind of expansion is going to require more money than we can set aside in a single year's budget."
For Fairfax, however, passing a bond to finance such an expansion has not been easy.
In 2017, voters rejected a $16 million bond for expansion and upgrades. Two years later, voters turned down a second, roughly $26 million bond.
Last October, the district finally succeeded in getting voters to approve a $36.4 million bond — a sum more than twice the original amount, due to the rising costs of labor and materials.
Even that vote, however, did not end the school's saga.
October's "yes" was decided by a margin of only 33 votes, and residents submitted petitions to revisit the issue. Finally, in January, residents went to the polls for a fourth, decisive vote: By a 66-vote margin, they voted "yes" again.
Throughout the public debates over the bond, according to Fairfax School Board member Scott Mitchell, one opposing argument has repeatedly surfaced: The district should wait for state or federal money to help pay for the renovations.
"It's a talking point of those that are against, sort of, bond issues," said Mitchell, who was the board's chair during the past three bond votes. "That, you know, it's a state-funded system. The state should be paying to upgrade our facilities."
That argument highlights a longstanding question among state and local education officials and lawmakers, one that has been asked with increasing urgency: Should the state government help build and renovate Vermont's schools?
'Terrible shape'
Less than two decades ago, Fairfax would have had that option. Vermont used to offer state aid — usually, up to 30% of construction costs — to help build and renovate local schools.
That money came from the state's capital bill, which pays for construction and renovation of state buildings.
But in 2007, lawmakers put that program on hold. By that time, the state was sending "an increasingly large percentage of its capital funds to school construction," according to a 2008 report from the Legislative Joint Fiscal Office.
The state was spending about $10 million a year on school construction — often roughly 20% of the state's total capital funds. By the time the program was halted, the state had roughly $74 million in school construction obligations — debt that was not fully paid off until 2016.
"Clearly, the general assembly cannot pay all school construction aid as well as fund other necessary capital projects," the 2008 report concluded.
Now, lawmakers are trying to revisit the issue. Language in two bills — H.486, which focuses narrowly on school construction, and H.494, the state budget — would examine the question of state money for school construction.
Ordering a study, of course, is no guarantee that lawmakers will actually take action.
Since the 2007 moratorium on construction aid, questions about restarting the program have periodically resurfaced, to no avail. The Legislature ordered a report on school construction funding just two years ago, in fact — one that the state Agency of Education is currently completing.
The question is one that is increasingly hard to ignore. Vermont's school buildings are "in terrible shape," according to Jay Nichols, executive director of the Vermont Principals' Association.
"It's just like, you keep yelling about a problem but you never do anything about the problem," he said. "And you wonder why the problem keeps getting bigger. This is a classic example of that."
In 2020, a group convened by the state's association of school superintendents found that Vermont schools expected to spend roughly $565 million on construction and renovation in the coming years.
A report issued a year ago showed that many of the state's "aging portfolio" of school buildings were nearing the end of their expected lifespan. Nearly 200 had confirmed "hazardous materials present," 81 had "indoor air quality issues," and 52 had "fire/life safety issues," according to the report.
That report described concerns only at a district and supervisory union level, and not the conditions of individual schools. A final, more in-depth report is expected this fall.
A legislative focus
Lawmakers are already concerned about the state of Vermont's schools.
Last month, the House and Senate Education committees wrote a letter to the three members of Vermont's federal delegation, asking them to "support measures before Congress that will assist the State in providing funding for school construction."
"Without a dedicated source of funding, the State faces an immense backlog in school construction projects, which has resulted in unsafe and unhealthy learning environments and disparities in the quality of education," the committee members wrote.
Proposed language in both H.486 and the state budget would allocate $200,000 for a task force, made up of lawmakers and state and local education officials, that would study the state's school construction needs.
The task force would examine "funding options for a statewide school construction program" and "a governance structure for the oversight and management of a school construction aid program." A report would be due in January 2024.
But the House and Senate differ on one key point: whether to halt the state's testing program for toxic polychlorinated biphenyls, or PCBs.
H.486, which passed the House last month, includes language to pause the testing initiative. That proposal has the support of the state's associations of principals, superintendents, and school boards.
Key senators have expressed opposition to halting the program, however.
"I continue to think it doesn't make any sense, from where I'm sitting," Sen. Brian Campion, D-Bennington, the chair of the education committee, which is in possession of H. 486, said in an interview Monday.
'We literally just don't fit'
At BFA Fairfax, students and staff don't need a state report to know that their school needs work.
On a recent tour of the building, teachers demonstrated their classrooms' shortcomings.
"Our sixth- and seventh-grader band has about 70 students," said Glen Wallace, a school music teacher. "So we literally just don't fit in this room."
The full band usually does not rehearse together until just before a concert. Then, Wallace said, "we have to take over the gym and go down there to rehearse and kick the PE teacher out of the gym."
School science classrooms are also lacking.
"I don't have a lot of space to do labs," said Zach Smith, a science teacher, demonstrating his room's lack of infrastructure. "(For) something as simple as water, you have to go to the next room where there's a sink, or kids go to the bathroom. Or sometimes with labs I'll have, even, students out in the hall because they don't have space. Which then disturbs others' classes."
To travel to all the school's floors, students and staff need to take two elevators — one of which is too small to fit a stretcher.
The bond will add five classrooms to the building and upgrade existing facilities, such as music rooms, elevators, the cafeteria, and school entrances. A sprinkler system will also be installed.
Construction is slated to begin in about a year.
A 'more palatable' option
Driven by inflation and a tight labor market, Vermont's school spending is projected to increase by nearly 8% over the current year's price tag — the fastest spending growth in years.
In the Fairfax School District, voters approved a 2023-24 budget that will increase 12.4% over the current year, largely because of the cost of the construction bond, Mitchell, the Fairfax board member, said earlier this year. That will drive up property taxes by about 7%.
Vermont's local school budgets are drawn from a state education fund, meaning taxpayers all over the state contribute to all school budgets. But the more a local district spends per student, construction bond service included, the higher its local property tax rates will be.
If school spending continues to rise, such bonds could be an increasingly hard sell in some communities — even as school buildings deteriorate further.
"There's some urgency, I think, in a lot of schools to get some work done, and it would be helpful to have some clear financial pictures from the state," said Tague, the Franklin West superintendent.
But that clear picture "is not coming immediately," he added. "That's for sure."
Support The 74's year-end campaign. Make a tax-exempt donation now.