VP Debate Brings Longwood University's Little-Known Civil Rights Legacy to National Stage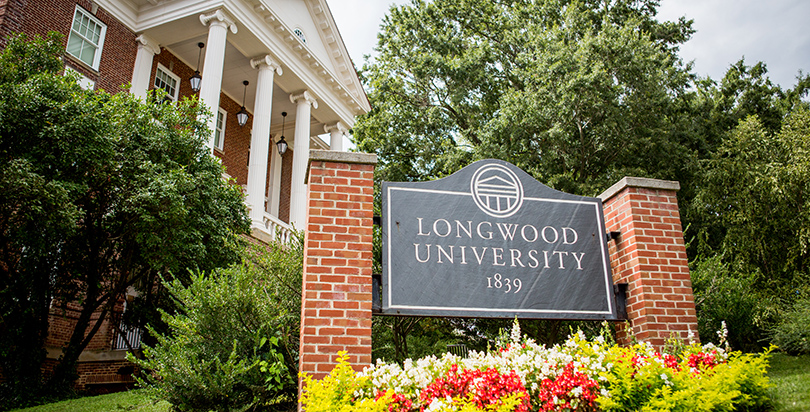 Few Americans had heard of Longwood University in rural Farmville, Va., before it was selected to host tonight's vice presidential debate, and when Sen. Tim Kaine and Gov. Mike Pence face off on topics likely to include race in America, fewer still are likely to know it's a place steeped in the civil rights struggle.
Next to the campus stands the former Moton High School, now a museum and the site of a 1951 walkout by black students protesting poor conditions at the school — an act considered one of the first sparks in the civil rights movement. Their case became part of the landmark legal challenge that was Brown v. Board of Education, in which the Supreme Court struck down the "separate but equal" schools doctrine.
Founded in 1839 as the Farmville Female Seminary Association, the campus was en route for the armies of both Gen. Robert E. Lee and Gen. Ulysses S. Grant as they marched to nearby Appomattox for Lee's surrender in 1865, ending the Civil War.
"I think that the real power, the real poetry, the real profound concurrence of the fact that the Civil War ended at one end of Longwood's campus and the civil rights movement began at the other end of campus, it was very powerful," Longwood President W. Taylor Reveley IV told The 74 while discussing how the Commission on Presidential Debates selected his university.
The Rev. J. Samuel Williams Jr., one of the students involved in the 1951 strike, said he hoped the debate "would bring a lot of illumination to this country regarding its past as well as its present" in race relations, and that the candidates would discuss the subject in depth. "The fight and the struggle is back on. All is not well."
As millions of adults tune in for the vice presidential showdown, professors and others at the school are also using the debate as a teaching moment for local K-12 students, who are learning more about civics education and the civil rights legacy of Longwood and Moton.
(The 74: Rethinking Civics Education, and National Standards, for the Class of 2016)
The week before the debate, professors at Longwood hosted a citizenship forum for eighth-, 11th- and 12th-grade students — those taking Virginia-mandated courses in civics, history and government. There was so much interest that organizers had to expand the size of the event twice, from its original 250 students to 400 to finally 650, said David Locascio, associate dean of Longwood's College of Education and Human Services.
And the university will host a debate watch party for about 135 local students in the auditorium at Moton — the same place where the student strikers planned their walkout.
Officials are also working to develop "curriculum trunks" that can help educators spread the story of Moton even if they can't bring students to the museum for a field trip.
Beyond the immediate area in Prince Edward County, the history of Moton and its place in the civil rights movement isn't particularly well known, Locascio said.
"It's really bringing the scope of the excitement of the debates to a much broader geographic and age range than we may otherwise have had," he added.
Little-known history and the hope for reconciliation
The Moton students, led by 16-year-old Barbara Johns Powell, were originally protesting their school's poor conditions, not segregation. Moton didn't have a cafeteria, a gym or science labs, and additions to accommodate the growing student body were little more than shacks, lacking indoor plumbing and heated by wood-burning stoves.
Moton students got hand-me-down football uniforms and library books — some with pages ripped out and the n-word scrawled inside — from the neighboring white high school, Williams said. Now in his 80s, Williams was president of the senior class when he participated in the student strike. He remembers there being one microscope for the entire 400-plus student body.
"There were mixed emotions, mixed feelings [about the strike], because it was new. One thing that stood above it all, which you couldn't deny, was white facilities were much better than ours," he said.
The Moton students were out of school for two weeks. Although the district eventually acceded to their demands and opened a new school in 1953, and the Supreme Court the next year struck down the concept of "separate but equal" education as unconstitutional, those victories were short-lived.
Virginia leaders, led by Sen. Harry F. Byrd Sr., instituted a policy of "massive resistance" in response to the Supreme Court's Brown ruling. Rather than comply, local leaders simply closed schools. Although other jurisdictions in Virginia eventually came into compliance, county officials cut off funding for all public schools, and Moton and other schools in Prince Edward remained closed from 1959 to 1964.
White students in the county, meanwhile, were sent to a private school supported by state tuition grants and donations from segregationists. Black students were sent to live with family elsewhere, tried to attend school in another county or attended loosely organized "free schools" — but largely remained out of the classroom for those years.
Williams, who in college would go on to help organize the Student Nonviolent Coordinating Committee in Raleigh, and others participated in the March on Washington in 1963 and a series of massive protests in Farmville that same year before the schools reopened.
School segregation battles were still going on in Virginia in the 1970s when then-Gov. Linwood Holton sent his children, including his daughter Anne, now Kaine's wife, to largely black schools in Richmond.
(The 74: Anne Holton, Former Va. Schools Chief and Would-Be Second Lady, Carrying Clinton's Ed Message)
Save for one professor —Gordon Moss, who refused to teach U.S. history without mentioning slavery, and who would later send his children to almost exclusively black schools when they reopened — the Moton protesters got little support from Longwood, Williams said.
Reveley, too, said Longwood leaders did little: "Longwood did not live up to its ideals, in my opinion, during that time, did not speak out in support of desegregation."
It was important to Reveley, who took over leadership of the 5,000-student university in 2013, to try to remedy that failing. His grandfather, then the president of nearby Hampden-Sydney College, had helped desegregate that school and had hosted then–Attorney General Robert F. Kennedy, a key figure in the civil rights movement who brought attention to the Prince Edward school closures.
The university's board of visitors in 2014 passed a resolution apologizing for its failure to take a stronger stand against segregation. Longwood also now provides financial support to the Moton museum.
"I think it's a powerful setting for the debate, for the country, given all the things the country is grappling with today," Reveley said. "Farmville, Longwood, represents a place and represents the idea of leadership forged in reconciliation."
Support The 74's year-end campaign. Make a tax-exempt donation now.