Virtual Reality & Other New Technologies Pose Risks for Kids. It's Time to Act
Buher & Friedlander: Educators are making decisions about emerging technology without answers to basic questions about the benefits and dangers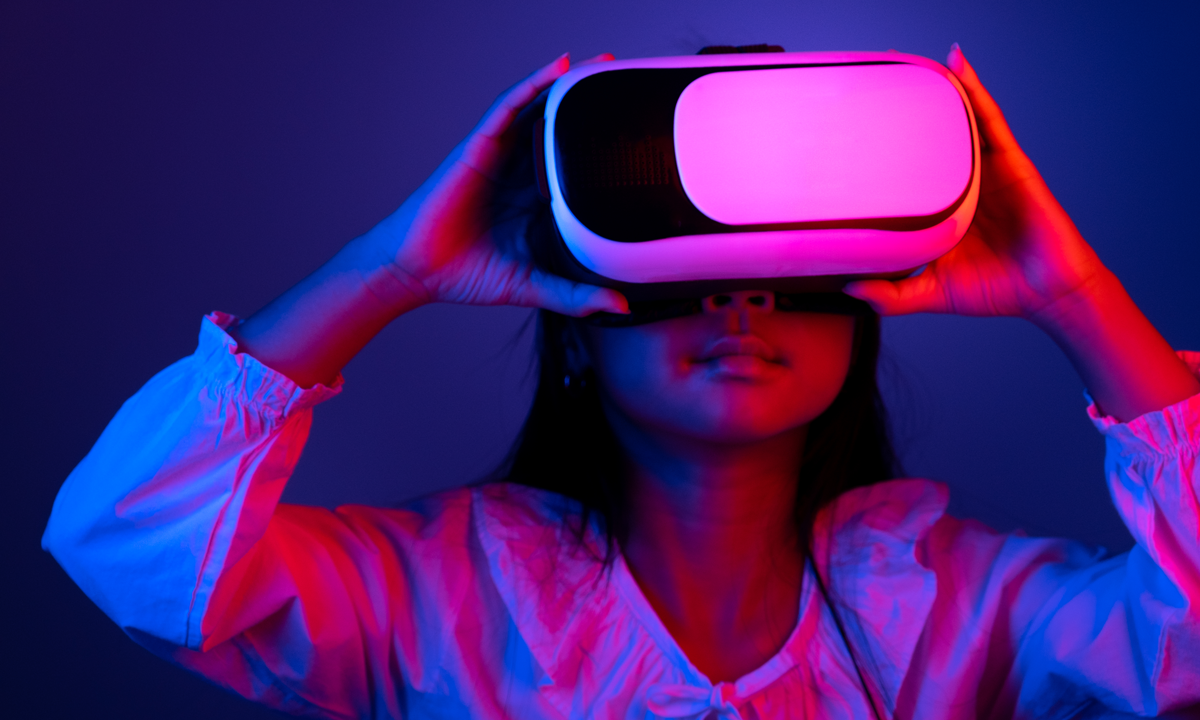 Support The 74's year-end campaign. Make a tax-exempt donation now.
Almost immediately after ChatGPT, a captivating artificial intelligence-powered chatbot, was released late last year, school districts across the country moved to limit or block access to it. As rationale, they cited a combination of potential negative impacts on student learning and concerns about plagiarism, privacy and content accuracy.
These districts' reactions to ChatGPT have led to a debate among policymakers and parents, teachers and technologists about the utility of this new chatbot. This deliberation magnifies a troubling truth: Superintendents, principals and teachers are making decisions about the adoption of emerging technology without the answers to fundamental questions about the benefits and risks.
Technology has the potential to modernize education and help prepare students for an increasingly complex future. But the risks to children are just beginning to be uncovered. Creating a policy and regulatory framework focused on building a deeper understanding of the benefits and risks of emerging technologies, and protecting children where the evidence is incomplete, is not alarmist, but a responsible course of action.
Why act now?
First, recent history has demonstrated that emerging technology can pose real risks to children. Evidence suggests a correlation between time spent on social media and adolescent anxiety, depression, self-harm and suicide. These impacts seem particularly significant for GenZ teenage girls. While there is debate among researchers about the size of these effects, the state of adolescent mental health has deteriorated to the extent that it was declared a national emergency in 2021 by the American Academy of Pediatrics, the American Academy of Child and Adolescent Psychiatry, and the Children's Hospital Association. Social media seems to be a contributing factor.
Second, immersive technologies, including virtual reality, augmented reality, mixed reality and brain-computer interfaces, may intensify the benefits and risks to children. Immersive technologies have the potential to fundamentally remake teaching and learning. But the impact on childhood development of exposure to multisensory experiences replicating the physical world in digital spaces is just beginning to be understood — and there is cause for concern based on limited research. For example, a 2021 study concluded that immersive virtual reality can interfere with the development of coordination that allows children to maintain balance. And a 2021 review of 85 studies on the impact of virtual reality on children revealed evidence of cognition issues, difficulty navigating real and virtual worlds, and addiction. The most significant risk may be how frequent and prolonged exposure to virtual environments impact mental health.
Third, the digital divide has narrowed considerably. Government and the private sector have driven improvements in internet access at schools, expanded cellular networks and made mobile and computing devices significantly more affordable. Since 2014-15, the percentage of teens who have a smartphone has increased from 73% to 95%. Paired with money from COVID-19 legislation that allowed schools to invest in hardware, more children will have opportunities to use emerging technologies than ever had access to older innovations — including apps and the internet — at home and in school.
Based on emerging evidence on these impacts on children, and in the face of significant unknowns, a policy and regulatory framework focused on mitigating risks — while still allowing children to access the benefits of these technologies — is warranted. At the federal level, Congress should consider:
Compelling all emerging technology companies, including those producing immersive reality products that are utilized by children, to provide academic researchers access to their data.

Compelling all immersive reality companies to assess the privacy and protection of children in the design of any product or service that they offer.

Compelling all immersive reality companies to provide child development training to staff working on products intended for use by children.

Requiring hardware manufacturers of virtual reality, augmented reality, mixed reality and brain-computer interface devices targeted to children to prominently display on their packaging warning labels about unknown physical and mental health risks.

Establishing guidance, via the Department of Education, for district and school leaders to prepare their communities for the adoption of immersive technologies.

Requiring all immersive technology companies to inform users of product placement within the platform.

Compelling relevant federal regulatory agencies to provide clarification on the ways existing laws, such as the Health Information Portability and Accountability Act and the Children's Online Privacy Protection Act, Individuals with Disabilities Act and Americans with Disabilities Act, apply to immersive technologies.

Compelling all immersive technology companies to acquire parental consent for data sharing, particularly biometric information, including eye scans, fingerprints, handprints, face geometry and voiceprints.

Providing guidelines around minimum age for the use of immersive technology platforms and products.

At the state level, every governor should carefully assess the action Utah took last week to regulate children's use of social media and consider the following actions:
Creating child well-being requirements for state procurement of any immersive technology.

Offering research and development grants to in-state immersive technology companies to focus on safety and well-being impacts on children.

Establishing protocols for reviewing districts' use of emerging technologies to determine compliance with federal and state law.
Finally, at the local level, school boards, superintendents and school leaders should consider regulations and guidance for the selection, adoption and use of immersive technologies:
Assessing opportunities for integration with current teaching and learning methods and curriculum.

Investing in and planning for professional development around these technologies.

Ensuring accessibility for students with disabilities and English learners when planning around use of emerging technologies.

Ensuring that any planned use of emerging technologies in the classroom is compliant with state and federal special education laws.

Evaluating the costs of immersive technology procurement and necessary infrastructure upgrades and making the results transparent to the community.

Creating opportunities for educator, parent and student involvement in the purchasing process for technology.
If emerging technology can have detrimental impacts on children — and evidence points to that being the case — responsibly mitigating the risks associated with these technologies is prudent. Why chance it? This is the best opportunity to allow children to reap the benefits.
Support The 74's year-end campaign. Make a tax-exempt donation now.