Virginia LG joins amicus brief Urging End to Race-Conscious College Admissions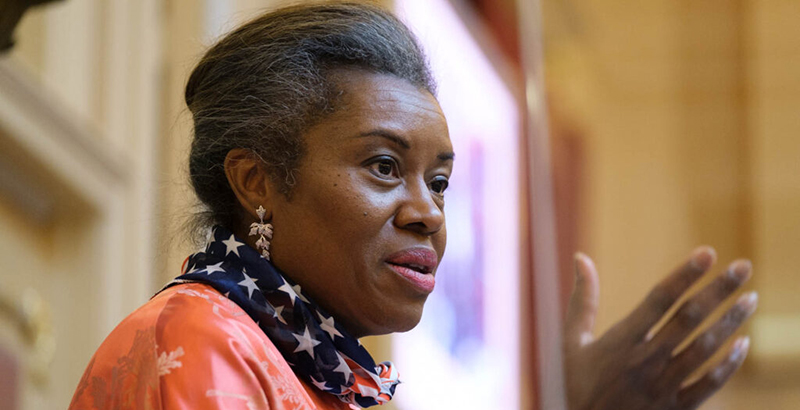 Support The 74's year-end campaign. Make a tax-exempt donation now.
Lt. Gov. Winsome Earle-Sears, the first woman of color elected to statewide office in Virginia, has signed onto an amicus brief asking the U.S. Supreme Court to restrict the use of racial preferences in college admissions by siding with the Asian-American plaintiffs in a pending affirmative action case.
Earle-Sears signed the anti-affirmative action brief along with North Carolina Lt. Gov. Mark Robinson, noting it represents the views of two Black Republicans elected to statewide office in southern states that "not only formed part of the Confederacy, but also enacted and then enforced Jim Crow laws until the 1960s." The brief was filed by lawyers for the Thomas More Society, a conservative legal group.
The 18-page document, which advises the court but has no binding legal weight, takes aim at what it describes as a "toxic ideology that is increasingly dividing American society based on race" and argues "the dream of a colorblind nation continues to be opposed under the pretense of making that dream real."
"Students, whether in college or kindergarten, should be educated to engage with an idea's merits, not the race of an idea's proponent," the brief says. "Unfortunately, students are taught the exact opposite lesson by the actions of the government itself when it discriminates on the basis of race."
The suit against Harvard could lead to the overturning of longstanding legal precedent allowing institutions of higher education to consider race as a factor in admissions to achieve the goal of greater student diversity. The plaintiffs in the case claim Harvard's policies have systematically denied equal treatment to Asian-American students by disfavoring them in the admissions process on personal scores to counteract strong academic scores.
Harvard has denied that its policies amount to discrimination, arguing all students benefit from a diverse campus.
"If the lawsuit against Harvard succeeds, it would diminish students' opportunities to live and learn in a diverse campus environment—denying them the kind of experiences that are central to Harvard's educational mission and critical for success in our diverse society," the school says on its website about the case.
Virginia Mercury is part of States Newsroom, a network of news bureaus supported by grants and a coalition of donors as a 501c(3) public charity. Virginia Mercury maintains editorial independence. Contact Editor Robert Zullo for questions: info@virginiamercury.com. Follow Virginia Mercury on Facebook and Twitter.
Support The 74's year-end campaign. Make a tax-exempt donation now.