Virginia Lawmakers Give Parents a Say on Sexually Explicit Classroom Materials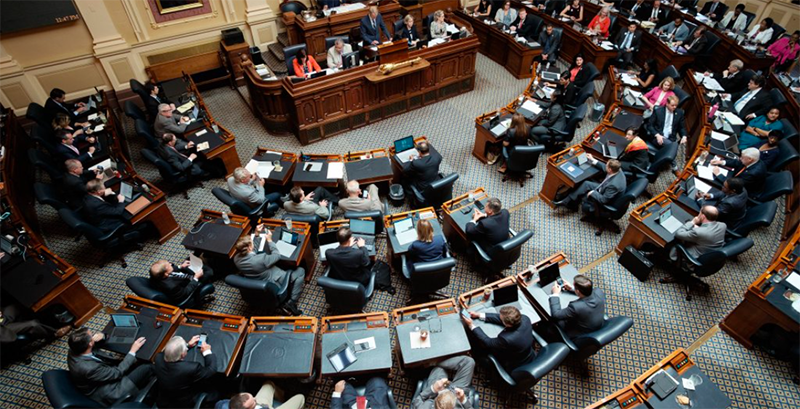 Support The 74's year-end campaign. Make a tax-exempt donation now.
In a largely party-line vote, the Virginia House of Delegates approved legislation that will give parents a say as to whether their children are assigned sexually explicit materials in schools.
Monday's vote sends the bill, which narrowly passed the Senate earlier this month, to Gov. Glenn Youngkin for a signature. Youngkin listed the legislation as part of his "day one game plan" and has made parental input into public curriculum a central part of his political platform. One of his campaign ads featured a Fairfax County mother who petitioned the school district to remove Toni Morrison's Pulitzer Prize-winning novel "Beloved" from her son's high school Advanced Placement English course.
The language of the bill, sponsored by Sen. Siobhan Dunnavant, R-Henrico, is nearly identical to legislation that passed the General Assembly with bipartisan support in 2016. If signed into law, it would require the Virginia Department of Education to draft model policies on notifying parents of any sexually explicit materials assigned in class.
Parents would also be permitted to review the material and request alternative assignments. Every local school district would be required to adopt a policy consistent or more comprehensive with the statewide model.
Once a bipartisan issue in Virginia, the push to give parents greater control over potentially controversial curriculum has become politically contentious since the gubernatorial race between Youngkin and former Gov. Terry McAuliffe. Youngkin criticized McAuliffe for vetoing the 2016 bill on the campaign trail while pledging to ban other "divisive concepts," including critical race theory, from public schools.
The idea of banning books has also sparked fierce local debate, both in Virginia and nationwide. Multiple school districts, including Fairfax County and Virginia Beach, temporarily removed multiple texts from school library shelves after parents complained about explicit scenes. A Tennessee school board attracted national attention after banning the graphic novel "Maus" — a visual retelling of the Holocaust from the perspective of the author's father — from being taught in classrooms.
Dunnavant's legislation wouldn't apply to library books, but Democrats have argued the bill amounts to classroom censorship.
"The consequences of this bill are clear," said Del. Alfonso Lopez, D-Arlington, before Monday's vote. "Teachers who are already overworked are not going to create two lesson plans. So what they're not going to do is, they're not going to teach the most controversial or dynamic or insightful ideas."
The bill's definition of "sexually explicit" comes from a different section of Virginia code that limits what content state employees can access on government-provided computers. Republicans have consistently argued the legislation gives parents a reasonable level of control over what their children are exposed to in school.
"To steal Del. Kilgore's phrase, let's all calm down for a minute," Del. Carrie Coyner, R-Chesterfield, responded.
"It's not an overly broad definition," she added. "It's something we don't let adults in the Commonwealth access if they're state employees."
Virginia Mercury is part of States Newsroom, a network of news bureaus supported by grants and a coalition of donors as a 501c(3) public charity. Virginia Mercury maintains editorial independence. Contact Editor Robert Zullo for questions: info@virginiamercury.com. Follow Virginia Mercury on Facebook and Twitter.
Support The 74's year-end campaign. Make a tax-exempt donation now.