VIDEO: Phillip the Duck Takes First Steps, Thanks to the 3D Feet Printed By These Wisconsin Students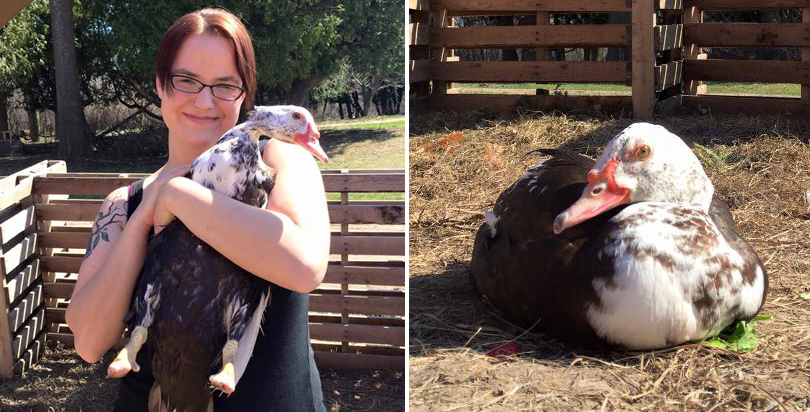 This article is one in a series at The 74 which profiles the heroes, victories, success stories and random acts of kindness to be found at schools all across America. Read more of our recent inspiring profiles at The74million.org/series/inspiring.
After learning that a duck named Phillip lost both of his feet to frostbite, animal-lover Vicki Rabe-Harrison of Pickett, Wisconsin tried her best to nurse him back to health. But without the ability to walk, the bird was struggling, and she made the difficult decision to have him euthanized.
Just before the procedure was set to take place, however, she learned about cutting-edge technology at a local school that might be able to help her feathered friend.
South Park Middle School in nearby Oshkosh has a new 3D printer. Rabe-Harrison reached out to teacher Jason Jischke to see if they could print prosthetic feet for the duck. At first, Jischke was skeptical: "[After] the initial email I thought…is this for real?" he told WBAY. But his class got to work on the project and was able to come up with a solution.
---
---
With just an hour to go before euthanization, the teacher called Rabe-Harrison to say his class was printing the feet.
"I immediately called Vicki from class and I said, 'Vicki, I'm making the feet right now. Hold off, hold off!'" Jischke told the station.
The prosthetics were printed with a donated material called Ninja Flex, made of polyurethane and designed to reduce friction, vibration and allow for repeated movement without cracking. It took six weeks of trial and error to find the right model for Phillip's feet. Once the big day came for Phillip to wear his new feet, the duck proved to be a quick learner:
---
---
"He picked it up real fast, and I'm sure he'll learn to balance again and be able to waddle around with all the other ducks," Rabe-Harrison told the station.
Phillip now resides at an Autumn Farm Sanctuary in Cedarsburg, home to sheep, goats, ponies and other ducks.
---
Get stories like these delivered straight to your inbox. Sign up for The 74 Newsletter