VIDEO: Meet the NYC Parents Who Marched Across the Brooklyn Bridge in Support of School Choice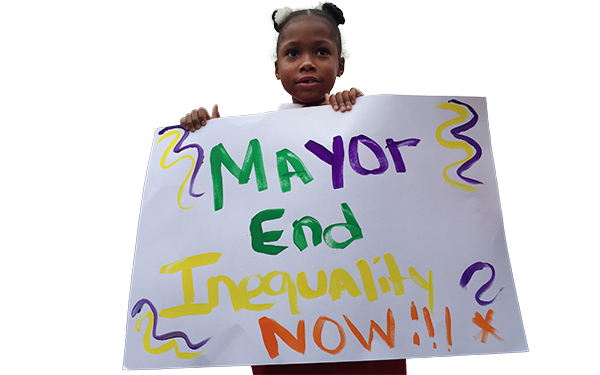 For Louise Julissa, it was gratitude that her 9-year-old daughter was able to escape a public school with too many bullies to assume a spot at Success Academy Harlem 1.
For Adrian Roberts, it was the joy he and his wife felt, being able to give up their son's coveted spot in their neighborhood public school's gifted and talented program because there was a nearby charter school they thought was stronger.
For Shadae Reid, living in a homeless shelter, it was the relief of learning the news that she didn't have to send her son to the public school on Tenth Avenue whose test scores were just not good enough.
"It's one of the greatest schools," said Reid, who instead enrolled her first-grader at Success Academy Hell's Kitchen. "He can actually read. He can spell. He can do math…I want that for all the kids."
---
Watch: Sights & Sounds from Wednesday's Rally
---
Three parents of diverse backgrounds from different parts of the city whose stories blended together with thousands of others piled into a Brooklyn plaza Wednesday morning to rally for the same cause: The chance and the choice to send their children to better schools.
"Without education, the next generation will be nothing," Julissa said. "So we have to fight for that."
That battle to see charter schools survive and thrive in New York City — a fight that many saw as pitting them against Mayor Bill de Blasio — drew some 18,000 people to Cadman Plaza, according to organizers, turning it into a sea of "I Fight to End Inequality" red T-shirts, flags and banners. The movement was bolstered on social media by its #DontStealPossible hashtag (see the day's
top social media moments
) and in person, by Oscar- and Grammy-winner Jennifer Hudson who belted out "And I am Telling You I'm Not Going" from "Dreamgirls."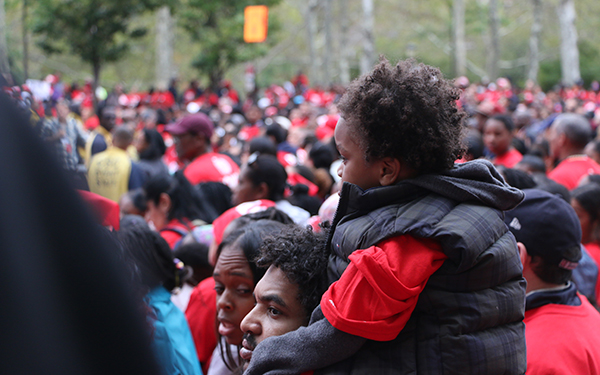 Many arrived at the rally, organized by advocacy group Families for Excellent Schools, on charter buses from their respective Success Academy schools, whose track record educating mainly poor and minority children outdistances traditional public schools.
"For too many kids, zip code determines destiny," Grammy-nominated artist Aloe Blacc told the crowd, echoing the belief that charter schools give disadvantaged families the chance to escape that fate.
After the rally, hundreds of parents and children marched across the Brooklyn Bridge towards City Hall in Lower Manhattan for a press conference. Bronx Borough President Ruben Diaz Jr., who previously advocated for charter schools when he served in the New York State Assembly, called on de Blasio to support school choice and bridge the divide between traditional public schools and charters.
"Mr. Mayor, in a nutshell, what we're saying today is this: That the public school system is your system," Diaz said. "Charter schools are a part of that system, and all we want from you, Mr. Mayor, is to treat them equitably."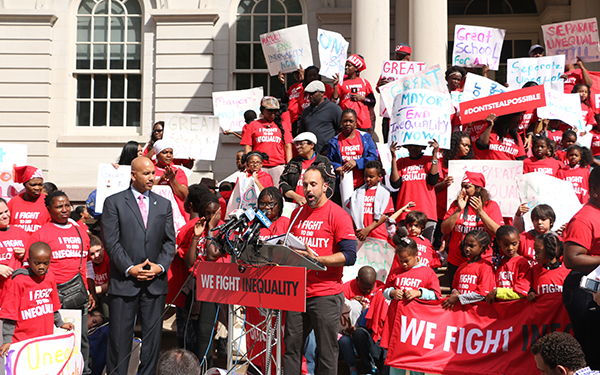 Success Academy Charter Schools also took aim at de Blasio this week, saying the city reneged on its promise to find locations for seven new charter schools next school year. The network said the deadline for the city to publicly post co-location proposals to be approved before a November 19 meeting passed earlier this week.
"The mayor's promise to find space for Success Academy was a promise not just to us, but to the families of children trapped in failing district schools," Success Academy founder and CEO Eva Moskowitz said in a statement. "Being mayor requires standing up to special interests that oppose the expansion of good educational opportunities. In a city where families are clamoring for better schools, it's unfathomable that the mayor doesn't have the political will to do what's right for kids." (News emerged later in the day that Moskowitz, who has publicly said she is considering running for mayor, has scheduled a press conference for Thursday morning to talk about her "political plans.")
New York City Education department press secretary Devora Kaye said the city was still working on finding locations for the schools.
City Deputy Press Secretary Wiley Norvell touted the city's efforts to expand pre-k, offer advanced coursework for high school students and improve second grade students' reading.
"Mayor de Blasio is focused on ensuring that every child, in every classroom, has a future that isn't limited by their zip code," Norvell said in a statement. "We believe that's the path to raising achievement—not just for some students—but for all students."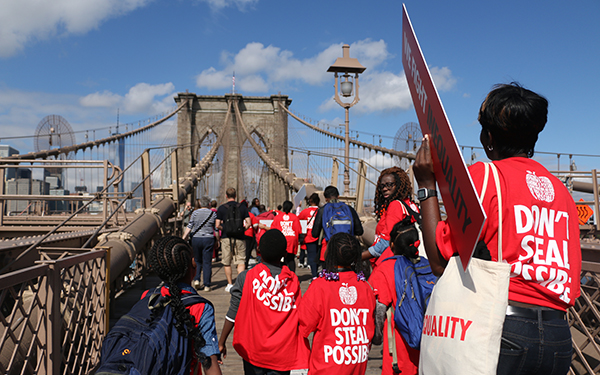 Grace Henry, 33, said she was hesitant two years ago to put her 6-year-old daughter into Success Academy Bergen Beach Charter School because she had heard a lot of "negativity" about charter schools.
But Henry said her daughter, Isabel, had received a very structured education in daycare and she didn't think public school would be able to provide that. Now, she says she is grateful to receive regular updates about her daughter's academic success.
"They support you so you want to support them," she said of her reason to attend the rally.
For some Success Academy Hell's Kitchen parents that support began just after 7 a.m. today as they piled into a handful of charter buses to take them to the rally. Teachers handed out snack packs, metro cards and postcards in which parents and students could write messages to de Blasio.
Second-grader Aston Roberts wrote "How would you like it if you were in a bad school?" with a frown face next to it.
"I didn't expect him to write that," said his father, Adrian Roberts, adding that his son had a strong reaction to a controversial Families for Excellent Schools' TV ad depicting a white boy from an affluent neighborhood attending a good school and an African-American boy from a poor neighborhood in a failing one. The ad was meant to highlight inequality in the city's public schools but was seen as race baiting by critics.
"They understand," Roberts said.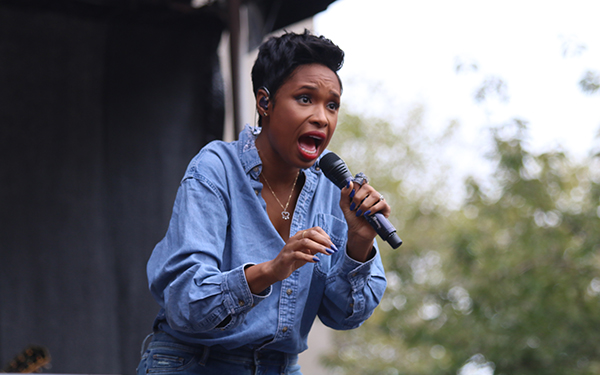 When Monique Willis was preparing to send her daughter to school, she looked at the options she had. One was a traditional public school, P.S. 91, which she heard was terrible before its principal was fired, and even worse after.
Instead, her daughter Lyfe Willis, now 6, enrolled at Success Academy Crown Heights. Her daughter is shy, she said, but at Success Academy she came out of her shell — and was even recognized for her reading skills in kindergarten.
"Every child needs a chance just like my child got one," Willis said, adding that although she works two jobs, she feels like her daughter is in good hands when she's away.
Get stories like these delivered straight to your inbox. Sign up for The 74 Newsletter