Video: John King on Trump, DeVos: 'It Would Be Better for the Country If They Chose a Path of Transparency'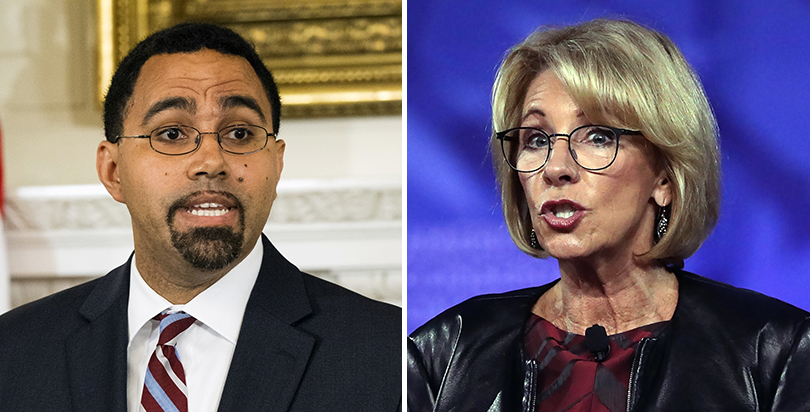 Secretary of Education Betsy DeVos,
criticized
since her confirmation for declining to speak with the media, made further waves this month when she turned down an invitation to speak at a national conference of education journalists and writers that begins Wednesday in Washington.
"We are sorry to report that U.S. Secretary of Education Betsy DeVos recently declined EWA's invitation to speak at the conference," leaders of the Education Writers Association announced in a May 11 email to members. "EWA has been privileged to hear from every previous education secretary, dating to the Carter administration. We are disappointed that Secretary DeVos opted not to participate. But we hope she will make herself available to the nation's education journalists in the coming months and join us at EWA's 2018 National Seminar."
To DeVos's predecessor, John King, engagement with the press provided an important opportunity to explain policies and decisions to the public, as well as to gain insight into different perspectives on education in America.
---
---
"That, certainly for President Obama, was something he was very clear about with our whole team — that we needed to be really in conversation with the American public," King told The 74 ahead of this year's EWA conference. "The current administration so far has taken a different approach. I think it would be better for the country if they chose a path of greater transparency and greater engagement with the press. But obviously, that's their decision to make."
The tradition of education secretaries appearing at EWA dates to 1980, when President Jimmy Carter's first appointee, Shirley Hufstedler, addressed the conference. In 2000, President Bill Clinton himself spoke at the EWA conference in Atlanta. President George W. Bush's education secretaries, Rod Paige and Margaret Spellings, spoke at two EWA conferences apiece, and Arne Duncan, President Barack Obama's first education secretary, spoke at the events six of the seven years he held the job. Most recently, King spoke at the conference last year in Boston.
Watch his full response to DeVos:
Get stories like these delivered straight to your inbox. Sign up for The 74 Newsletter