Veney: Meet the 30 Under 30 Charter School Changemakers — Young Leaders Using Their Talents and Platforms to Make the World Better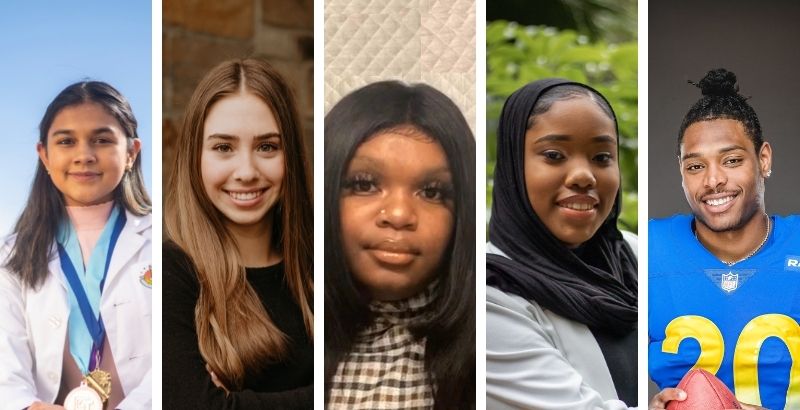 Get essential education news and commentary delivered straight to your inbox. Sign up here for The 74's daily newsletter.
This year marks the 30th anniversary of the first charter school law. Since then, a fledgling idea to create a new type of public school grew into a powerful movement that has touched millions of students and forever changed the trajectories of their lives. At moments like this, it is natural to take stock, remember the pioneers and reflect on how much has been accomplished. It's also important to look ahead and consider the future.
The future of the charter school movement is our young leaders. That's why, as part of National Charter Schools Week, an annual celebration of more than 200,000 dedicated teachers, 3.3 million students and 7,500 public charter schools across the United States, the National Alliance for Public Charter Schools is honoring 30 exceptional young changemakers. They are a diverse group. Some are still in elementary or secondary school. Others are a bit older, and several are solidly established in their careers. But they all have a passion and commitment to using their ideas, talents and platforms to make the world better. 
Among these inspiring leaders is charter school senior Darnella Fraizer. She is the Minnesota teen who bravely witnessed and recorded on her cell phone the unjust death of George Floyd in police custody last summer. Her actions spawned an international  reckoning, followed by intense discussions about race, equity and police brutality. 
NFL star Jalen Ramsey is an all-star hometown hero from Nashville who puts kids first. He has dedicated his time and energy in the off-season to improving and creating access to quality education in Nashville's community. Notably, he donated $1 million during the pandemic to Purpose Preparatory Academy, a local charter school that is in the top 5 percent in the state for academics. 
Just 14 years old, Najah Aqeel made history this year by leading a nationwide rule change to ensure high school volleyball athletes can wear religious headwear without seeking permission. Najah, a Muslim student and athlete at Valor Collegiate Prep High School  in Nashville, was forbidden from participating in a freshman volleyball game in 2020. Because of her advocacy, athletes can now wear hijabs or other religious head coverings freely in the sport of volleyball. Her work will also impact sports beyond volleyball in the future.
Gitanjali Rao, of Lone Tree, Colorado, is a real-live superhero. This young scientist was featured in an episode of Marvel's Hero Project, Genius Gitanjali, which followed her work developing an app that detects lead in drinking water. Her work was inspired by a trip with her family to India and the Flint water crisis. This app developer and anti-cyber-bullying advocate is also Time magazine's first Kid of the Year. She attends STEM School Highlands Ranch in Littleton, Colorado.
Natalie Wojcik, from Douglassville, Pennsylvania, is a former student at 21st Century Cyber Charter School. She is now a junior at the University of Michigan and a leader on the school's gymnastics team. Natalie has several titles under her belt, including NCAA champion on balance beam in 2019, 2019 Big Ten Freshman of the Year and now the 2021 NCAA team national championship title. Her accomplishments include perfect 10.0 performances on both the vault and balance beam. But more than medals motivate this MVP — she has been a generous volunteer with the Special Olympics for 13 straight years.
The full roster of 30 Under 30 Changemakers is listed below, and even more information about their inspiring stories can be found on our website. Join the celebration as the National Alliance hosts the 30 Under 30 Virtual Awards Ceremony, featuring interviews with several of the honorees, Wednesday, May 12, at 4 p.m. Eastern Time. 
Arts, writing, sports
London Carter Williams, 12, Waterbury, Connecticut. Activist, author and Brass City Charter School student
Najah Aqeel, 14, Nashville. Student athlete and activist for religious freedom and girls' rights
Nia Sioux, 19, Los Angeles and Pittsburgh. Dancer, actress, author and podcast host
Natalie Wojcik, 21, Douglassville, Pennsylvania. Alumna of 21st Century Cyber Charter School, college gymnast and Special Olympics volunteer
Ayden Jent, 28, Indianapolis. Member of U.S. Paralympic Team in 2016. Three-time national team member of USA Track and Field
Katrina Brown-Aliffi, 29, New York City. Dancer, educator, researcher
Education and politics
Lauryn Renford, 19, Washington, D.C. Anti-gun violence advocate and co-founder of Pathways 2 Power
Kyle Denman, 26, Los Angeles. Educator and "Political scientist with a passion for fashion," named 2018 Young Fashion Designer of the Year
Jalen Ramsey, 26, Los Angeles and Nashville, NFL star and philanthropist
Roquel Crutcher, 26, Memphis. Policy entrepreneur at Next100
Phillip Nguyen, 29, Toms River, New Jersey. Founder and executive director of EdChiefs
Leadership
Kalan Rogers, 27, Calhoun Falls, South Carolina. Calhoun Falls Charter High School alum who returned as principal of his alma mater
Gavin Schiffres, 27, St. Louis. Co-founder and CEO of Kairos Academies, a K-12 public charter school in St. Louis
Samantha Aponte, 28, Tulsa, Oklahoma. Interim principal at Tulsa Honor Academy, former teacher and assistant principal who helped build literacy to better support diverse learners
Audrey Hagopian, 29, Phoenix. Regional director for primary schools for BASIS.ed
Davian Morgan, 29, Washington, D.C. vice principal of literacy at Ingenuity Prep Public Charter School and founder of Hopeful HoriSONS
Darren Ramalho, 29, Marion, Alabama. Founder of the first charter school in rural Perry County, Alabama, Breakthrough Charter School
Amira Thomas, 29, Cleveland. Director of Randall Park High School, a dropout recovery school in Cleveland
Science
Mari Copeny, 13, Flint, Michigan. Student activist and advocate for clean water
Gitanjali Rao, 15, Lone Tree, Colorado. Scientist, inventor, anti-cyber bullying activist, mentor
Nathan Ream, 16, Jacksonville, Florida. Hodgkin's lymphoma survivor and volunteer for the Leukemia/Lymphoma Society
Anna Grace Tiede Hottinger, 18, Shoreview, Minnesota. Advocate and national youth ambassador with Campaign for Tobacco Free Kids
Artemisio Romero y Carver, 18, Santa Fe. Climate activist, co-founder and policy director of Youth United For Climate Crisis Action (YUCCA)
Adriana Mancini, 22, Palm City, Florida. Founder of Team Green Martin, a recycling program that pairs students with disabilities with peer mentors. Leader of Students4H2O
Social justice
Darnella Frazier, 18, Minneapolis. Student activist, video journalist, advocate for racial and economic justice
Alessandro Iaia Hernandez, 18, Wilmington, Delaware. Student activist for marginalized people
Kwastlmut Sadie Olsen, 19, Bellingham, Washington. Advocate for Indigenous rights and an active participant in community healin
Jess Stone, 24, Flat Rock, Michigan. Math teacher and advocate for LGBTQ+ students and staff
Noelani Gabriel, 26, Boston. Activist for social justice, civil rights and active anti-racism
Brianna Noble, 26, Oakland, California. Equestrian and Black Lives Matter advocate. Alumna of Oakland School of the Arts and founder Mulatto Meadows
Debbie Veney is senior vice president for communications and marketing at the National Alliance for Public Charter Schools.
Get stories like these delivered straight to your inbox. Sign up for The 74 Newsletter