Uvalde Teachers Eva Mireles & Irma Garcia's Classroom Was Filled With 'Love'
The Robb Elementary Teachers who died protecting their fourth graders were remembered as dedicated educators who led full lives outside the classroom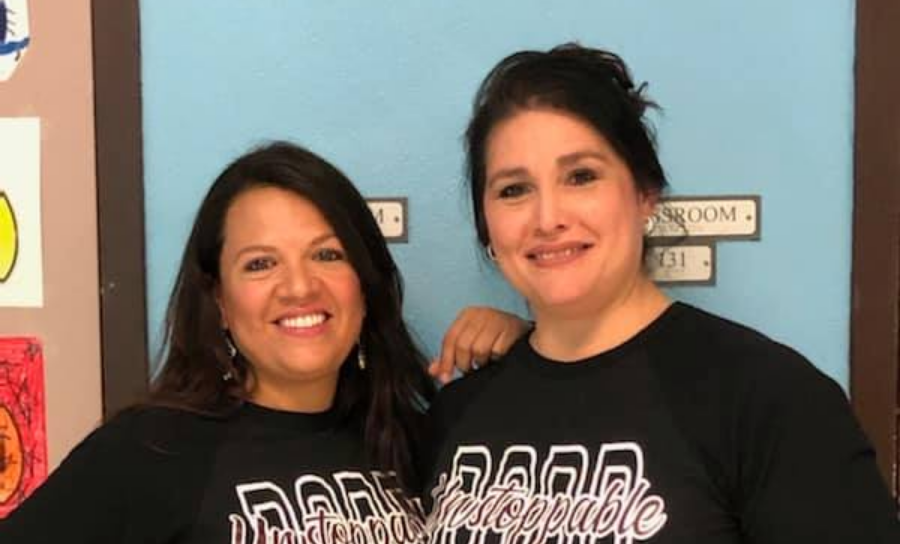 They were co-teachers at Robb Elementary school for the last five years, overseeing a fourth grade classroom filled with "fun, growth, giggles."
Eva Mireles was remembered by a former student's mother for going "above and beyond" for her daughter.
Irma Garcia was the school's teacher of the year just two years ago.
Longtime dedicated and cherished educators in the tiny Texas town of Uvalde, Mireles and Garcia died protecting their fourth grade students from the gunman who massacred them Tuesday, just days from summer vacation.
The colleagues, with 40 years combined teaching experience, were excited for the year ahead, according to letters from the teachers to their incoming students last fall.
"We have a wonderful year ahead of us," Mireles promised in a school biography posted on the school's website.

Garcia said she was "excited" to begin the new school year, providing her students with details of her life: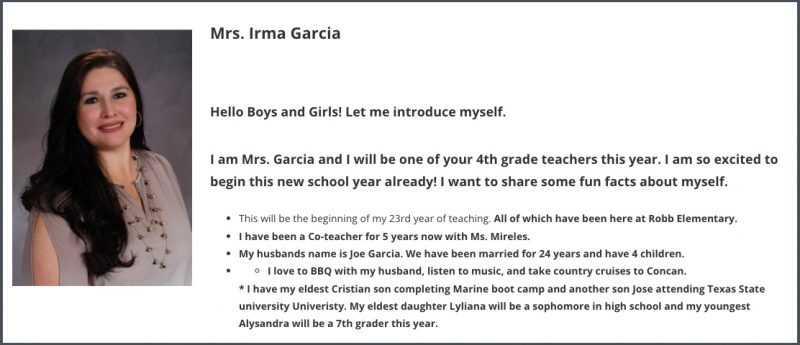 The duo were called "two of the greatest teachers Uvalde, TX has ever known," by Natalie Arias, a blended learning specialist in the school district. "Their classroom was full of fun, growth, giggles, teamwork, and, most of all, love."
The mother of one of Mireles's former students said she was "a beautiful person and a dedicated teacher. She believed in Gabby & went above & beyond to teach her."
Outside of the classroom, Mireles and Garcia led rich lives as loving mothers, wives, good friends and aunts.
Mireles, 44, loved hiking, crossfit and being outdoors with her family and dogs.
Her husband, Ruben Ruiz, is a police officer at the district's police force, which is investigating the school shooting.
Garcia, 46, loved to barbecue and travel with her husband of 24 years. The couple had four children.
Mireles's daughter Adalynn said she was "the most hardworking cross fitter in the afternoon" after a full day of teaching.
In a Facebook post, Adalynn called her mother "the half that makes me whole,"…"Mom, I have no words to describe how I feel right now, tomorrow, and for the rest of my life … I will forever say your name so you are always remembered," Adalynn wrote, "Eva Mireles, 4th grade teacher at Robb Elementary who selflessly jumped in front of her students to save their lives."
Later, Adalynn posted a photo of her adventurous, hike-loving mother at the top of a climb.
Garcia's Facebook profile is a scrapbook of family memories and proud-mom moments: From her son's Dean's List award, her daughter's quinceañera, to photos from a family fishing trip captioned "Thank you Jesus for my amazing husband and my babies."
Her posts also reveal she spent much of her time thinking about her other kids — her students at Robb Elementary.
"…learned so many new ways to challenge my future students to be independent learners" Garcia posted in May of 2020.
Two years after that post, her loved ones are mourning her death.
"She sacrificed herself protecting the kids in her classroom," a devastated nephew posted, "I beg of you to keep my family, including all of her family, in y'all's prayers."
Get stories like these delivered straight to your inbox. Sign up for The 74 Newsletter