Utah Town Is Blown Away as the Winds of Fate Deliver an Accidental Homecoming Invitation & Bring Two Teens Together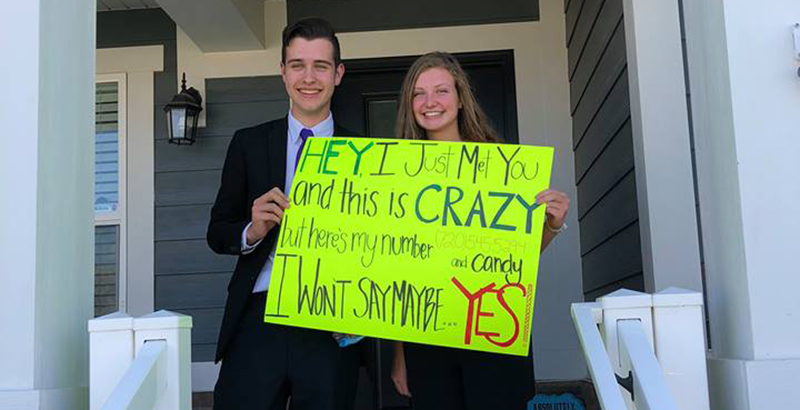 This article is one in a series at The 74 that profiles the heroes, victories, success stories, and random acts of kindness found at schools all across America. Read more of our recent inspiring profiles at The74Million.org/series/inspiring.
In this season of homecoming dances, most teenagers can expect to be asked with some sort of creative invitation. But one Utah teen was blown away by an accidental, windswept proposal.
In Saratoga Springs, Utah, Grayson Beck had finally worked up the nerve to ask a girl to the Westlake High School homecoming dance. Because she plays tennis, Grayson left a sign on her front porch:
"I finally got the balls to ask you to HoCo. —Grayson," the sign read.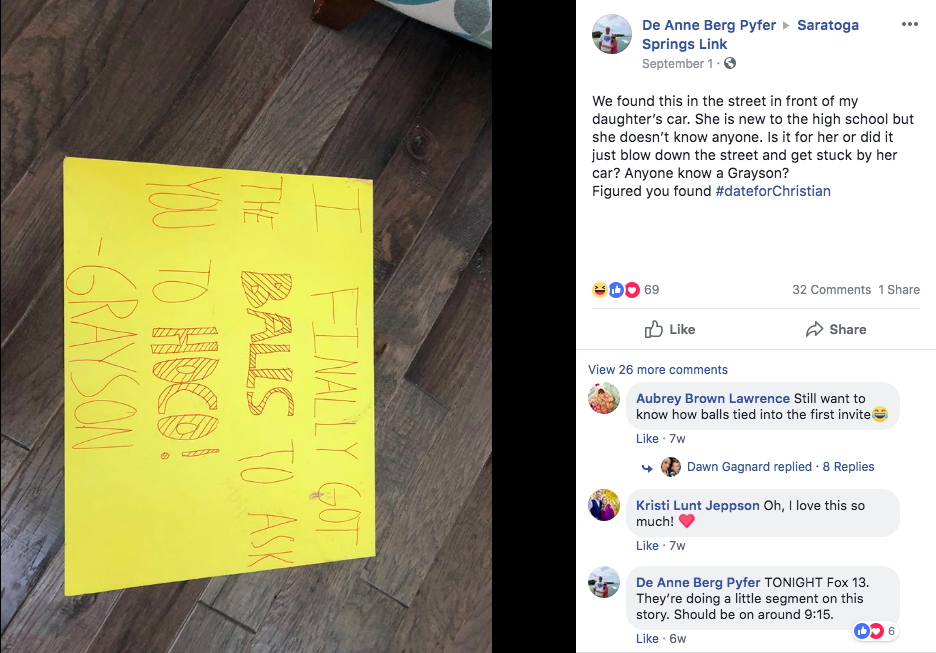 But his crude, handmade poster was swept up by a gust of wind and landed by the front tire of Bria Pyfer's car. De Anne Pyfer, Bria's mother, took to Facebook to track down Grayson and his intended date.
That post caused a social media storm. For Grayson, it was "absolutely mortifying" to learn that a mom had posted a picture of his vulgar sign to a group of Saratoga Springs residents — and that his intended date already planned to attend the dance with someone else, Fox 13 reported. "I thought that was the end of it. I thought that I'll just stay home from homecoming this time," he told reporters.
But Grayson's luck, and his attitude, turned around after learning that Bria did not have a date for the homecoming dance either. They are the same age and in the same grade, but Bria was new to the school, having moved in just a couple of months before.
Grayson turned up on Bria's doorstep with a new poster that said, "The winds of fate blew me to you. What a great icebreaker. Homecoming?"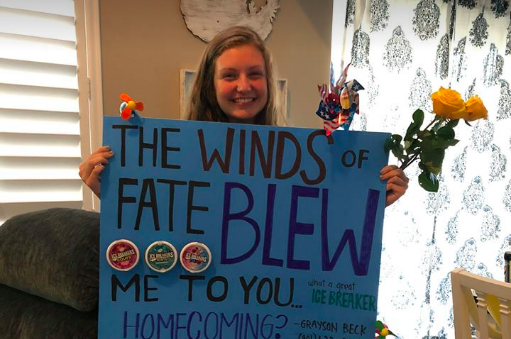 In reply, according to Inspiremore.com, Bria made her own poster that read: "Hey I just met you, and this is crazy, but here's my number (and candy), I won't say maybe … Yes!"
Grayson gushed to Fox 13, "I'm really excited for homecoming this year."
His "mortifying" mishap may actually have been a perfect sign from above.
Get stories like these delivered straight to your inbox. Sign up for The 74 Newsletter