Updated CDC Guidance Relaxing Mask Requirements for Some Students, But Not Others, Puts School Districts in Tough Spot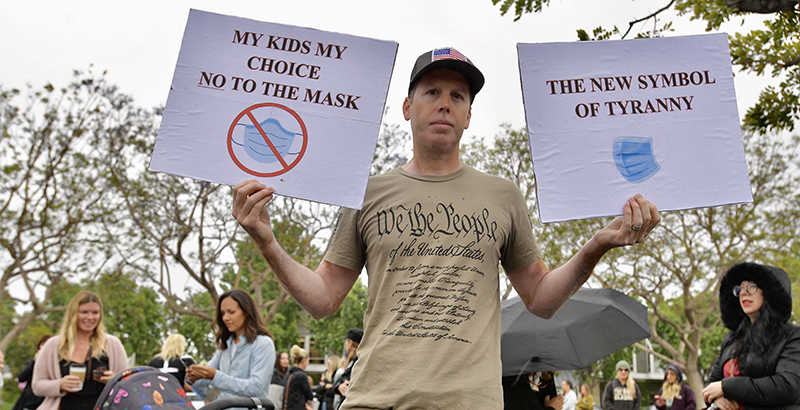 Updated July 13
Get essential education news and commentary delivered straight to your inbox. Sign up here for The 74's daily newsletter.
Friday's updated school reopening guidance from the Centers for Disease Control and Prevention puts districts in a tough spot — do they require all students to wear masks indoors or just those who haven't been vaccinated?
District leaders say it would be difficult to implement a policy where masks are optional for some but not others.
"The return for this school year will require a societal pact to protect one another by ensuring each of us follows the guidance that applies to us," said Tony Sanders, superintendent of School District U-46, outside Chicago. On Friday, the district announced it would maintain universal mask requirements for the rest of summer school, but would revisit the issue before school starts.
With about a month to go before some schools reopen for the new school year, the latest update aligns with the Biden administration's push toward full reopening and eliminates the need for districts to reduce the number of students in buildings in order to maintain social distancing — a strategy that created logistical hurdles most of last school year. Surveys show parents are growing more comfortable with the idea of full in-person learning this fall. But for some, the issue remains unusually divisive. Some say they don't feel safe letting their children return without mask mandates in place and others say they won't return because of mask requirements.
'2019 or bust'
Several states, including California, Connecticut, Hawaii and Virginia, still have mask mandates, even for those already vaccinated.
In response to the updated CDC guidance lifting mask requirements for those already vaccinated, California announced Friday that it would keep indoor mask rules in place for students this fall to "ensure that all kids are treated the same," according to a statement from the state's public health department. But then on Monday, officials tweeted that they would leave those decisions up to local districts. Requirements in other states could change in the coming weeks as well.
"We expect our updated guidance … to align closely with the CDC's recommendations and to continue making the health and safety of children a priority," said a statement from the New Mexico Department of Education. The state relaxed requirements for vaccinated children and adults in May, but kept the rule in place for schools. And Oregon is now recommending, rather than mandating, mask use in its back-to-school document.
In states that lifted mask mandates earlier this year, districts that continue to require them are seeing increased pressure from some parents to relax the rules. In Florida's Broward County Public Schools, board members faced accusations of child abuse for requiring students to wear masks. A spokeswoman said the district is reviewing the CDC update and will discuss any changes later this month.
Nevada will require different mask rules depending on students' grade level — a May policy that sparked confusion and calls from parents in the Clark County School District to leave mask decisions up to them. According to a state directive, masks for students in third grade and below are optional, while students over 12 are eligible for vaccines. Therefore, only fourth and fifth graders will be required to wear masks, but the policy may be updated further based on the new guidance, according to the state.
In Medford, New Jersey, east of Philadelphia, Kristin Sinclair said her 7-year-old son won't return to public school if masks are required.
"It's 2019 or bust," she said. "If it doesn't look normal, I'm sending him to private daycare or I'll quit my job and homeschool."
Others, however, aren't ready for students to go maskless. Recent polling from the National Parents Union shows 45 percent of parents who kept their children out of school the entire year want all students and staff to wear masks. And a third of those who stayed with remote learning this year want all students to be vaccinated before they'll feel comfortable sending their children back to school.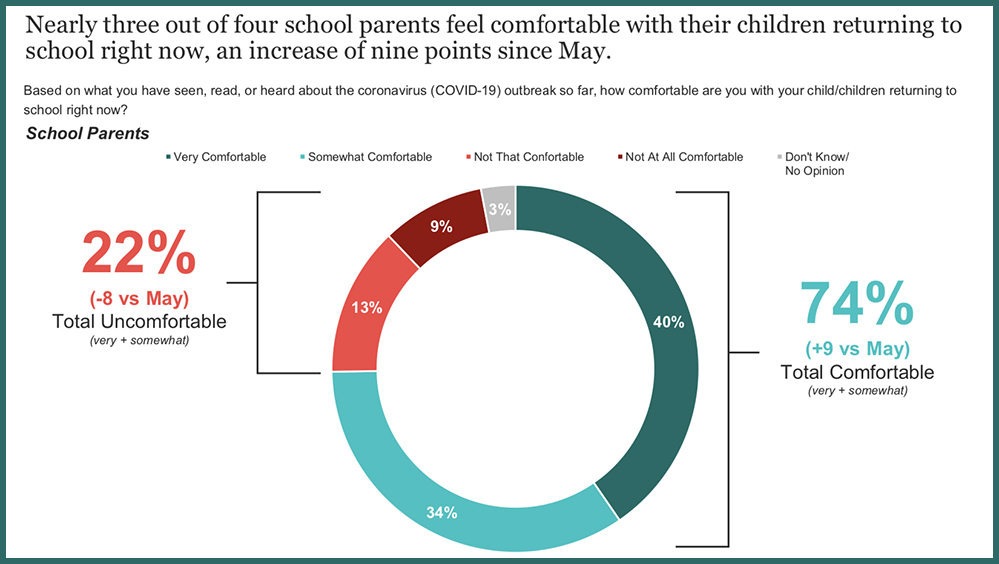 But in general, parents are less hesitant for their children to return to in-person learning than they were in the spring. A Morning Consult/EdChoice poll released last week shows almost three-quarters of parents are somewhat or totally comfortable with sending their children back to class.
'Starting to follow the science'
Experts that have been pushing for a full return to school welcomed the update.
The CDC is "finally starting to follow science," said Dr. Daniel Benjamin, a pediatrics professor at Duke University in North Carolina. "Remote instruction for all K-12 students is malpractice."
He applauded the recommendation that schools should remain open regardless of community-level transmission rates. But while the guidance still lists quarantining as a possible mitigation strategy, Benjamin said vaccinated students and those without symptoms don't need to quarantine if they're wearing masks.
"At the moment, the CDC complicates this simple message," he said.
Some experts wonder how the guidance will impact COVID-19 testing programs. Districts, such as Los Angeles and San Antonio implemented extensive testing programs last school year. And the Colorado Department of Public Health and Environment has announced a new testing program for schools this fall.
But the CDC said at this point, such programs are more valuable in communities with high levels of transmission and that vaccinated students and staff don't need to be tested. Benjamin added that science doesn't support widespread testing if districts continue to require masks.
Testing does have some merit, he added, among unvaccinated and unmasked students and for those participating in sports and extracurricular activities, such as band.
The guidance comes as some states are seeing a spike in positive cases, driven by the Delta variant. But officials stress the increases are largely concentrated in states with low vaccination rates and that almost all hospitalizations due to COVID-19 are among unvaccinated people.
The CDC guidance removes any speculation that schools will need to separate vaccinated from unvaccinated students. That would have been a "scheduling nightmare," especially in middle schools where roughly a third of students still aren't eligible for the vaccine, said Tom Phillips, executive director of the New York State Middle School Association and a former superintendent.
Districts where administrators have drawn clear lines between vaccinated and unvaccinated students have faced some pushback. In June, a New Hampshire high school attracted criticism for marking unvaccinated students' hands with a Sharpie at the prom. And the Southfield Public Schools, north of Detroit, faced charges of discrimination when it accepted a donation from an organization picking up the cost of prom tickets only for vaccinated students.
Separating students by vaccination status — which some officials have already suggested for sporting events, businesses and churches — would create "an atmosphere that stigmatizes students," Phillips said, and would be "harmful to the entire school community."
Get stories like these delivered straight to your inbox. Sign up for The 74 Newsletter