'Until Further Notice': 5 Districts Still Closed After Ian, Disrupting FL's Ed System
It's not clear when all schoolchildren will return to their classrooms, administrators say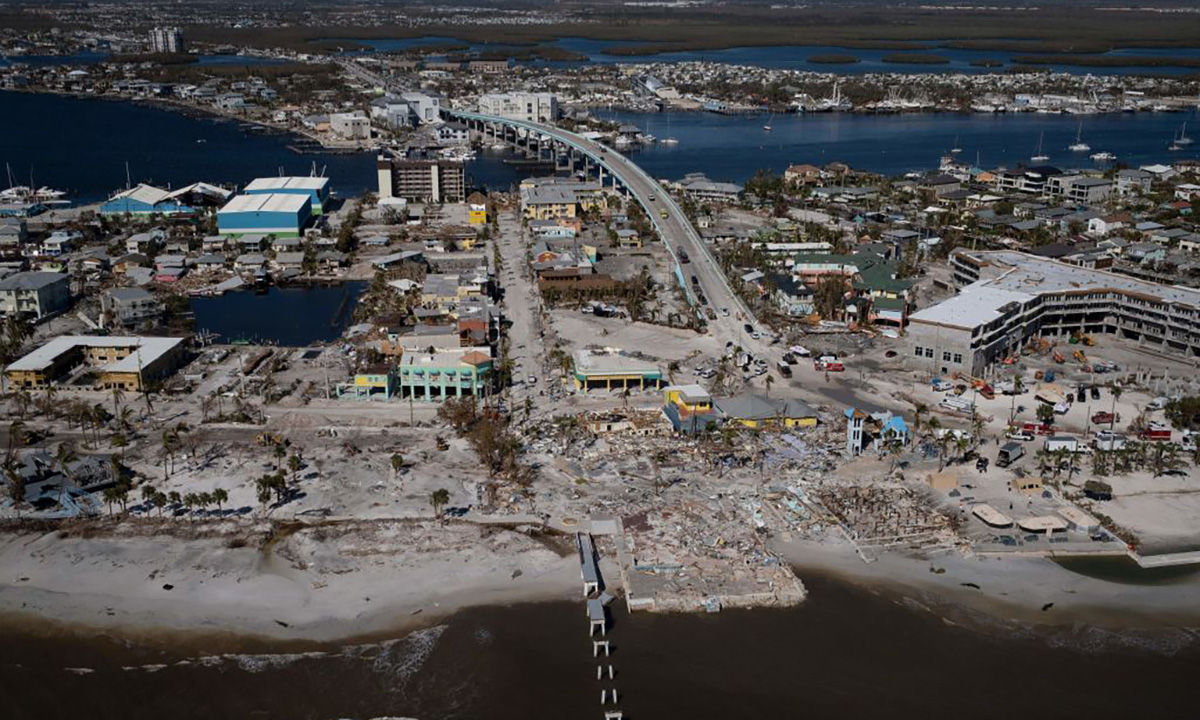 No paywall. No pop-up ads.
In Southwest Charlotte County, there are 10 elementary schools, four middle schools and three high schools. But no students or staff are in them because of Hurricane Ian.
Likewise, DeSoto County, with just seven schools, also are closed. Same goes for Hardee, Lee and Sarasota counties.
In all, the Florida Department of Education has reported five Florida school districts that remain shut down "until further notice," leaving almost 168,000 schoolchildren unable to attend classes for an unknown amount of time.
Like the early days of COVID-19, when schools were shuttered and children relied on online learning, it was a dangerous time that disrupted the lives of families, students, teachers and staff.
Now, the disruptions come from a massive storm, Hurricane Ian, that has caused dozens of deaths and a swath of devastation. The remedies and recovery efforts will face challenges for Florida's education system — everything from bus routes to internet connections to access to learning for students who have already lost instruction in recent years.
'Ground Zero for Ian'
So far, Sarasota County has a tentative timeline over the next two weeks projecting when their schools will reopen. But the other four districts don't have similar information.
As to Lee, Charlotte, DeSoto, and Hardee schools, the question is: When will those kids get back into the classroom? The answer is: It's unknown.
The Phoenix reached out to all those school districts for more information, but they haven't provided a response.
The damage caused by Ian, which battered Southwest Florida as a Category 4 storm, has created significant hurdles, according to school district websites.
Electricity connections, flooding, campuses being used as emergency shelters and damages to school buildings are among many challenges Southwest Florida school districts are facing, according to district websites and local officials.
The Charlotte County School District posted an update to its website on Monday that reads: "The damage caused by Hurricane Ian is extensive. We are continuing to assess our schools and will know soon the extent of the damage.
"Again, please note there will be no school until further notice. No staff or students should be on our campuses as many are unsafe."
Charlotte has 16,400 public students enrolled, according to the Florida Department of Education website.
The DeSoto County School District, with only 4,568 students, reports on its website: "Due to the flooding and damage to multiple facilities, DeSoto County School District will remain closed until further notice. We will communicate a timeline for reopening schools as soon as we can safely welcome students and staff back into our buildings."
A Monday video message from Lee County School Supt. Christopher Bernier reported that some schools may be ready to open, others need "minimal work" and others require "significant repairs." And some are "beyond repair."
Lee County is the largest of the five school districts, with 97,264 students, and it was hit head-on during the storm.
"We were ground zero for Ian," Bernier said. "We were and still are significantly impacted."
"While we are not open this week, we are certainly not waiting until January," Bernier said. "We are actively working on plans for those damaged sites that include potentially relocating students, teachers and staff. We are discussing these plans with the Florida Department of Education and ask for their resources and connections in order to help our districts become viable as quickly as possible."
The Hardee County school district website offers no additional details, other than schools are closed "until further notice." There are 4,941 students enrolled in Hardee County.
Sarasota County's tentative plans
As with Sarasota County, the only district with a projected timeline to reopen, still doesn't have some schools opening until the middle of October.
According to the website: "Sarasota County Schools will reopen in phases. Phase 1 will include all traditional public schools in and north of Venice. Phase 2 will be all our traditional public schools in Englewood and North Port."
The district reports that 32 traditional public schools are projected to open by Monday, Oct 10, and 10 traditional public schools are projected to open by Oct 17.
The Sarasota County School District has 43,896 students enrolled.
The Sarasota district held a press conference Tuesday morning to discuss further details of the school reopening plans and challenges.
Sarasota School Supt. Brennan Asplen laid out some of the difficulties in the county: Two schools were still being used as emergency shelters and four schools were still experiencing power outages. In some areas, debris and flooding have created unsafe walking conditions for students. Also, staff and teachers might be dealing with their own damaged properties or lost homes, among other concerns.
As for academics, the district is creating "instructional continuity plans" and will be offering some resources for families to use while students are at home waiting for schools to reopen, according to Sarasota's Chief Academic Officer, Chris Renouf.
"There may be some schools that again have portable classrooms, certain places on their campus that are on inhabitable, and so again they have to proactively plan behind scenes to go ahead and how do they address that, plan moving forward, so that instructional continuity is not affected," Renouf said Tuesday.
He said of the at-home learning opportunities and resources:
"We want to make sure that folks know what resources, what activities, what recommendations, what electronic resources are available should they have access to those resources — some will, some won't," he said. "But we want to make sure that while students are at home, that there are learning opportunities that can exist and continue to occur while they're off campus."
Education Commissioner Manny Diaz, Jr. indicated Monday that the five school districts might struggle to reopen this week, the Phoenix previously reported, but did not make clear that they will be closed "until further notice," as the department's website states now.
The Florida Department of Education reported that 68 of Florida's 74 traditional school districts, lab schools and virtual schools were open as of Tuesday, with two more districts expected to reopen by the end of the week.
Florida Phoenix is part of States Newsroom, a network of news bureaus supported by grants and a coalition of donors as a 501c(3) public charity. Florida Phoenix maintains editorial independence. Contact Editor Diane Rado for questions: info@floridaphoenix.com. Follow Florida Phoenix on Facebook and Twitter.
Get stories like these delivered straight to your inbox. Sign up for The 74 Newsletter