Union Report: Why the NEA's 'Congressional Report Card' Says Less About Congress Than It Does About the State of Democratic Party Politics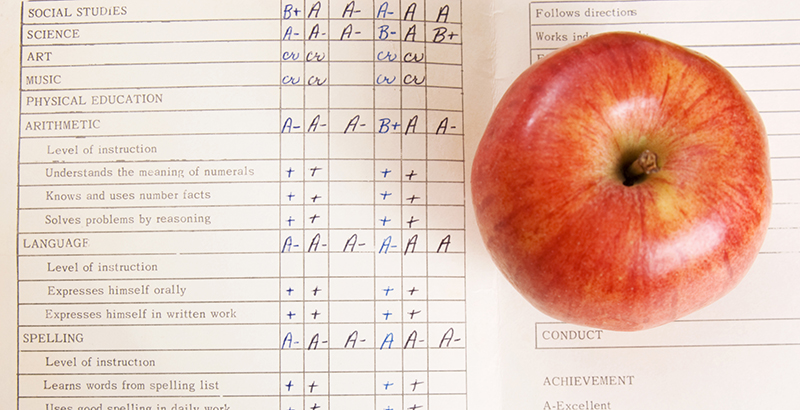 Last month the National Education Association released its annual Legislative Report Card, assigning a letter grade to each member of Congress. "This year's Legislative Report Card is the most polarized Congress of any we have evaluated in the past 13 years using our current rating system," said Marc Egan, NEA director of government relations. "This breaks the bipartisan trend we have seen in previous years, and it reflects the misguided policy priorities of the Republican leadership in Congress, who have, time and again, put partisan politics and ideology ahead of students and families."
NEA traditionally evaluated lawmakers strictly on their voting records. A vote in support of the union's position received a better grade. But in 2005 NEA officials decided they could boost the union's influence among Republicans by grading them on a curve. They also added five new criteria to supplement vote-based grades, which they explain as follows:
Co-sponsorship of bills critical to advancing NEA's identified legislative priorities;
behind-the-scenes work to advance or impede NEA priority issues;
committee votes in support of or against NEA priorities;
accessibility of the Member and staff in Washington, D.C., to NEA staff and leaders; and
accessibility and education advocacy in the Member's home state or district.
While this did allow NEA to give Republicans higher grades, it also made the evaluations more subjective and less transparent. Co-sponsorships and committee votes are easily tracked, but accessibility and "behind-the-scenes work" are, well, behind the scenes.
In July 2016, NEA celebrated the passage of the Every Student Succeeds Act by bestowing its Friend of Education award on the bill's co-authors, Sen. Patty Murray (D-Wash.) and Sen. Lamar Alexander (R-Tenn.). NEA's 2017 report card gave Sen. Alexander an "A," even though he had voted with the union on only one of eight key votes.
In the last session of Congress, Sen. Alexander voted with NEA on one of nine key votes, but this time the union gave him an "F," perhaps for his role in ushering the nomination of Betsy DeVos as U.S. secretary of education through the Senate.
Also in July 2016, NEA trumpeted Hillary Clinton's selection of Sen. Tim Kaine (D-Va.) as running mate by noting that he "earned an A on the National Education Association legislative report card." The union failed to mention that every Senate Democrat had received an "A," or that Sen. Kaine had supported the union's position only 25% of the time.
The latest NEA report card again granted an "A" to every Senate Democrat, as well as independent senators Bernie Sanders of Vermont and Angus King of Maine, who caucus with the Democrats. Fifty Senate Republicans received an "F."
The two exceptions were Sen. Lisa Murkowski of Alaska and Sen. Susan Collins of Maine. Murkowski received an "A" and Collins a "B."
These two senators famously voted against the DeVos nomination, which explains their popularity with NEA. But they voted with NEA on only four of nine key votes.
The grade distribution in the House was similar. All 193 House Democrats received an "A" while 195 House Republicans received an "F."
Eleven House Republicans received an "A" — 10 of whom would fit in a circle with about a 200-mile radius. They include Frank LoBiondo, Chris Smith, and Leonard Lance from New Jersey; Peter King, Dan Donovan, and John Katko from New York; and Ryan Costello, Pat Meehan, Brian Fitzpatrick, and Charlie Dent from Pennsylvania.
Ileana Ros-Lehtinen, from Florida, also received an "A."
A look at the legislators' voting records reveals that only one, Rep. LoBiondo, voted with NEA on all seven key votes. Each of the Pennsylvania congressmen voted against the union at least twice.
Despite NEA's claims, its report card reflects little about Congress and a lot about how the union is welded to the Democratic Party. What is the point of "A" and "F" when all that matters are "D" and "R"?
Get stories like these delivered straight to your inbox. Sign up for The 74 Newsletter