Union Report: NEA's New 'Community Allies' Membership Could Mean Million-Dollar Shot in the Arm to Union's Political Action Committee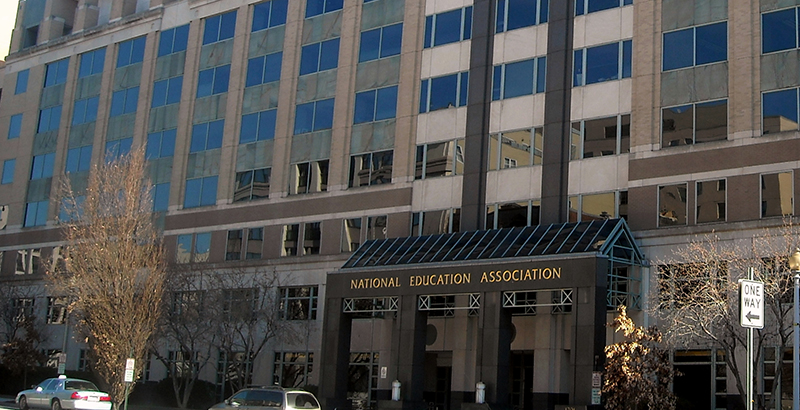 Mike Antonucci's Union Report appears most Wednesdays; see the full archive.
During the Independence Day weekend, delegates to the National Education Association approved a constitutional amendment to open membership to community allies, meaning anyone from any walk of life who supports the union's goals and objectives.
The union's leaders had been trying to institute the new membership category since 2006, but delegates had balked at inviting in non-education newcomers. This year, the leadership finally came up with a formula that met with the delegates' approval. For $25 a year, community allies will receive NEA email publications, members-only discounts to local restaurants and vendors, and "notification of and participation in membership activities that build support for public education, educators, and racial and social justice in education."
This last benefit of membership is the key. Even back in 2006, NEA officers made it clear that the idea was to raise not $25 apiece from like-minded citizens, but thousands of dollars from well-heeled supporters for the union's political action committee.
It's very simple. Federal law forbids unions from soliciting and collecting PAC donations from nonmembers. Become a member, and you can instantly contribute up to $5,000 a year.
The union's PAC, the NEA Fund for Children and Public Education, could use the help. Contributions peaked at nearly $6.3 million during the 2010 election cycle. They have fallen every cycle since, down to just under $4.3 million in 2018, according to the Center for Responsive Politics.
Through June 30 of this year, the union raised $704,000 for the 2020 cycle, but that doesn't include its biggest PAC fundraising event, which is the NEA convention itself. This year, the union raised $1.36 million in PAC contributions from the 6,000 delegates present. Even that is down from $1.5 million last year.
NEA has easy access to a large number of wealthy liberals, and it would require only 272 of them donating the maximum to match this year's NEA delegate contributions.
That's not to say the union won't go after smaller donations as well. Here's a preview of the type of "notification of and participation in membership activities" that prospective community allies can expect when that member category opens for business in September.
The PAC held a contest to design a campaign 2020 poster. Art teacher Dallyn Zundel of Utah won with this entry: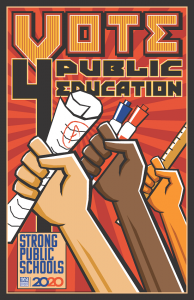 NEA sent an email notification to members that they could receive a copy of the poster. All they had to do was contribute $30 or more to the PAC.
NEA noted that Zundel's entry "references the Soviet propaganda posters he uses in class to teach basic design principles."
Some may think that fits, but I consider it ironic to use communist imagery to raise campaign contributions from the proletariat for a multimillion-dollar PAC of a $1.62 billion organization.
Get stories like these delivered straight to your inbox. Sign up for The 74 Newsletter