Florida House Looks to Dock $200 Million From School Districts Over COVID Mask Rules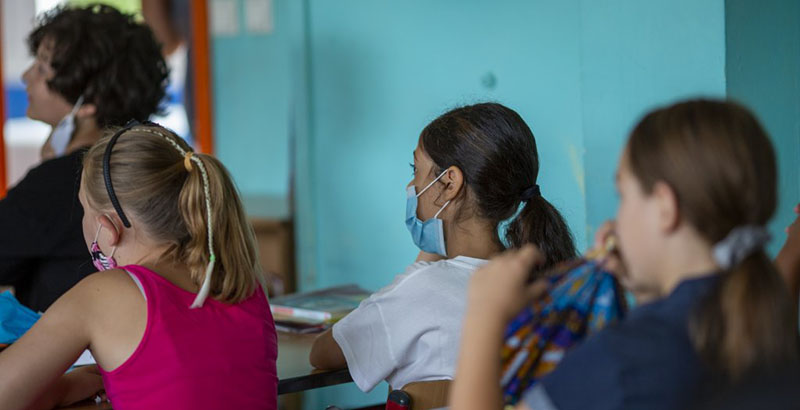 The Orange County School Board sent a letter earlier this month to Central Florida lawmakers, urging them to oppose a plan to take away $200 million from 12 school districts that had used mask mandates earlier in the COVID pandemic.
It was "unfair, unreasonable, and does harm to our community," the school board letter stated.
"This proposal is not based on any sound fiscal policy or need-based rationale, but rather is a mechanism to punish the twelve districts who had different views on how to protect their school children and staff."
As the Legislature negotiates a final state budget in the coming weeks, the state House and Senate will have to come to an agreement on the $200 million. The Senate's version of the 2022-23 state budget doesn't include the $200 million. The House has already approved the amount in its budget, describing the initiative as "Putting Parents First Adjustment."
Meanwhile, school districts will be fighting against the House proposal.
John Sullivan, director of legislative affairs for Broward County public schools, told the Florida Phoenix that lawsuits could be in consideration should the $200 million goes through.
"We would explore all options in terms of dealing with this…which may include legal action," Sullivan said. "That would be a decision that the school board would have to make, so I can't say definitively if they would do that, but that would be one of the tools that they would explore to to try to neutralize this penalty if it would come to fruition."
Jackie Johnson, communication staffer at the Alachua County school district, told the Phoenix that it's "unrealistic to expect that cutting $200 million dollars from 12 districts in the state is not going to impact students."
Johnson noted that while local school board members were the ones who voted to implement a strict mask mandate on Florida students, district administrators and others could be impacted by the proposal "simply because they work in that district."
Other districts aren't speculating on how the funds would impact their schools until there is a final state budget.
Kelsey Whealy, communication staffer with the Sarasota County school district, told the Phoenix in an email that: "The district is unable to speculate about proposed legislation and its potential impacts on finances (or if the case may be, existing policies)."
"Each session, we monitor the movement of legislation that is slated to affect schools; however, we are only able determine the scope of changes to finances (or existing policies) when we have final legislation from which to work," Whealy said.
Russell Bruhn with the Brevard County school district said "there's nothing really that we can kind of know for sure until we actually know what the budget looks like."
The 12 districts related to the $200 million are Miami-Dade, Broward, Hillsborough, Orange, Palm Beach, Duval Alachua, Brevard, Indian River, Leon, Sarasota, and Volusia. Those district school boards had repeatedly said they were trying to protect students and staff during the surging COVID-19 pandemic, and that's why they used mask mandates.
Earlier this week Gov. Ron DeSantis signaled his support for penalizing the 12 school districts in a tweet:
"Thanks to Speaker (Chris) Sprowls, Representative (Randy) Fine, and the House of Representatives for heeding my call to protect students and teachers from accountability measures affecting union-controlled politicians and bureaucrats who defied Florida law by force masking kids…Let's also give parents recourse for harms imposed on their kids due to this defiance. They should get compensated for academic social, and emotional problems cause by these policies."
Meanwhile, Agriculture Commissioner Nikki Fried has already sent a letter to U.S. Secretary of Education Miguel Cardona, urging him to prevent state lawmakers from penalizing the 12 districts. Fried is currently campaigning for the Democratic nominee in the 2022 gubernatorial election.
State Rep. Randy Fine, who serves as chair of the House PreK-12 appropriations committee, proposed the measure, claiming the 12 districts had broken the law and needed be held accountable for implementing mask mandates that the DeSantis administration and some parents didn't want.
As to the Orange County school board, their letter to the Orange County delegation could raise legal questions regarding the Florida Constitution and state law.
In the letter to the members of the delegation, the school board implied that the Putting Parents First Adjustment could be in violation of the Florida Constitution and Florida law. The letter claims that the Florida Legislature is "constitutionally prohibited from passing a general law of local application to impose fines," among other legal questions.
The letter does not explicitly say if the Orange County School Board considering legal action.
Florida Phoenix is part of States Newsroom, a network of news bureaus supported by grants and a coalition of donors as a 501c(3) public charity. Florida Phoenix maintains editorial independence. Contact Editor Diane Rado for questions: info@floridaphoenix.com. Follow Florida Phoenix on Facebook and Twitter.
Get stories like these delivered straight to your inbox. Sign up for The 74 Newsletter