Under Pressure: As Mayor Insists Schools Go Five Days a Week, NYC Principals Receive Notice That They Owe Money for Missing Students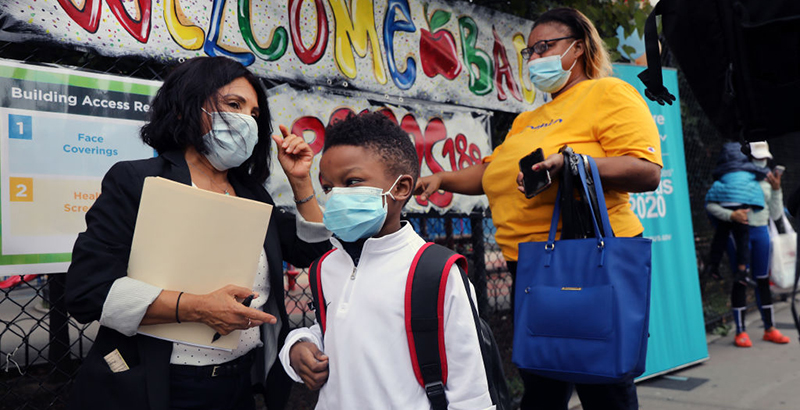 This article is one in a series spotlighting the broader consequences of families disenrolling their children, students changing schools and children going missing amid the coronavirus crisis. See all our coverage at 'COVID's Missing Students.' (If you or a student you know changed schools or stopped going to class altogether because of the pandemic, tell us your story. On Twitter: #WhereAreTheKids and #IAmHere)
Updated, Dec. 16
New York City Principal Darlene Cameron was already stressed about a sudden edict from the mayor that elementary schools offer five-day-a-week in-person instruction, when she learned that her school on Manhattan's Lower East Side owed the city about $145,000 in per-pupil funding reimbursements.
She had been juggling her finances at S.T.A.R. Academy, using the salary from an unexpected teacher retirement in September to cover additional COVID-19 costs. That money won't last past March, she said, and now she's likely in the red for September 2021.
"Because of that deficit, the DOE won't give me new money for my next budget," said Cameron, whose small school serves 280 students in grades pre-K-5.
Cameron isn't alone. Mark Cannizzaro, president of the principals union, said that 60 percent of city schools suffered register, or enrollment, loss this year, as attendance numbers crashed during the pandemic.
"This is obviously an unusual year," he said. "It's not practical to hold schools accountable for this register loss because they're not going to be able to sustain it and operate next year. We have a lot of schools now that have deficits that no one could have predicted, and they won't be able to pay them back in any practical way, without severely affecting the education of their students come next September."
On Dec. 2, school leaders started receiving emails containing their regularly scheduled updates about per-pupil funding reimbursements, the amount of money they either receive or owe the Department of Education, based on the difference between anticipated student attendance and the number of kids who actually showed up.
Denise Watson-Adin, principal of P.S. 32 in Brooklyn, informed families of the bad news over an early December Zoom call, where she was already fielding questions about the elementary schools offering five days a week.
"We owe [the DOE] hundreds of thousands of dollars — some [principals], $600,000, almost $700,000 that the DOE is saying we need to pay, or we're going to start the year in a deficit," she said. "How is that even possible? Schools won't be able to open."
Watson-Adin said her school is not on the hook to the DOE for any per-pupil reimbursement, but others in Brooklyn's District 15, which encompasses 36 schools, including 26 elementary schools, are.
Cannizzaro said that, for over a month, he's been urging the DOE to change its register loss protocols this year to account for COVID-19. In a typical year, principals and district representatives are generally able to make accurate educated guesses about the number of students that will show up in classrooms, he explained. This year is different.
"The funding formula is not fair to begin with, but for a school that's already behind the eight ball, and then had a register loss that's greater than expected, it's just unfair," he said.
The reasons students aren't showing up are varied, he added. Some families moved out of the city; others enrolled their children in private or parochial schools. Principals also talked about the most vulnerable students, particularly those in temporary housing or without internet, falling off the grid.
Principals unable to pay back the deficits will carry them into the following school year. Having to repay per-pupil funding could do particular harm to schools needing money for student outreach, instructional materials, and mental health supports in the fall of 2021.
So far, the DOE hasn't budged. Cannizzaro, meanwhile, is holding out hope that officials will reevaluate the process if the federal government delivers much-needed aid. "We might still be talking about this in May," he said.
A DOE spokeswoman said the redistribution of per-pupil funds happens every year, but would not address the unusually high 60 percent figure cited by Cannizzaro or give the average amount owed by principals citywide this year. She cited "record investments" by the city to help schools address the pandemic — including $50 million for PPE and $80 million for staffing needs — and talked about the failure of the state and federal government to properly fund schools during the crisis.
"The State and Federal government's response has not matched the severity of this crisis, and as we move into a new year and new federal leadership, we're hopeful for much needed direct support to localities. In FY 2021, the State budget yielded flat State Aid. The State is using Federal CARES Act funding to support their allocation of flat State Aid this year, meaning that none of the CARES ACT funding specifically for education is being directly passed down to the city, it is all coming in the form of State Aid that we already assumed in our proposed budget."
As of Dec. 16, Congress was finalizing a new, nearly $900 billion COVID-19 relief bill, but it was unclear what, if any, money that would include for state and local governments.
Principals interviewed by The 74 said the looming financial losses are the latest in a series of demoralizing updates dispatched by the DOE since the pandemic struck in March. Most often, school leaders said, they're getting information from Twitter and Mayor Bill de Blasio's press conferences, along with the rest of the public.
They added that the mayor's Thanksgiving weekend announcement — and his recent statements doubling down on the feasibility of five-day-a-week in-person learning for the families that want it — revealed a disconnect between his take and the view that principals have on the ground. They described a collision course of tight budgets, unmet parental expectations, inadequate staffing and, in some cases, insufficient space to accommodate students during the winter.
Cameron said children who opted for blended learning at S.T.A.R. Academy can come into school three days a week, although the majority of her families have selected remote learning. Many, she said, are people of color who are scared about how the virus has adversely impacted their communities.
If she did follow the mayor's guidance, all of her careful planning would go out the window, Cameron said. "We wouldn't be able to provide the small groups for our neediest students, who mostly are remote," she explained. "A lot of our special education students are fully remote. A lot of our students who are considered Title I students or students in poverty are fully remote. If I now shift my entire staff to only focus on those students in-person, that means all of the kids who are remote will either be served by substitute teachers, or they'll be in remote classes that go past the legal class size."
Principals said it's become increasingly difficult to get substitute teachers to teach in-person.
Left without other resources, some school leaders have turned to each other in text chat groups and over Zoom. Some older, more experienced principals are mentoring younger ones.
"It's hard because you have to be the calm in this storm," Watson-Adin said. "Even if you're feeling frenzied or unsure, you can't present that to your community … That takes a lot of emotional strength. No one's talking about the mental health of principals … If you're a brand new principal, and you're scared for your job, you're gonna try to make this work, regardless of if you can do it or not."
Principals had to fill out an in-person instruction survey by Dec. 7, indicating whether they'd be able to offer five-day-a-week in-person learning for at least some of their families. District superintendents were given until Friday to fill out their own versions of the survey.
"Schools are swiftly but carefully moving students to 5-day a week programming based on in-person attendance, space assessments, and timelines that are least disruptive for kids, while prioritizing students with disabilities and other vulnerable populations," DOE spokesman Nathaniel Styer said.
While school leaders said they've have received pressure from higher-ups asking them to explain why they're unable to offer full-time in-person instruction, many feel stranded.
"We all understand that students can benefit from five days," Watson-Adin, told her parents. "Unfortunately, the mayor shouldn't have said that we could because he knew we couldn't do it. My colleagues are beyond themselves because they just knew as he was saying it that it wasn't possible, and setting expectations for you as parents for something that can't happen."
Given the financial, staffing and spatial constraints, most schools haven't been able to live up to the mayor's promise. According to the DOE, of the 850 3K, pre-K, elementary, and specialized District 75 schools that reopened for in-person instruction last week, 161 are offering it full time to at least some students. Across individual schools, the percentage of families choosing in-person learning ranges widely, according to Cannizzaro: from 10 percent all the way up to 75 percent.
Many principals have started to feel like they have to make their own calls, mayor's statements aside.
"At this point, I don't feel like being flexible anymore," Cameron said. "I just feel like making the decisions that are best for my students and my school and my families."
Clarification: When Denise Watson-Adin, principal of P.S. 32 in Brooklyn, shared bad financial news with her parents on an early December Zoom call, she was referring to per-pupil reimbursement money owed to the NYC Department of Education by other schools in District 15, not her own. The story has been updated to clarify her remarks.
This article is one in a series spotlighting the broader consequences of families disenrolling their children, students changing schools and children going missing amid the coronavirus crisis. See all our coverage at 'COVID's Missing Students.' (If you or a student you know changed schools or stopped going to class altogether because of the pandemic, tell us your story. On Twitter: #WhereAreTheKids and #IAmHere)

Get stories like these delivered straight to your inbox. Sign up for The 74 Newsletter