Uncommon Schools Recruiting Back Its Own Graduates to Diversify Its Teaching Network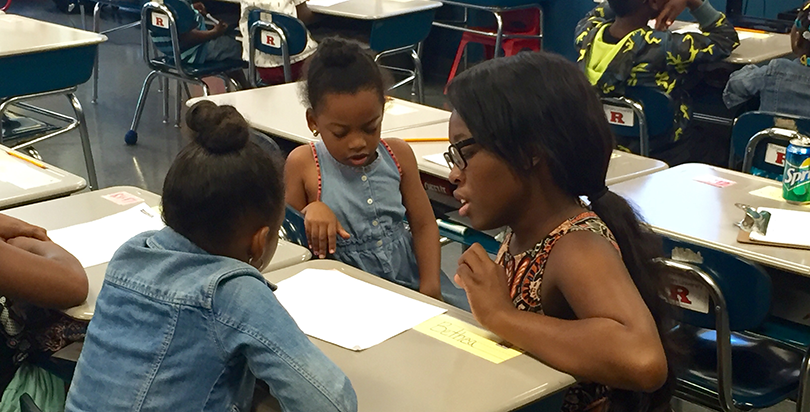 Above photo: A Student Teaching Fellow at North Star Academy, part of the Uncommon Schools charter network, works with students in summer school in July
(Newark) — Equel Easterling, a rising senior at Morehouse College in Atlanta, spent the summer at his grade-school alma mater, North Star Academy. He was, as before, contending with the rigors of charter school instruction — but this time, as a teacher rather than a student.
The 20-year-old New Jerseyan was among 147 soon-to-be college seniors who participated in this year's Student Teaching Fellow program, run by the Uncommon Schools charter network. If all goes as planned, after graduation in 2017, Easterling will be back at an Uncommon school full time, in charge of a room full of boys and girls who remind him a lot of himself— young, black and striving.
"I feel like I'm educating that 12-year-old me in the classroom," he said. "These are the things I don't want him to miss out on. So it's just a very engaging and encouraging experience."
Each summer between the end of May and mid-July, the collegians are stationed throughout the network's 49 schools in Boston, Newark and Camden, N.J., and Brooklyn, Rochester and Troy, N.Y. They participate in several weeks of intense instructional training and shadowing veteran teachers as they teach summer school. They spend the latter part of the program planning and leading their own classes, under supervision.
Uncommon Schools started the program in 2010 with just 10 fellows; since then, 431 have completed the program and 165 have been hired to full-time positions at Uncommon. About half are currently still with the network, according to data provided by the organization.
Roughly half of the fellows hired are certified teachers; the other half generally go through the Relay Graduate School of Education program while working at Uncommon, spokeswoman Barbara Martinez said.
All new teachers start their first year with three weeks of professional development.
The student teaching program functions as a staff diversity pipeline — about 70 percent each year are black or Latino, the network said, and fellows often return to their colleges and recruit other students to apply.
That was the case for Shavon Mathus, who was encouraged by a classmate at DePauw University in Greencastle, Ind., to apply in 2013. After successfully completing the summer program, she finished her senior year and accepted a teaching position at Uncommon. This year, she's teaching second-grade at the Excellence Girls Charter School in Brooklyn. Mathus, who is originally from Chicago, said she found the racially diverse staff refreshing and reassuring as a newcomer to the region.
At the same time, her experiences elsewhere made it painfully clear that this mix is the exception rather than the rule in most areas of the country.
"I was literally the only senior of color who was graduating (from college) as an education major," Mathus said.
The network attributes much of its staff diversity growth to the program. Currently, about 34 percent of teachers across the network are black or Latino, nearly twice the national average, Martinez said.
The share of minority teachers overall grew from less than 30 percent during the 2010-11 school year to 42 percent during the 2015-16 school year, the network said.
(Related: A Student Protest at High-Achieving Charter High School Spotlights Teacher Diversity Struggle)
Shana Pyatt, a longtime science teacher and a founding educator at North Star Academy, stepped into the newly created role of director of diversity last year as the organization ramped up efforts to attract and retain a more diverse teaching staff.
"It's really important for our students to continue to see teachers and school leaders that look like them in the classrooms and actually can identify with their backgrounds and their experiences," Pyatt said. "As you dream, and as you have ideas of what you want to be and what you want to do in life, it's hard to envision what you don't see."
Schools need to do a better job of offering young adults the chance to try teaching before they commit, Pyatt added.
Getting a taste of what it's like to stand in front of a classroom every day will help young adults understand the importance and relevance of the work and, Pyatt and her colleagues hope, encourage some of them to join the profession.
About 85 percent of fellows do go into teaching after college, and roughly 70 percent of them teach at Uncommon Schools, the network said.
Easterling, the fellow at North Star Academy, was initially worried that he and his students wouldn't be able to keep up with the charter network's breakneck instructional pace. But he ended his summer on a confident note.
Being at the front of the classroom, he said, helped him understand how significantly education can alter the trajectory of his young students, most of whom are black or Latino.
"We live in a society where they're being judged at a very young age," he said. "And we see that for cases like Trayvon Martin or Mike Brown. … We're teaching them skills that, as a child, can not only prepare them for the future, but potentially save their life."
Get stories like these delivered straight to your inbox. Sign up for The 74 Newsletter